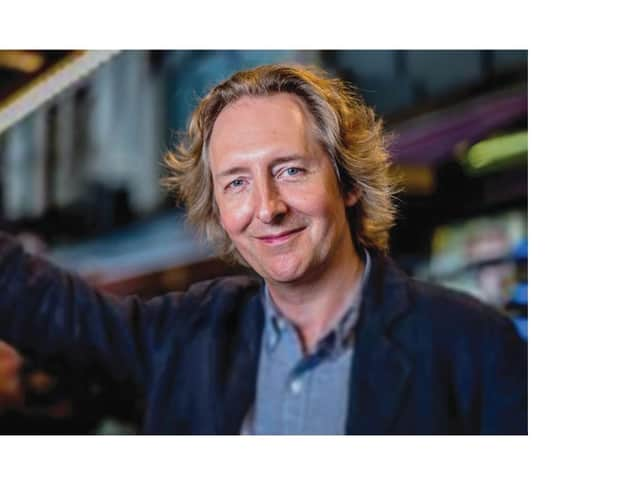 Jonathan Church
Jonathan was to have directed Henry Goodman in Brecht's The Life Of Galileo.
In the event, they managed just a couple of days of rehearsals before the pandemic put absolutely everything on hold. And everything changed.
When theatres do return, it's highly likely they will return with different thinking behind their production choices, Jonathan believes.
"When we come back, will we come back with a 20-handed Brecht play? I suspect most productions are going to have to be financially and artistically just a little bit more cautious.
"Putting Brecht on the main-house house was a brilliant and brave decision even before COVID. Whether anyone would advise (current CFT artistic director) Daniel (Evans) to do that now, I don't know…"
Jonathan, who still lives near Chichester and now works as an independent producer, believes theatre will look different when it resumes.
But resume it most definitely will.
And he believes that our lives stuck on Zoom for the past few months will make us appreciate even more the proper, in-the-moment human interaction that theatre is all about.
"I am an optimist, and when you look at the Arts Council and the government, I am incredibly impressed that they are seeing the arts as so important and that they are taking them so seriously.
"And I am fundamentally optimistic that people will come back to the theatre, that they will come back to the thing that they once loved, the arts. That will happen. None of us know when it will happen. The only question is when.
"I think there is something very positive in the thought that in a world of incredibly difficult choices, the government made the decision that the arts are both financially and socially important to this country.
"Whether the sum of money is right and how it will be divided remains to be seen, but from my perspective it feels to me that the speed and the response of the government – and we all like to be cynical about the government – has been good given the major challenge that this country has had in every respect.
"The furlough scheme was pretty quickly protecting people's jobs, and the furlough scheme still continues, and then we have had the announcement of the next package. The only disappointment is that if we had been dreaming, the announcement of the money would have come with dates on the road map.
"We don't know how long the gap is that the money is going to have to cover.
"If we are looking at December or January, then that is one thing; if we are looking at April or May, then that is another.
"How significant that sum is we won't know until we have the context of knowing the dates.
"But I think the speed of the decision has been really good."
Inevitably, the dates are only half of it.
What matters is how the public will respond to those dates, whether the public will be confident enough to go back into theatres even when they are told it is safe to do so.
"I think you have to see that safety is relative.
"That's what we all have got to get into our minds, and I know it is hard.
"But in Korea a British company is performing Phantom of the Opera every night.
And we were supposed to be putting on Singin' In The Rain in Tokyo in September. The thing that is going to prevent that is going to be visas, not the willingness of the people involved in the production.
"I think the majority of the industry, with reasonable precautions, would happily go back tomorrow. I certainly would.
"You have to take a view of risk. We live with viruses that we can't control, and this has been the worst that we have ever lived with.
"But you can't go into a car or an airplane or turn on a tap in rented accommodation without some degree of risk. And we have to assess those risks.
"Parents have been assessing the risks and they have been sending their children back to school."
Jonathan's argument is that theatre audiences are mature audiences capable of making their own choices.
"If you look at the production of Phantom of the Opera in Korea, if someone in the cast is not feeling well, they know they have a responsibility for not giving it to the audience; if someone in the audience is not feeling well, they know they have a responsibility for not going along to that performance.
"I believe that theatre audiences are people capable of making those decisions. If you look at a group of people in a pub on a Friday night, I believe that a theatre audience is more likely to act with restraint.
There have not been any outbreaks as a result of The Phantom of the Opera being on every night.
"I am a great believer that we approach risks as responsibly as we can and with as much information as we can.
"And if some people decide that they don't want to take the risk (of going into a theatre), then that is absolutely fine. I completely respect that."
The problem is in the comparisons. Jonathan says it is "bemusing" that people can sit for hours cooped up on a plane.
"But also driving instructors have got us a bit confused in the theatre industry.
"You can't sit in the theatre, but a driving instructor can sit in this tin can next to somebody else and then every hour that somebody else changes and somebody else gets in."
As Jonathan says, we all want to allow eating and drinking in pubs and restaurants to resume.
"But it seems to me to be counter-intuitive that they have been allowed to open to the public before theatres."
Jonathan suspects theatres will be allowed to open within the next two to three months.
And if it comes to it, he believes it would be perfectly reasonable to ask audience members to wear face masks while in the theatre.
"But I do have such sympathy for the government. You have to balance so much, the industry, the economy and the fact that the medical information is changing all the time as we know more about this."
The likelihood, when theatres resume, is social distancing.
"And I do think that the economics (with fewer people in the auditorium) will probably mean that people will make smaller work. The work will have to be less expensive to make in case fewer people come.
"The economics of commercial theatre are so delicate. Most of the West End shows don't work unless you have 70 to 80 per cent capacity, and it could be that they need extra support.
"Those big shows like Les Mis need large audiences, they need tourists.
"They employ a massive number of people just to get the show open, and those sorts of shows will only be able to return when the confidence has been built.
"What we need is to get some theatres open to pilot it and to see how we can open safely. You need to offer the chance to come back to the people who have got the confidence. All theatres won't all be opening on the same day. That's the really risky bit, after opening, the first few months.
"But I also think our responses will change. We are already getting quicker at testing."
And again, we need to look at places elsewhere in the world which have dealt with serious viruses several times before.
It could be that we will have to deal with it again here.
"I think it is about being able to live with the risk. It is about the balance."
In the meantime, streaming has become hugely popular, with major theatres offering past productions.
Jonathan doesn't see it as a risk that we are getting audiences used to not having to pay or even to leave their homes.
"The only moral complexity that I see is that the artists who have made these productions and are now unemployed need to be benefitting from these productions in the same way that a musician benefits from a download."
The streaming isn't in itself a threat to the theatre: "People thought that video would kill cinema and it didn't.
"I think streaming is a great addition.
"If you consume the arts at home, then maybe consuming them at home will make you more likely to go out and consume them again when you can actually go out.
"My gut feeling is that this is a virtuous circle."
A message from the Editor, Gary Shipton:
In order for us to continue to provide high quality and trusted local news, I am asking you to please purchase a copy of our newspapers.
With the coronavirus lockdown having a major impact on many of our local valued advertisers - and consequently the advertising that we receive - we are more reliant than ever on you helping us to provide you with news and information by buying a copy of our newspapers.
Our journalists are highly trained and our content is independently regulated by IPSO to some of the most rigorous standards in the world. But being your eyes and ears comes at a price. So we need your support more than ever to buy our newspapers during this crisis.
Stay safe, and best wishes.