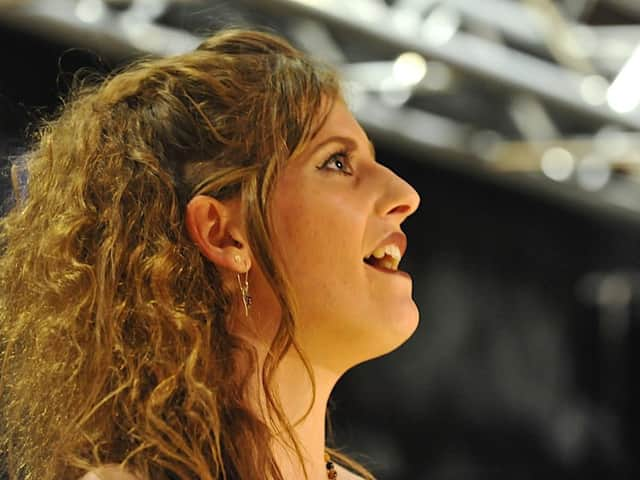 Tamzin Barnett will be among the performers
Phil Hewitt, festival chairman, said: "We started the Festival of Chichester in late 2012 because we couldn't bear the thought of Chichester not having a summer festival following the collapse of the old much-loved Chichester Festivities. Similar thinking applies now.
"We were devastated in March when we had to bow to the absolutely inevitable and cancel this year's Festival of Chichester. But we are thrilled to say that – in the worst possible circumstances – we have still managed to come up with something very special indeed. -The pandemic has forced us out of our usual venues but for the next four weeks, the Festival of Chichester is going to go virtual.
"Our festival co-ordinator Barry Smith and our festival computer genius Simon O'Hea have pulled out all the stops to create a wonderful array of events for you to enjoy virtually over the next month –precisely when we should all be enjoying them for real.
"And in keeping with our very own festival traditions, we even have Chichester's very own bestselling novelist and playwright Kate Mosse to kick it all off for us. She won't be in her usual spot on the Cathedral Green to set us underway on our opening Saturday. Instead she will launch us online, so setting the tone for all the fun that's going to follow.
"The plan is that for every day of what would have been the festival, a new event will be posted online ready for audiences to enjoy from Saturday, June 13 to Sunday, July 12 at 7pm, so that audiences can look forward to something new each day.
Apart from Dawn Gracie's two events which are going to be live-streamed, the idea that is the day's event will be added at 7pm ready for enjoying at the traditional 7.30pm event time. Barry and Simon have done a fantastic job. Your job is now to enjoy!
Fri, June 12– Introducing the Virtual Festival of Chichester: Kate Mosse. Chichester-based novelist and long-standing festival supporter Kate Mosse introduces the first Virtual Festival of Chichester. Kate's popular novels include Labyrinth and The Burning Chambers. Her new book, City of Tears, is due out in January.
Sat, June 13 – Festival Launch: The Stardust Sussex Syncapators. The Festival is launched in style with lively jazz band music – drop in to enjoy I Get the Blues and The Isle of Capri from the Stardust Sussex Syncapators.
Sun, June 14– Ensemble Reza: Candlelit Concert. Join Ensemble Reza for Brahms String Sextet No 1 in B♭ major, Op 18, First Movement: Allegro ma non troppo. Performers – Lucy Jeal, Andrew Thurgood (violins), Anna Cooper, Matthew Quenby (violas), Pavlos Carvalho and Sarah Carvalho-Dubost (cellos).
Mon, June 15– Cathedral Virtual Pilgrimage Join us at historic Chichester Cathedral for a virtual pilgrimage.
Tues, June 16 – Virtually Vintage Afternoon: Dawn and Brenda Dawn Gracie and Brenda host a livestream Virtually Vintage afternoon from 2.30pm-4pm, and thereafter revisit via a recording of proceedings.
Wed, June 17– Chichester Cabaret Club: Dawn Gracie & Guests. If you're up for some lively entertainment, why not drop in on Dawn Gracie and friends for a very special cabaret evening, live from 9pm-10.30pm, and thereafter revisit via a recording of proceedings.
Thurs, June 18 – Bach Two-Part Invention: Ben Rogerson. Regular festival performer cellist Ben Rogerson gives a rendition of a sublime Bach piece specially for the festival.
Fri, June 19 – Once Upon a time in Greece…live from Kings Place: Plastikes Karekles Enjoy a special concert at Kings Place London which took place in 2018 as part of the Equator: Women of the World festival. The musicians perform a selection of their favourite rebetika and non-rebetika Greek songs including a more traditional set up with bouzoukis, guitars, baglama, accordion as well as original arrangements using more unusual combinations.
Sat, June 20 – Remote Art View at Chichester Cathedral A chance to tour the Cathedral virtually and enjoy some of the splendid masterpieces from the Cathedral's unique collection.
Sun, June 21 – Andiamo solo concert from Chartres Cathedral France – Emily Burridge (cellist). Emily, a frequent guest at our festival, takes us to Chichester's twin city of Chartres in France for a programme by Mellow Cello Music.
Mon, June 22 – Sculpture of Captain Tom Moore by Vincent Gray. The sculptor of Chichester's landmark statue of the poet John Keats presents his visualisation of Captain Tom Moore's 100th Birthday Walk for NHS Charities Together.
Mon, June 22 – Theatre Quiz from Chichester Community Theatre. CCT director Roger Redfarn sets the questions to test your theatrical knowledge.
Tues, June 23 – Classical Guitar: Linda Kelsall-Barnett. Fresh from her triumphant performance in the Cathedral for the 2019 festival, Linda picks up her guitar for a rendition of a beautiful piece of music by Catharina Josepha Pratten.
Wed, June 24 – The Gadfly: Ben Rogerson and the Minerva Ensemble. Shostakovich's Romance for violin and orchestra is the highlight of his film score. Inspired by French composer Jules Massenet's soulful Méditation from the opera Thaïs, it's "an elegant, heart-on-your-sleeve melody which yearns with grace and poise."
Thurs, June 25 – Poetry Time: Costa Poetry Prize winner John Haynes Join poet John Haynes and South Downs poets for a stimulating selection of poetry as part of Chichester Poetry's contribution to the festival.
Fri, June 26 – Classical Cabaret: All That Malarkey. Festival favourites All That Malarkey bring a touch of musical good-humour with a Beach Boys medley from their latest performance at The Pheasantry, London.
Sat, June 27 – Are We Angels: Tobiah. Indie/folk musician Tobiah presents her latest video clip Are We Angels, filmed in and around Midhurst.
Sun, June 28 – Beethoven – Pianist, Prophet, Dreamer: Reiko Fujisawa. Pianist Reiko Fujisawa presents the first part of her tribute to Beethoven in his 250th anniversary year.
Mon, June 29 –The Music of Trees: Geoff Robb (guitar). Brighton Fringe Festival Award Winner Geoff Robb returns virtually to Chichester to present his original guitar compositions inspired by trees.
Mon, June 29 – Introduction to Wetlands and Wildlife: Manhood Wildlife and Heritage Group Join Emily Sabin, the FLOW communications and engagement officer, on a virtual tour of just a handful of sites that the Fixing and Linking Our Wetlands team of staff and volunteers have worked The FLOW project aims to reduce flooding and create and enhance a habitat for a variety of wildlife, from water voles to bats, birds to bees.
Tues, June 30 – Somewhere Over the Rainbow (cellos): Ben Rogerson and the Minerva Ensemble. Festival regular Ben Rogerson assembles a first-class collection of musical friends for a cello treat with an arrangement of Somewhere Over the Rainbow.
Wed, July 1 – Chichester Cathedral Choristers: Litany to the Holy Spirit. Performance premiere by Chichester Cathedral Choristers of Litany to the Holy Spirit by Peter Hurford
Thurs, July 2 – The Seasons, Tchaikovsky: Victor Ryabchikov (piano). Described by BBC Music as 'unfailingly beautiful' in his playing, the Russian virtuoso treats us to May from The Seasons.
Fri, July 3 – Waves and Bridges: Pavlos Carvalho & Friends. An enticing programme of music which varies from pop ballads to Greek folk and Turkish songs. Pavlos Carvalho and friends join together in a channel of audio recordings and art illustrations created from April 2020 to this present moment. It bridges friends and musicians not only throughout the UK but across the waves, each part recorded remotely from whichever part of the world they were in and then woven together to make one beautiful, unified piece of music.
Sat, July 4 – The Story of Love in the Harbour: Danielle Morgan & Ensemble. The Story of Love in the Harbour is a powerful musical dramatisation of the romance between Captain George McElroy, a WWI RAF officer and a young Irish girl, Grace Guinan. The beautiful all-original music, performed live by Danielle Morgan and orchestra, conveys an eloquent message of the futility of war and the true meaning of heroism, sacrifice and love.
Sun, July 5 – Beethoven – Pianist, Prophet, Dreamer: Reiko Fujisawa. Pianist Reiko Fujisawa presents the second part of her tribute to Beethoven in his 250th anniversary year.
Mon, July 6 – Sketches of Spain Flamenco Show: Duende Flamenco (dance). Helena "La Leyenda" and Ana Reese present a taste of Spanish flamenco dance.
Mon, July 6 – The Reluctant Teabag: Sandra Saer. Publisher of SMH Books and author Sandra Saer takes us on a quirky voyage of discovery about how a sense of humour has lifted our spirits through the ages.
Tues, July 7 – In the Beautiful City: Rob Johnston (guitar). Join classically trained jazz/blues guitarist Rob Johnston as he takes us into the Beautiful City as MC Takes a Walk.
Wed, July 8 – Sculpture, Murray, Large as Life: Vincent Gray. The sculptor of the statue of poet John Keats in Eastgate introduces us to his monumental project to celebrate local Admiral Murray and the national hero of Trafalgar, Horatio Nelson.
Thurs, July 9 – Celebrating Cuban Music: The Latin Bridge (Amici Concerts). Settle back to the summer sounds of Cuban band Latin Bridge, with sizzling Latin beats.
Fri, July 10 – A Recital in Rehearsal: Tamzin Barnett (soprano). Chichester-based soprano Tamzin Barnett shares videos from her rehearsal process of songs by Mozart, Schubert and Massenet for a recital exploring musical relationships with pianist Birgit Rohovsky.
Sat, July 11 – Bach Solo Cello Suite No. 3: Pavlos Carvalho The profound imagination behind the cathartic simplicity of Bach's cello suites makes his music a companion for life for the listener and a mystery to be constantly re-examined and explored by the performer. This performance was recorded live by Mark Granger and John Fincham.
Sun, July 12 – We'll Meet Again: The Chichester Singers. Regular festival performers, the Chichester Singers, bring the 2020 Virtual Festival of Chichester to a striking conclusion with this specially-recorded music. The title evokes the spirit of this unusual year and looks ahead to the return of a live festival in 2021.
A message from the Editor, Gary Shipton:
In order for us to continue to provide high quality and trusted local news, I am asking you to please purchase a copy of our newspapers.
With the coronavirus lockdown having a major impact on many of our local valued advertisers - and consequently the advertising that we receive - we are more reliant than ever on you helping us to provide you with news and information by buying a copy of our newspapers.
Our journalists are highly trained and our content is independently regulated by IPSO to some of the most rigorous standards in the world. But being your eyes and ears comes at a price. So we need your support more than ever to buy our newspapers during this crisis.
Stay safe, and best wishes.