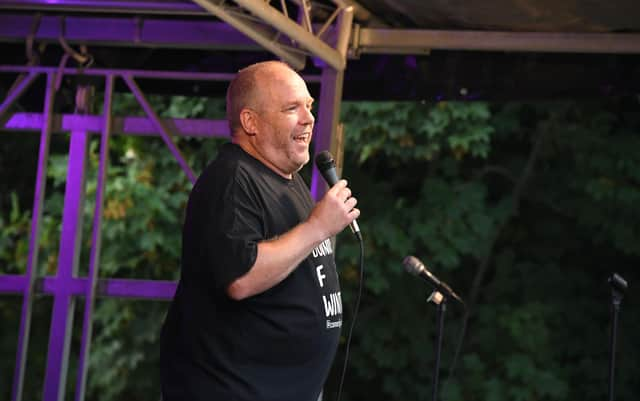 James Alderson is bringing his outdoor comedy club nights, Comedy Under the Stars back to Catherington. Picture by Paul Jacobs/pictureexclusive.com
Welcome to the travails of trying to to put on an outdoor gig during the pandemic.
Desperate to get back on stage – and to bring in some money – comedian James Alderson started putting on socially distanced gigs in the beer garden next to The Farmer Inn, Catherington, last summer.
Big names like Russell Kane, Marcus Brigstocke and Rachel Parrish came down to perform in the small field to a capacity crowd of 150 lucky comedy fans.
Russell Kane performing at Catherington on August 8, last year. Picture by Paul Jacobs/pictureexclusive.com
But it was when Al Murray was on stage that the police first turned up.
James recalls seeing them arrive and going to talk with them : 'I walked over with a mask on and the landlord had a mask on – they didn't have masks on.
'They said they'd had reports of an illegal gathering, so I said it's allowed and you can see it's all socially distanced and I'd been working for weeks on it.
'I told her we're even wearing masks when we get up to walk around and she goes: "Why are you wearing masks outside?"
Milton Jones is one of the Catherington Comedy Festival headliners. Picture by Aemen Sukkar
'I told her we had to - if it's an event and you're walking around, you have to wear a mask. She said: "That's crazy, I didn't know that".'
At which juncture James deliver a very funny, but far too rude for The Guide punchline.
'This was when Al Murray was on stage, so I told her: "You're welcome to stay", and she said: "Oh ok".
'So I said: "That's 13 quid, but you're welcome to stay if you want..."'
Angela Barnes is one of the Catherington Comedy Festival headliners
The police officers politely made their excuses and left.
James chuckles at the memory.
With venues unable to operate without social distancing before June 21 at the earliest, now that the warmer weather is returning, has booked in eight more shows at Catherington under the banner Comedy Under The Stars. And from August 6-8 it will host a full-on comedy festival.
The shows were born of necessity after the pandemic and lockdown conditions forced the closure of regular venues and the end of the comedy club scene for the time being.
Terry Alderton is topping one of the nights at the Catherington Comedy Festival. Picture by Trudy Stade.
But it wasn't easy. As founder of the successful Comedy Allstars nights at Horndean College which regularly drew crowds of 300-plus, James knows how to put on a show.
However, under the new conditions, he had to deal with a distinctly unamusing amount of red-tape.
'It was a steep learning curve. If someone three years ago had said: "We've got an outdoor gig, will you come and do it?" I would have said: "Hell, no! Outdoors? There's no atmosphere, you've got no way of controlling the crowd, it's never going to work."
'And every comedian I know would have said the same – but when it's the only option you've got..!
'That setting at the Farmer Inn is the closest you can get to an indoor setting without having a roof – you've got the canopy of the trees and all that, and it just made it brilliant.'
The situation ended up with the faintly ridiculous situation of James becoming more of an expert on the ever-shifting rules and regulations than the local authorities he needed to get approval from.
Paul Zerdin has been announced as a headliner at the Catheringtom Comedy Festival. picture by Steve Ullathorne
'Getting all of the tech right, all of the social distancing, measuring out the seating plots with tape measures on a 30 by 20m field, doing risk assessments to East Hants District Council (EHDC), chasing them to make sure they understood the rules, because I did but they didn't,' he laughs.
'I was the one having to point out to them what we could do – and then they'd eventually agree, or find the information, or get told it's fine, but naturally they're scared of getting in trouble.
'All I'm thinking about every minute of every day is that I know that that piece of legislation says it's fine for us to go ahead... and they're going: "I know that, but nobody's actually said you can do a comedy show in a field in Catherington". Like Boris is going to go: "By the way, James can do that gig in the pub garden."
'It was such a stressful time, and it still is. It was a massive relief to get the go ahead because that's the only real income I've had.'
When the world came crashing down last year, James' first instinct was to start doing Facebook Live streams to his fans. From March 19, every evening, he'd be there for about half an hour, not doing stand-up as such, just chewing over the issues of the day and having some fun. He did these every single night through until August, and still does them three times a week.
'I do enjoy the live streams. Last week was the one year anniversary since I started doing them.
When we first started them, we were talking like, oh, we've just got to get through these three weeks, and then someone joked we'll still be at it in three months.
'I was like: "I will not!" And here I am a year later, still doing them.
'What it has done though, it has doubled my following on social media.
'My Twitter and Facebook fanbase is now at least twice what it was this time last year, and that in turn has impacted on ticket sales and the success of the events locally, so I can't complain at all.'
He has largely resisted doing actual livestreamed gigs, though.
'Some have really dived into doing Zoom stand-up gigs, but I love talking to people in a crowd and getting involved, sculpting the material around the people in front of me, or talking to people and making it a bit more bespoke, and Zoom just doesn't allow that really.
'Scanning the room and looking for people to talk to, you're weighing up so much – the body language, and eye contact, even between the people sat together, so you can find the person in a particular group that you think will be good.
'I can't scan across 20 faces on a Zoom matrix on a screen – you can't really tell what's going on from that. Some of the screens are made up of 12 pixels because their signal is so bad!''
With the outdoor gigs resuming next month – the April 24 and May 1 dates are already sold out – the Catherington Comedy Festival is going to be a jam-packed additional three days of laughter in August.
'I thought, if we're really up and running by August, which we almost certainly will be, and it's hot and sunny, I thought let's risk it – so it's Friday, Saturday and Sunday. Five sessions, some big names, some smaller names, some unknowns, mix them all together, and it's worked well.
'August is usually a dead month for comedy anyway – everyone's usually gone up to Edinburgh.
'There's a variety of tickets, whether they want to come for one night, or an afternoon and evening, or all weekend. It's quite cheap to come for an evening and see someone like Milton Jones
'I've tried to keep it realistic for all these people who are desperate to spend all this money they've saved.
'I'm here to help,' he deadpans.
The Comedy Under The Stars show are May 15, 29, 30, June 19, July 17 and August 21, at £15 per ticket.
The Catherington Comedy Festival from August 6-8, with tickets from £16 for an evening, to £77 for the full weekend. Go to comedyunderthestars.co.uk.
A message from the Editor, Mark Waldron
You can subscribe here for unlimited access to our online coverage, including Pompey, with 70 per cent fewer adverts for less than 20p a day.