Portsmouth's Joe Black on life as star of RuPaul's Drag Race UK season 2 | BIG INTERVIEW
Meet Joe Black – no, not the 1998 film where Brad Pitt gets to play Death – the cabaret performer, musical comedian and drag artist who will soon be all over our screens as part of this year's run of RuPaul's Drag Race UK.
Thursday, 14th January 2021, 9:16 am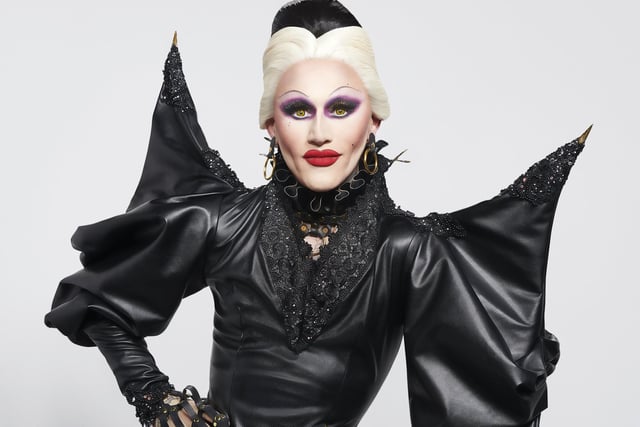 Joe Black is in season 2 of RuPaul's Drag Race UK. Picture by World of Wonder/Ray Burmiston
Joe, who grew up in Portsmouth but now lives in Brighton, is speaking to The Guide on the phone ahead of the hit show's opening episode, which premieres on the BBC iPlayer today.
With incredible outfits and immaculate makeup a standard part of the drag life, Joe paints a picture of his repose: 'Imagine I'm drinking coffee from the most gorgeous mug, wearing a stunning robe and a turban, lounging on a chaise longue, my hairless cat is running around and I'm playing lovely records on the gramophone…
'That's the fantasy anyway,' he cackles.
The 'reality competition' show began in the US in 2009, hosted by the titular drag superstar RuPaul Charles, and is still going strong. The UK version began last year, and after a strong debut is back. A dozen drag queens take part in a series of challenges with the panel of judges voting one off each week, until the winner is crowned in the final episode.
Joe has been performing for 13 years, refining his spooky style along the way, touring all over the UK and abroad – he has also been the host of a long-running burlesque night at The Kings Theatre in Southsea. His brand of haunted glamour is a first for the UK version.
'In the whole franchise, there's been people who do cabaret or burlesque things, or there's been people who do more, for want of a better word, spooky, or haunted, but there's never been the combination of camp, spooky and cabaret before. There's been people who've included all those individual elements, but never all mixed together, so it's quite something to be the first one of that blend.'
RuPaul's Drag Race UK series 2, episode 1, Picture shows all of the Queens, with Joe Black centre, in black. Picture by World of Wonder / Guy Levy
While Joe says the UK drag scene is 'very, very small' compared to its American counterpart, he didn't know who else was going to be on the programme until they filmed the opening episode.
'It's all very, very top secret and you do not know who's there until you walk into that room and you turn and see who's already sat at the table in that ominous pink room.
'I knew 90 per cent of the people. Two of them I wasn't very familiar with, but I still knew their names.
'When I turned, I saw people I was very fond of, or that I'd been a fan of, or I love their work, we're friends.'
Joe Black. Picture by World of Wonder/Ray Burmiston
One of those friends is fellow contestant Ginny Lemon.
'I'd done a show with her the day before I got my call, and I remember saying goodbye to her and "I'll hopefully see you soon!"
'That worked out nicely – I did see her very soon, but not in the circumstances either of us had considered!'
While it is a competition, the 30-year-old says he prefers to be supportive rather than catty.
'I'm one of those who is frustratingly like: "Oh but they tried!" and "Everyone's having a nice time!"
'But the thing with this show, the biggest competition is getting on it.
'Regardless of whatever happens on the show, out of thousands of people, from what I gather it's certainly four figures who auditioned for this season – to be picked and be one of 12 out of all that – that's the biggest competition.
'So much work goes into the audition process, the preparation process and getting yourself ready for it, you've already won when you get that call.'
This became evident when the line-up for the new season was announced last month.
'It was insane. I had to turn my notifications off on my phone. It would've made my phone explode. I've never known something like this. I couldn't keep up with it, but it was amazing.
'I'm so fortunate that I've had such an overwhelming response and I certainly don't take that for granted. I was trying to revel in it and enjoy it.
'The profile boost and the attention is something else – that's what I mean, by just getting on the show, that's already a win.
'I've got attention in a few weeks I never thought I'd get. Ten years of working for attention can happen in a week. A day!'
When the line-up was announced Joe said in a short introductory video that he's 'from Brighton' – something which sparked ire from some back in Portsmouth.
'Whether it makes the cut in the actual show or not, I don't know, but there is a point where I do talk about Portsmouth when I'm introducing myself.
'I've lived in Brighton for nearly a decade now, but I'm Portsmouth born and that's where I learned my craft.
'When I said I'm from Brighton, all of the comments from people in Portsmouth were going,' he suddenly shrieks, 'LIAR!
'I got a lot of flak, I want people to know I'm not a liar, but I have lived in Brighton for nearly a decade!'
Describing his own style, Joe explains: 'I don't think of myself as a female impersonator. I'm on the show and I'm going to be called a drag queen and that's obviously fine because that's what the show is, but I just say that I do drag, because it is heightened, it's ridiculous, it's this bizarre cartoonish world that you create.
'I would say that I do drag the same way that someone like Lady Gaga, or Marlene Dietrich, or Madonna does drag.
'It was a very natural development, I didn't suddenly go: "Right, okay, drag's popular, I'll be doing that".
'I've always worn quite a lot of makeup on stage, be it whether I was in a suit and a top hat, or in this case, a dress. There was always a lot going on on the face!
'It sort of naturally happened. One day I looked at myself and thought: "Well, I guess I do this now..."
'It was an interest in the things I was inspired by, and I think there was a moment where I went: "I can wear whatever I want, I can look however I want," and that's how that happened.'
Filming for the show has already been completed, but of course, the pandemic complicated matters for 'the Olympics of drag.'
'It was military precision on health and safety. We were all in a bubble, there were isolation periods, so many Covid tests – I am now completely numb to swabs.
'That's what we do for art,' he giggles, 'we suffer – we let trained professionals stick a swab up our nose.'
And that went for the judges too, which includes Michelle Visage, Alan Carr, Graham Norton and obviously RuPaul.
'It's not RuPaul's Drag Race without RuPaul! Ms Charles was very much there, but no matter how much of a drag superstar you are, RuPaul was also isolating and having the regular Covid tests.
'No-one, no matter how fabulous, is immune to Covid.'
Unlike many of his fellow drag performers (RuPaul being a notable exception), Joe uses his own name on stage – many favour postcard innuendo or pun-based noms de théâtre.
'It's one of those things now where I'm like: "Was that a good idea?"
'I'm sure there's a duality problem that will happen at some point when I look in the mirror and go,' he affects mock distress: '"Who am I? Who is this person? Who is this clown staring back at me?"' before laughing.
'It does makes things a lot easier when it comes to paperwork though,' he deadpans.
And of course, Joe won't let any secrets out about how far any of them get in proceedings.
'If we say anything Michelle Visage turns up with a sniper rifle. A little red dot appears on your forehead, and that's when you know to stop speaking.'
He adds in a stage whisper: 'Big hair. Lovely makeup. Good aim.'
Like many performers during lockdown, Joe turned to livestreaming to connect with his fans.
'It's one of those things, the world was changing and it was changing so quickly and so suddenly, you need to adapt.
'If you have a passion for what you do, you will find a way to make it work, and I loved doing the livestreams, I really did. It gave me a new appreciation for everyone that supports me – not that I didn't appreciate them anyway – but it made me realise how lucky I am to have people who really liked me and what I did, and were willing to get involved.
'I stopped doing them because I could sense that there was a fatigue with online shows, there's that kind of Blitz spirit: "We're all in it together", but it went on for so long. And then the restrictions eased a little bit, so I stopped. People were able to return to a small sense of normality, so I thought, I'll back off now.
'And there was a period where there was quite an oversaturation of online shows, and I never want to be white noise for people – it's always good to tap out on a high.
'It was nice, but I need a little break for me as a well.'
Joe did manage to perform live once after the Drag Race announcement.
'A few days later the situation changed, but I get that moment of introducing myself to the stage and being able to say: "For the very first time, from RuPaul's Drag Race UK season two, please welcome to the stage your host for this afternoon, it's Joe Black!"'
That show turned out to be a bit of a Drag Race love-in, with judge Alan Carr, plus season one winner The Vivienne and third placed Baga Chipz in the audience.
'I do a very charming, but somewhat macabre cover of George Formby's When I'm Cleaning Windows, and watching Alan's face as I pretended to clean a window to a dirge, cabaret torch song version of When I'm Cleaning Windows was quite the treat.'
He is currently due to appear back in his hometown at The Wedgewood Rooms in Southsea on March 2 with his show A Touch of Evil – a date postponed from last June.
'We'll have to see what happens.
'I'm absolutely gagging to be ridiculous in front of people again...'
Series two of RuPaul's Drag Race UK premieres on BBC Three on iPlayer at 7pm today (Thursday, January 14). It will also air weekly on BBC One on Monday nights from January 18. Go to bbc.co.uk/iplayer.