Review | Life of Pi at Chichester Festival Theatre: "Didn't live up to the hype"
The jewel in the crown of the CFT's Winter Season announcement, the Life of Pi comes with a lot of hype attached.
Watch more of our videos on Shots! 
and live on Freeview channel 276
Visit Shots! now
It has had many iterations, all critically adored: the original, a 2001 novel by Yann Martel, won the Man Booker Prize; a 2012 film by Ang Lee received 11 Oscar nominations; and the play was showered with Olivier Awards and Tony nominations.
But did it live up to its reputation?
The plot tells the story of Pi (short for Piscine), an Indian teenager who miraculously survives a shipwreck that killed their family, floating on a lifeboat for months with only a Bengal tiger called Richard Parker for company. If it sounds hard to believe, that's because it is – but whether the tale Pi tells an official trying to find out the truth of the sinking was a water-starved hallucination, a child's response to trauma or a religious experience we do not know.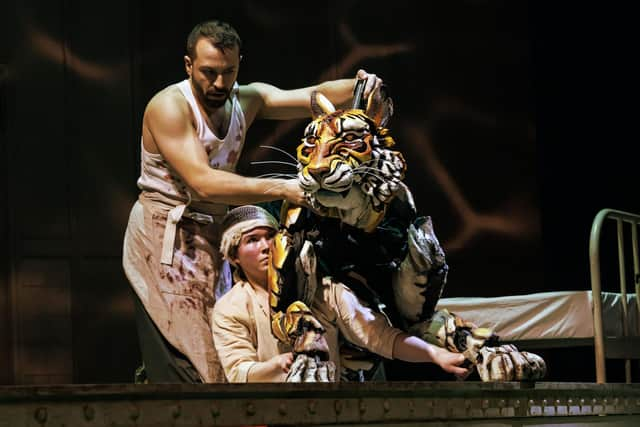 The undoubted stars of this production are the myriad puppets brought to life by their controllers, who vocalisations and physicality are spot on. I can see why the puppeteers who brought Richard Parker to life in the original production won an acting Olivier shared between them. But when the best actor onstage is a puppet you have to question whether the show is more substantial than a visual spectacle.
I was invested in the plot, but the ending - which should have been genuinely harrowing - left me a little cold, which I can only attribute to the at times one-dimensional and over-earnest acting from across the cast.
That being said, Tanvi Virmani – the understudy who stepped up to fill the main role – did a good job of holding everything together, in what felt like it could have been one of her first performances in this run.
Unfortunately, it appeared there were also glitches with the special effects. Projections did not show on a couple of occasions.
Overall, an entertaining night out, with some breathtaking puppetry – but one that in my opinion did not live up to the hype.