Strictly Come Dancing siblings Kevin and Joanne Clifton unite on stage as tour starts at The Kings Theatre, Southsea
If you spent at least part of lockdown slobbing out, sitting on the sofa and eating too much, don't worry, you weren't the only one…
Wednesday, 21st October 2020, 3:56 pm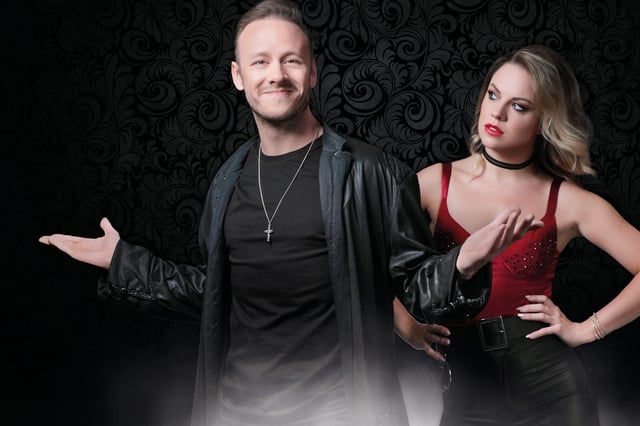 An Evening With Kevin and Joanne Clifton opens at The Kings Theatre on October 29, 2020
Former Strictly Come Dancing star Kevin Clifton had been at the top of his game, rehearsing for his next show, Burn The Floor, when everything came to a grinding halt.
'For the first couple of months, obviously you wish it was under different circumstances, but I had been saying I needed a break for a long time,' Kevin recalls.
'I was one of those that turned into a slob,' he laughs.
'I was thinking, I wish I was doing Burn The Floor, and I want everyone to be safe, but maybe this has come at a time when I need a break.
'So I took a proper break and didn't put too much pressure on myself. After a couple of months and you see everyone going for their runs outside, I thought, I can't justify this to myself any longer.
'I went from being in my peak condition in the middle of the Burn The Floor rehearsals, when you can dance all day and it doesn't affect you, then two months later when we're into lockdown, it's surprising how quick that leaves you. I went for a run and about 15 minutes into it I was absolutely gasping!'
An early publicity shot for the musical Strictly Ballroom, starring Kevin Clifton, which has been put back to 2021.
But with a new show on the horizon, co-starring with his sister Joanne, Kevin knew he had to get back into things.
'About a month ago I thought, right, I've got to get properly back into shape now, so I've been doing lots of workouts and yoga, just to get myself ready for the tour.'
The siblings had both been due to appear on the Burn The Floor tour – their first non-Strictly show together. Burn The Floor has been a global smash, running for two decades with runs on Broadway in the US, the West End here and in dozens of other countries.
Joanne left the BBC's flagship Saturday night show after winning the 2016 series with Ore Oduba. She has been busy since then in musical theatre, with lead roles in Thoroughly Modern Millie, Flashdance and more.
Joanne Clifton starring as Millie Dillmount in Thoroughly Modern Millie in 2017. Picture: Darren Bell
Keven finally got his hands on the show's coveted glitterball trophy two years later when he won with Stacey Dooley – now his romantic partner too. He stayed on Strictly for another year, but had already ruled himself out of this year's series as he wanted to return to musicals. Although dancing has been his primary focus, he made his musical debut back in 2010 in Dirty Dancing.
But a show with the two of them onstage together had been a long-held pipe-dream.
'We had talked about doing a show together for so long. We started dancing together as kids, and our careers have taken similar paths with Strictly and all that, Burn The Floor, and musical theatre, so we thought, we're going to have to do a show together at some point.
'This year's Burn The Floor was supposed to be the one. That got delayed until spring next year, but as it happens, my sister is already committed to another show next year, so she can't do Burn The Floor next year.
'We were like: "Oh no, we're never going to get to do this!"'
They went back to the drawing board, and came up with an idea with Strictly Theatre Co, which puts on many of the show's professional dancers' tours.
'We were just trying to think, is there anything that is going to be doable? We were looking at things like outside spaces, following all the guidelines every day to see what's changed, and whatever's allowed, we'll do that.
'We now seem to be one of the first ones going out. We've pulled together a tour we know can work with the socially distanced audiences and all the guidelines in place.'
To that end, the tour is scaled back from the big productions of the pre-pandemic days, but will still feature the highly accomplished routines their fans love.
'There's only going to be four people in the cast, me and my sister and two other dancers. We'll become a bubble, as we say now, so that we can rehearse together and while we're touring we'll stay in that bubble.
'We've been told we're not even allowed within a certain distance of any crew or anything like that. We're keeping ourselves in a very strict bubble so we can do this.'
And audiences won't just get to see the siblings dance.
'For the original tour we recorded an album, me and my sister, of a lot of the Burn The Floor songs past and present, which we'd sell along with the tour.
'When we realised it's going to be too difficult to do the show we wanted with an entire cast of dancers, our initial idea was, why don't we do an album tour? Me and Jo singing those songs from the album, and then it became, well if me and Jo had a dance partner each as well... So it can be singing songs from the show, and a bit of dancing with each other and a partner, and then telling stories about our careers, the different journeys that we've had, and Strictly Come Dancing, and maybe Q&A from the audience.'
With theatres necessarily following strict guidelines to make sure they're covid-secure, this will by necessity be a bit different to their usual shows.
'It will feel more like an intimate show, especially as there's going to be less people – it won't be a packed out theatre because of the social distancing.'
But Kevin's still thrilled by the prospect of getting back on stage again.
'I don't 100 per cent know what to expect, what it's going to be like with the audience and the atmosphere, but for me, just the thought of being in that environment again and performing on a stage and having an audience there – I feel so excited about it.'
Although he's been doing more musicals again recently, some of his fans may not know he's got a decent singing voice to go with the dancing feet.
'I've been singing for quite a while. I did Dirty Dancing: The Musical in The West End back in 2010, long before Strictly, but dancing's always been my main thing. Then I got Strictly in 2013 and that took over my life for the seven years I was on the show and I wasn't really doing anything else – everything was about dancing.
'Then in the last couple of years I thought that I'd like to do some more musical theatre again. I've ended up doing Rock of Ages and then The Wedding Singer.'
While theatres were closed during lockdown, auditions have continued, albeit mostly taped or by video call. Kevin recently had his first in-person audition since this all began, and it had a huge effect on him.
'I came home absolutely buzzing. As it turns out, I don't think I can actually do the show because of the dates next year with other things I've got on.
'But just being in the room with a director, a musical director and another actor, and a casting director and going through a process of doing some singing, some dancing and getting some feedback, and trying things a different way, and doing it and performing it in the room with people, it really hit home just how much I've missed it.
'I said to them at the end: "Whatever happens with this show and whether I'm involved or not, just thank you for this because it was such a great experience."
'That has made me even more excited to do this.'
The Kings Theatre in Southsea is the opening night of the 24-date tour.
'It's the same for everyone – just being around people, isn't it? It's going to be amazing, and doing something that feels somewhat normal, that resembles what life used to be like before all of this happened.'
In another world, Kevin and Joanne would have already finished the Burn The Floor run, and he would have moved on to a UK tour of Strictly Ballroom: The Musical. That show has now been bumped back to next autumn, and is due at The Kings from October 4-9, 2021.
'With Strictly Ballroom, that was a show I'd dreamed about doing since I was a kid, and when I was offered that, and I was offered it for this September, it became a catalyst for me to make that decision to leave Strictly Come Dancing.'
Speaking of which, now the series has returned to BBC1, how has he felt being on the outside for the first time in so long?
'I'm not here wishing I was still involved. I've got this thing with my sister and that's what I'm most excited about.
'But I am getting excited, like everyone does. I'm getting those vibes like a fan – excited from the outside to watch Strictly. I hope that's going to put people in the mood to get out of the house and see some dancing and come and see us live!
'It's going to be a big moment for us to be back on stage.'
An Evening With Kevin and Joanne Clifton is at The Kings on Thursday, October 29, 7.30pm. Tickets from £30. Go to kingsportsmouth.co.uk.