X Factor star Sean Smith leads the way in the Pompey Panto, Dick Whittington at The Kings Theatre
Usually, pantomime launches take place in the middle of summer, the leads have come from all over and the mood is jovial.
Thursday, 3rd December 2020, 1:55 pm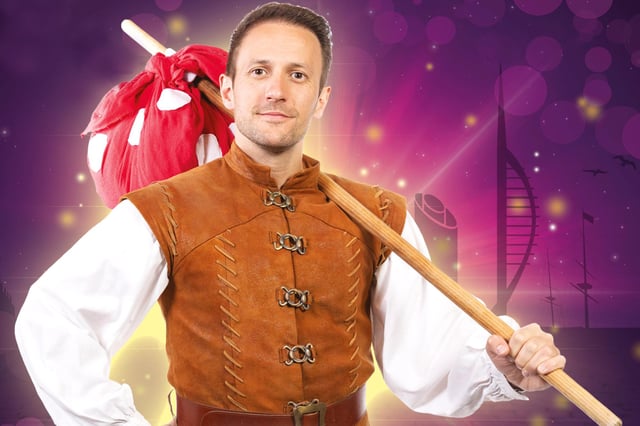 Sean Smith stars in the title role of Dick Whittington, The Pompey Panto, at The Kings Theatre
Of course, this year has been anything but usual.
In the middle of summer, it was still unknown as to whether there would be any Christmas shows.
Even now, it's been touch and go with everyone anxiously looking at possible restrictions and which tier we would go into.
But as restrictions lifted and a new set of rules emerged, The Kings Theatre felt able to go ahead with its very own Pompey Panto. For the first time, the Southsea theatre's management decided to bring the production in-house.
And instead of looking further afield, the cast is drawn from the highly talented performers we have on our doorstep.
So while the launch this year took place a little later than usual in October and the leads hadn't travelled from far-flung points of the UK, the mood at least remained upbeat.
Taking the lead in the title role of Dick Whittington is Sean Smith.
The Lord Mayor of Portsmouth Rob Wood joking with star Sean Smith at the panto's launch day. Picture by Andrew Searle.
Sean first came to national attention in the fourth season of The X Factor back in 2007. As one half of Same Difference, along with sister Sarah, they made it to the final, finishing in third place.
The pair grew up in Widley, and the siblings both still live in the area.
While Sean now considers himself something of a panto veteran, he tells The Guide: 'I think I've done 12 or 13, but this is my first one here at The Kings, so this one is really important for me.'
X Factor pop duo Same Difference - made up of siblings Sarah Wilson and Sean Smith announcing the charity single One Life, One Love
He's relishing the chance to prove himself on home turf, but he admits: 'I do feel more pressure than I normally would, partly because of the situation with Covid, etc, but also because it's my hometown and I want the people here, obviously with me being from here, I want them to see me in a good light and know that I am a decent performer.
'So, lots of pressure, but at the same time, I think it's going to be so, so special at the end of a very tough year.'
While he counts Aladdin and Prince Charming among his leading man roles in panto, this is his first Dick Whittington. He plays the ever-optimistic Dick who heads off in search of fame and fortune to London, 'where the streets are paved with gold.'
Along the way he'll do battle with the villainous rodent Queen Rat, save the city and attempt to win the hand of his love, Alice.
The stars of Dick Whittington. From left: Julia Worsley as Queen Rat, Sean Smith as Dick Whittington, Marlene Little Hill as Fairy Bowbells, Jack Edwards as Dame Dolly, and James Percy as Silly Billy. Picture: Andrew Searle Photography
'I've read the script and I think it's going to be a really good character for me. He's all about positivity and reaching for his dreams, which I think suits me down to the ground.'
He's joined in the cast by Julia Worsley as Queen Rat, Marlene Little Hill as Fairy Bowbells, James Percy as Silly Billy and Jack Edwards as Dame Dolly.
Sean knows Jack from his time in the Portsmouth Players in his childhood.
'Jack always cast the shows, directed them, or he was in the shows as well, so I've known him for many years.
'We've always kept in touch and he's an unbelievable talent.'
With Sean having his roots here, are his friends and family all going to come and see the show?
'Everyone's said they're going to come in and heckle me the entire time!' he laughs.
'Obviously I'm sure my family will come, and my sister's got the studio down in Buckland, and they're all telling me that they're coming to support me and to support me the theatre.'
After Same Difference wound down, Sarah and Sean set up the SD Studios in 2016 to teach performing arts.
But as Sean admits, teaching wasn't really for him, and Sarah took over the reins there.
'I still do the occasional bit of singing with them, but the truth is, when Sarah and I started the pop academy business a few years ago, she's a brilliant teacher, I'm more like a fun friend for the kids to be around.
'They don't really learn anything on my watch! I just thought, this isn't for me, let's continue trying to make a go of it in the industry...'
When the pandemic hit back in March, Sean was starring in a production of We Will Rock You on board a Royal Caribbean cruise ship. Fortunately they were flown home before flights stopped, or even worse they were trapped on the ship.
'It was a great role and I was really enjoying it, but safety is paramount.
'It was shame to have such a lucrative contract cut short like that, but at the same time it's so important that we all remain safe.'
This then, will be Sean's first performance since March, but he has been far from idle. He released his debut solo album in July and just last month released an EP with the indie-pop band Beware The Bear.
He also teamed up with Sarah again for the first release under the Same Difference name in a decade. The one-off single One Life, One Love and featured the children from SD Studios and raised money for the NHS.
'I just tried to make the most of a terrible situation, but the bread and butter is when you go out and perform live, so it's been a more difficult year in terms of that side of things.'
So he's missed performing?
'Ah,' he sighs, 'with entertainers, I think it's part of who you are as a person, it's part of your identity, so I've found it really difficult this year not being able to go out and gig and perform and be on stage, treading the boards.
'That moment when we step out there, because of all of the hard work of all of the people here at The Kings, it's just going to be really special, I can feel it.'
As he is often in panto elsewhere in the UK at this time of year, Sean is looking forward to the luxury of working and being able to return to his own bed each night.
'This is the one beautiful thing about this year that I can actually enjoy Christmas with family as well as being in panto because I'm always somewhere in the UK, but nine times out of 10 it's somewhere right up north and it's difficult to get home.
'I'm hoping to be around some family and friends this year, which will be special.'
He's also hoping his grandparents will get to see the show – and is confident that The Kings has created a fully Covid-safe environment for them.
'The measures they've taken at The Kings have been profound.
'I'm so pleased they've taken those measures, because my nan and grandad don't often get to come and see me perform any more.
'With it being so local it's certainly helping them come to watch, but I wouldn't want to be in a position where I felt I was putting them at risk.
'From seeing all of the measures they've put in place, I feel pretty confident that it's going to be safe.'
Last time he was at The Kings was for a show by his sister's dance school.
But he adds: 'The last time I performed here before that was when I was just a kid, one of those little dancers – being up around the top and terrorising everyone.
'They're just great, great memories from then. Coming back here, it's like a second home.'
Dick Whittington, The Pompey Panto, runs at The Kings Theatre, Southsea from December 8 to January 3. All tickets £20. Go to kingsportsmouth.co.uk.