Aquind: Portsmouth will rally to see off menace of company's plan to dig up city for energy interconnector project
Now is the time for Portsmouth to raise its voice again as we urge the government to turn down Aquind's bid to dig up our city as part of its interconnector scheme.
Watch more of our videos on Shots! 
and live on Freeview channel 276
Visit Shots! now
Politicians of all colours, the Let's Stop Aquind protest group and The News are united as we call on Business Secretary Grant Shapps to follow in his predecessor's footsteps and reject the plan for the second time.
The company was originally turned down by Kwasi Kwarteng in January last year, following more than two years of uprising by Portsmouth residents.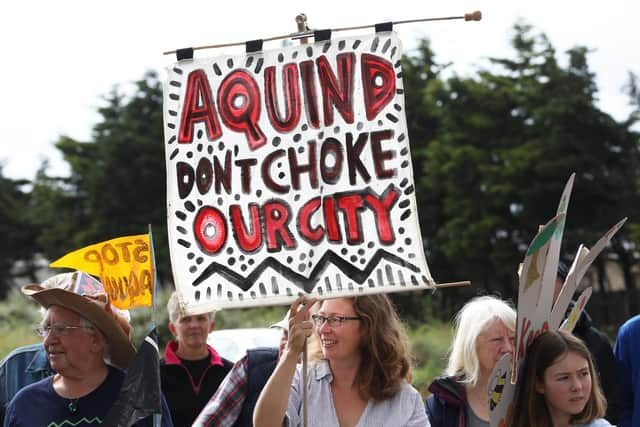 While the faces in Whitehall have changed, our city's resolute opposition to this hare-brained scheme has not. We therefore today tell Mr Shapps that he has no option but to turn this down.
Mr Shapps has asked what are called 'interested parties' - among them being Portsmouth City Council, the National Grid and Aquind itself - to provide more information, which will be published by the Planning Inspectorate.
The deadline for this is now April 28 - and we urge everyone in Portsmouth to have their say. We have covered this story - and latterly campaigned against Aquind - for several years now and nothing that has emerged so far has caused us to change our mind that this project will be hugely damaging to Portsmouth.
In short, we object to the disruption it will cause to our city. Nobody can deny this - equally, nobody can deny that as one of the most densely-populated areas of the country, and an island, a city like Portsmouth would feel the effects of long-term roadworks more keenly than other areas.
But our objections do not only extend as far as the boundaries of Portsea island.
We do not think that so much time, effort and expense should be spent on a project such as this rather than on renewables, and we also have lingering doubts over the wisdom of becoming beholden to another country holding influence over a large portion of our electricity supply. We agree there are questions to be asked about the whether the donations given to the Conservative Party create a conflict of interest when a Conservative government is deciding the scheme, but right now our objections are focused on the planning process, on the practical rather than the theoretical or ethical and we cannot see that the upheaval to both residents and the environment can be justified.
Mr Shapps, we can direct you thousands of words in hundreds of stories about our city's refusal to accept being foisted with a scheme it no longer wants nor needs. We would ask respectfully that you take note of this, you take note of the cross-party opposition in Portsmouth, taking it out of politics and into reality, and you take note of the unexplored options for any interconnector that lie elsewhere on the south coast. Aquind's scheme cannot be given the go-ahead in Portsmouth.