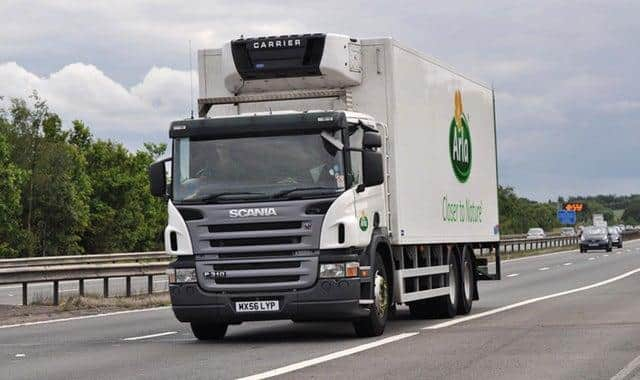 A holding area on the A31 to check lorry drivers' paperwork is to be scaled back due to the 'smooth running' Brexit transition.
The holding area on the A31 between Alresford and Winchester had been set up to check customs paperwork as international hauliers adjusted to new rules.
Hampshire and Isle of Wight Local Resilience Forum set up the site in order to stop lorries queuing at Portsmouth port while incorrect or missing paperwork was addressed.
Now the forum has announced that lorries will be able to travel straight to the port from February 18, with the A31 site being decommissioned four weeks earlier than planned.
Neil Odin, chief fire officer and chair of the resilience forum, said the early closure was thanks to 'strong compliance' with new paperwork requirements.
He said: 'Every indicator tells us that things are running smoothly enough to allow us to be proactive and make this important decision to downscale our operation ahead of time.
'Of course, there are still risks as volumes of freight are still volatile but there is a balance to strike and we have listened carefully to hauliers, local people and those who represent them.
'As we leave the A31 site we feel it is important to leave things in better shape than when we arrived. Part of that is an army of volunteers who will be out picking litter on Friday February 19. I'd like to again thank the local community for their understanding.'
Compliance now stands at around 90 per cent each day – compared with the forum's reasonable worst case scenario that up to 70 per cent of lorries would not be border ready.
Some of the infrastructure on the A31 will remain for a 'short period' as a precaution.
A triage area for up to 40 lorries at Tipner will remain on standby to deal with any changes in freight levels.
It comes as more than 1,900 lorries passed through the A31 site and more than 2,500 through the Tipner area last month, close to last January's figure of 5,000 EU-bound vehicles passing through the port.
A message from the Editor, Mark Waldron
You can subscribe here for unlimited access to Portsmouth news online - as well as fewer adverts, access to our digital edition and mobile app.
Our trial offer starts at just £2 a month for the first two months.