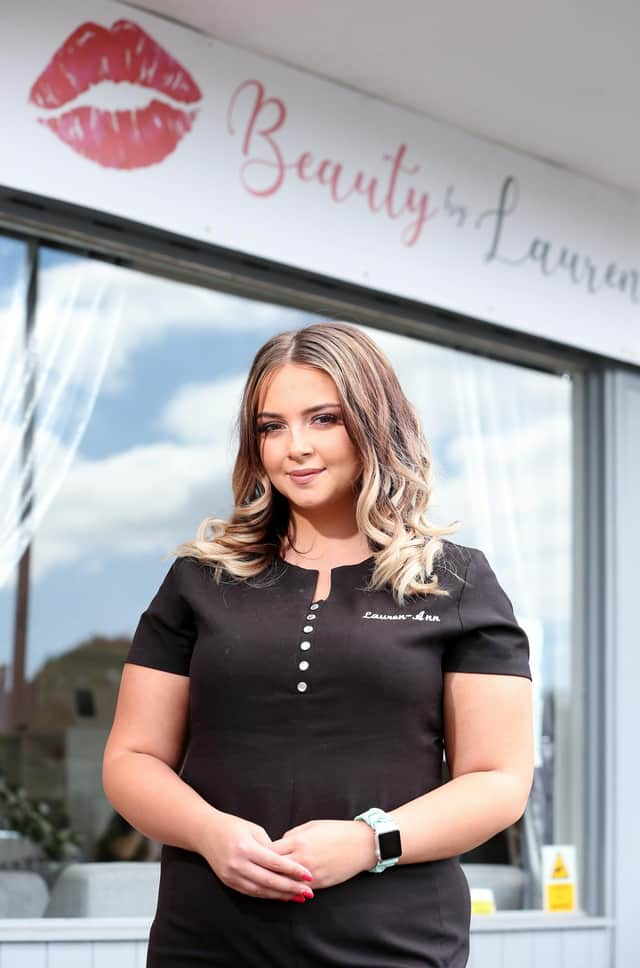 Lauren-Ann Lee
Prime Minister Boris Johnson has set out April 12 as the date that shops, hair salons, beauty salons, gyms and outdoor hospitality can reopen, if strict conditions are met.
For many, the date has come as a relief, however there are calls for people to keep sticking to the rules to ensure that this date is met, and that there are no more lockdowns.
Lauren-Ann Lee, who runs Beauty by Lauren-Ann in Waterlooville, said: 'It is not ideal, ideally we would like to be open sooner but we can only do what we are allowed. This date is not certain either. Boris can change his mind at any time with only a week's notice, and he has done in the past.
Hardysalon owner Rachel Hardy
'As excited as I am to have people booking in for that week, I am still worried about it. I am concerned that it will be cancelled. Everyone needs to keep on doing what they are doing so that this date does not change.
'We are nearly there. It has been a long process and it has been hard for the industry. I just hope that this lockdown will be the last, for everyone's sake.'
Harriet Charter, who runs in Harriet Charter Beauty in Southsea, said she too hoped that this would be the last lockdown.
Robert and Andrew Pearce, owners of Creatiques Bridal Boutique in Southsea
She said: 'I'm not holding my breath. We were initially told July last year which turned into August. I don't think it will be April like it has been announced.
'I'm hanging on by a thread now with the business as I haven't received much help via government grants so I really do hope this is the last of it. Now the vaccine is out, I have my fingers crossed that this will definitely be the last of it.'
Liam Walsh, who runs Ladies Only Bootcamp, fitness sessions in Fareham and Gosport, said he was disappointed to see the importance of keeping fit overlooked, but that he was pleased to have a date to work towards, with outdoor sports resuming on March 29, and gyms opening on April 12.
Liam, from Knowle, said: 'It is good that there is progress and that there is light at the end of the tunnel. However it is a shame to delay keeping fit. Exercise and improving your health should be a top priority.
John Dyer, from Sirius Concepts
'People are feeling low and exercise improves their health, mentally and physically. For now, this is about everyone sticking to the rules so that this is the last time we see lockdown restrictions.'
For barber Dom Valente, who runs Razor Sharp Barbers in Miller Drive, Fareham, another lockdown would be the death knell for his business.
He said: 'It is positive to have April 12 in mind, but that is the earliest date.
Razor Sharp in Miller Drive, Fareham. Pictured is: (l-r) Barber Jake Bascombe and owner Dom Valente.
'People have been booking appointments but we might not be able to open until June if things don't go to plan. We will have to wait and see.
'If we open and then have to close again then that would be it for us. We need to make sure that when we reopen again, that we stay open and that there are no more lockdowns.
'My message is that people need to keep doing what they are doing, let's make sure that when we get out of this we don't have to do it again. It is now or never for a lot of small businesses.'
Rachel Hardy, co-owner of Hardysalon, in Portsmouth, said they were eager to get back to work.
She said: 'We are so excited to welcome our clients and team back safely. It will be fantastic to be able to give people the reward they deserve after this hard lockdown.
'Hopefully this will be the last lockdown, if we just keep going and sticking to the rules for a little bit longer.'
The Ladies Only Bootcamp owner Liam Walsh
Paula Hodges, who runs Willow Beauty Salon, in Hayling Island agreed.
She said: 'I am just hoping that when we reopen, we can stay open. It has been on and off for almost a year. If by waiting a little longer, it gives us the chance to stay open then it is worth it.
'I hope people keep going, as that will help get us back to normality – and our livelihoods – quicker.'
Gareth Penn, who runs the Good Salon Guide, in Portsmouth, which looks after hundreds of salons across the country, said that the date was a relief but that support was needed to ensure businesses can keep going until then.
He said: 'It is really good to have a date to work towards however the industry does still need support. I am sure clients will be delighted to be able to have their cuts and colours but salons have had a really tough 12 months. The vast majority of people have been sticking to the rules and following instructions, that needs to continue, so that we can see the light at the end of the tunnel.'
His call for more support was echoed by Matt Crick, who runs furniture store Victoriana in Southsea.
Matt said: 'If further government grants are provided to cover that period then small independent businesses will have a chance. If they don't extend the various government schemes already in place such as business rate reductions and the furlough scheme then I think it's going to be very difficult for a lot of small independents to stay operating.
'On a more optimistic note, I think this time more people will feel safer coming out again due to the increase in vaccinations and social distancing measures being in place. I know that ourselves and all the other local businesses out there can't wait to see them again.'
Another shop eager to get back to business is Creatiques Bridal Boutique, in Albert Road, run by married couple Andrew and Robert Pearce.
Robert said: 'Let's hope this will happen as planned.
'We are thrilled to have a roadmap now and we can now put on track, again, our plans for the future of Creatiques.
'We have been overwhelmed with the support we have had from our brides and their families. It has been a hard time for everyone, but now we can move forward.'
John Dyer, who runs Sirius Concepts, an interior design and refurbishment company in Havant, added a note of caution for those excited to revisit businesses.
He said: 'I think the whole country just shared a collective excitement at the thought of going shopping, having a pint, dining out and seeing friends in April.
'I just hope that this positive news doesn't make people relax social distancing measures and rules over the next month or so, we're still not past this and we need to get hospitality and leisure back in time for the good weather so they can thrive.
'Peoples' favourite shops, pubs and restaurants are relying on the common sense and discipline of their clients to behave, be patient and still stick to the rules until the great reopening and ultimately relaunching of the UK economy.'
A message from the Editor, Mark Waldron
Our trial offer starts at just £2 a month for the first two months.
Harriet Charter from Southsea
Owner of Willow Beauty Paula Hodges.