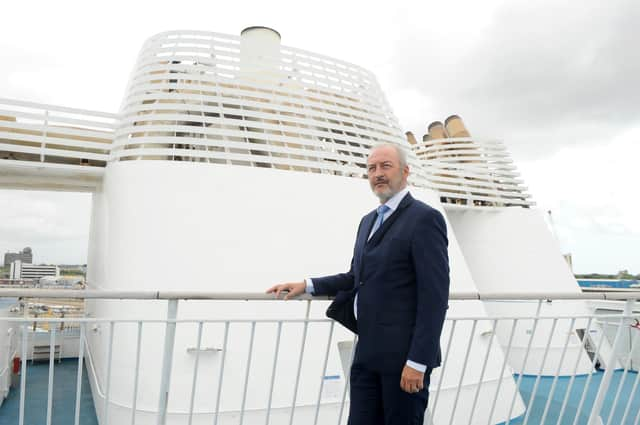 Brittany Ferries' chief executive Christophe Mathieu, pictured on the Mont St Michel as she departed Portsmouth en route to Caen. Picture: Sarah Standing (290620-712)
Brittany Ferries based at Portsmouth International Port, has been struck hard by the double-barrelled shotgun of Brexit and coronavirus, losing both passengers and cargo at a crucial time.
The firm was founded just 24 hours after the UK entered the common market (ECC), so connecting the UK to mainland Europe has always been at the heart of the company's ethos.
But following the transition period deadline on January 1, the firm is around 10-15 per cent down on its usual freight volume.
The CEO of Brittany Ferries, Christophe Mathieu, said: 'Freight is not as dynamic as it used to be and there's obviously an impact related to Brexit.
'November and December were quite strong for freight because people were anticipating Brexit, but it's not as good as it was this time last year – we have far fewer lorries travelling on our crossings.
'Yes there has been a impact in the freight flow due to Covid-19, but that is marginal compared to Brexit.'
For passengers, the major change brought about by Brexit is that travelling pets will require a new certificate each time they travel to Europe, and must enter via a designated travellers' point of entry.
Passengers with pets count for roughly ten per cent of all Brittany Ferries' customer base – and while the firm will still allow four-legged passengers, the added paperwork is a concern.
Mr Mathieu said: 'This is a particular issue for us. Brexit means more procedures for passengers travelling with pets, and that might impact numbers.
'Fortunately for us, the negatives are balanced out by the positives.
'We can now capitalise on the return of duty free, for example.'
Mr Mathieu added that the continuation of the coronavirus pandemic has made it difficult to precisely measure what the impact of Brexit has been.
But he hopes that Brittany Ferries, and subsequently the rest of Portsmouth, will fare well in the long-term.
'Overall there is a certainty that we will bounce back, and stronger than ever,' he said.
'I just hope that in the post-Brexit world there is still a harmonious relationship between the UK and the EU.'
A message from the Editor, Mark Waldron