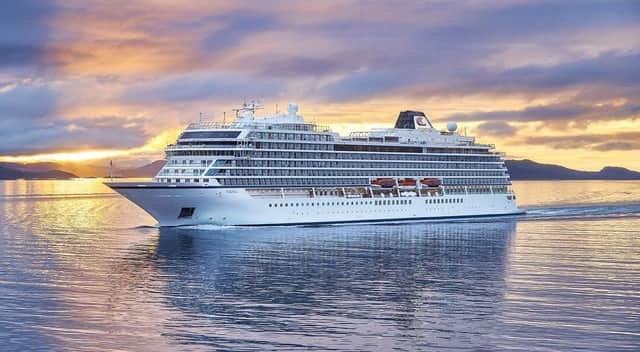 The Viking Sky in Lofoten, Norway, on its way to the North Cape.
Fred. Olsen Cruise Lines launched a new programme of cruising for 2022/23 on Monday as the line prepares for a return to sailing, with 126 new voyages including 82 destinations.
Viking also announced yesterday that it will restart limited operations in May 2021, with three special sailings along the coast of England, all of which will sail from Portsmouth
Martin Lister, from Fred. Olsen Cruise Lines, said: 'We are always incredibly proud to unveil our new cruise programmes, but this year it feels particularly exciting as it is the first time we will do so with our new look fleet.
Balmoral in Funchal, Madeira
'Every year we craft our new itineraries from scratch to ensure that we continue to offer our guests exceptional experiences in the destinations they visit with us.
'This has felt even more important this year, with the past 12 months having left us all dreaming of our next adventures and really considering what we all want from our holidays.'
Gerald Vernon-Jackson, leader of Portsmouth City Council, which own and operate of Portsmouth International Port, said: 'I'm delighted that Fred. Olsen have made a further commitment to the port with the inclusion of Portsmouth in their 2022/23 cruise schedule, with a fantastic range of European destinations available.
'We're looking forward to working with Fred. Olsen on the next stage of Portsmouth's new cruise era, as we continue to invest in the city's exciting future.'
Fred. Olsen's first sailings from Portsmouth for 2021 will set sail in October.
The firm is offering a guarantee that gives flexibility to transfer any deposits paid to another cruise at any time before the final payment is made.
Fred. Olsen sailings include trips to Balmoral, Zeebrugge, Gothenburg, Cophnhagen, Hamburg, Lisbon, Cádiz, Funchal, Madeira, Lanzarote, Gran Canaria, plus more.
Viking was the first cruise line to suspend operations at the beginning of the pandemic but chairman Torstein Hagen said it was eager to get going again.
He said: 'We are in a position to restart operations quickly and to start sailing again in May because we have kept our ships crewed during warm lay‐up throughout the past 12 months.
'We have been implementing our additional protocols, including daily quick and easy non‐invasive saliva PCR tests for our crew, for almost six months now.
'With our new protocol enhancements in place, we believe there will be no safer way to travel the world than on a Viking voyage and we look forward to welcoming UK guests back on board very soon.'
Portsmouth International Port was the first port in the UK to be recognised by independent assessors DNV for its protocols to manage and reduce the risk of Covid-19 infections.
Along with a thermal imaging scanner to check the temperature of staff and available for customers too, the terminal has also been reconfigured into a one-way flow system with reduced capacity and space for social distancing. Face coverings are mandatory for anyone travelling through the terminal, and cleaning practices have been enhanced through investments in the latest technologies.
Mike Sellers, director of Portsmouth International Port said: 'We can't wait to safely welcome cruise passengers back to the port.'
A message from the Editor, Mark Waldron
Our trial offer starts at just £2 a month for the first two months