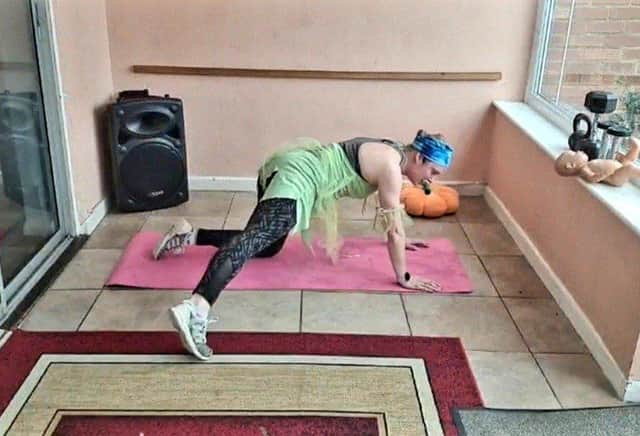 Karen Moore, from Gosport, has taken over the Sweaty Mama franchise
Karen, 33, from Gosport took over the Sweaty Mama franchise in June after quitting her factory operator job, which she did for 15 years.
Now the motivated mum is encouraging other mums to get involved and take part in her online exercise classes.
She said: 'It can be hard to find the motivation at home but this business has kept me sane – and the other ladies who have joined me.
Karen Moore, from Gosport, has taken over the Sweaty Mama franchise, pictured here with youngest son Ivan.
'It has been heart-warming to know that I have helped them through lockdown.
'For mothers, you are surrounded by so much love but it can be isolating.
'I love the fact that this group is mothers coming together through movement and exercise. It's like-minded women meeting up and lets you know that you are not alone.'
Karen Moore, from Gosport, has taken over the Sweaty Mama franchise
Married Karen is now looking forward to holding in-person classes, with her first booked in at Wickham Community Centre in April.
The classes, which are 45 minutes long, will take place on Wednesdays at 10.15am and see 15 women meet with their children, as children under five are exempt from gathering restrictions.
She is also planning classes to return in Gosport, Portchester and Clanfield, as soon as she gets the go-ahead from venues.
Karen said there are some challenges to working around her children – Jenson, 13, Elouise, nine, Joseph, two, and Ivan, one – but she wouldn't swap it for the world.
'I have always been into fitness,' she said.
'So I have chosen to pursue my dream career, it's been perfect to fit around my four children.
'Fitness is in my blood, I just love movement and exercise.'
Karen's classes can be booked in blocks of four for £25 or for a six-week challenge costs £35.
Go to fareham.sweatymama.com.
Karen added: 'I am so happy with the progress of Sweaty Mama.
'During some pregnancies and birth of their baby, women may have gone through some type of trauma, potentially meaning they may have lost strength in some areas of their body. All of our sessions also focus on rehabilitating your body.'
A message from the Editor, Mark Waldron
Thank you for reading this story.
Every subscription helps us continue providing trusted, local journalism.