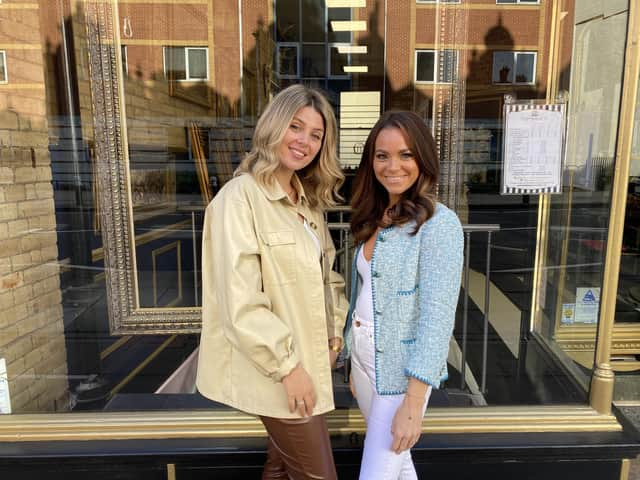 Hardysalon, in Lord Montgomery Way, Southsea is preparing to reopen. Owners Yasmin Leigh and Rachel Hardy.
Hardysalon in Lord Montgomery Way, Southsea, will reopen on April 13 after being closed for four months.
Co-founders Rachel Hardy and Yasmin Leigh said they have been hard at work during the recent lockdown, coming up with new ideas and plans for the future and rethinking the salon's concept, to ensure the business bounces back successfully.
Hardysalon, in Lord Montgomery Way, Southsea is preparing to reopen.
They have also taken on a new member of staff, who will join the existing team-of-five as an apprentice and train through Rachel and Yasmin.
Rachel said: 'We're so excited to be reopening and back doing what we love. It's been a really tough year – we've been open a total of four months out of 12, but we're keeping our positivity and spirits up and are going to come back better than ever.
'Yasmin and I talk every day and are constantly coming up with new ideas and plans, so although the next year or so will be challenging, we have so much exciting stuff to look forward to.'
Yasmin said: 'I think the time off has allowed us to really take a step back and look at the salon and ways we can make it amazing. We like to make sure we have a new and unique concept that really offers our clients something different, so we've been able to double down on that and put things in place to provide even more to our clients.
'We've been in contact with our clients throughout the whole lockdown and I think that knowing that they're so loyal and are as excited to be back as we are has been a real motivation for us.'
The team is booking up quickly, with a lot of their slots for April filling up with clients eager to get back in the chair.
The pair are also looking to expand their team and are hoping to bring on a new member of staff as part of their future plans of expansion.
Mum-of-one Rachel opened the salon in 2014, with Yasmin becoming a co-owner in February 2020.
The pair, who have a combined total of 35 years' experience in the hairdressing industry, have been friends and colleagues for 13 years.
Yasmin said: 'It's been a strange first year as a co-owner of the business, but it has definitely taught me resilience and I'm more ready than ever to get stuck in from April onwards.'
A message from the Editor, Mark Waldron