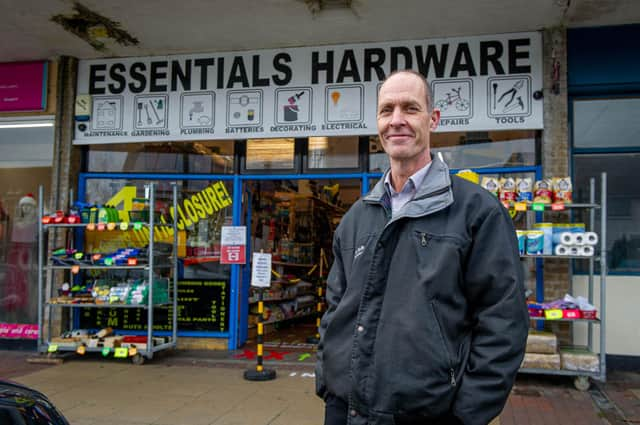 Simon Stevenson
Essentials Hardware, in Gregson Avenue, Bridgemary, opened in 1995.
It was set up by Simon Stevenson and sells a huge range of products, such as plumbing, electrical, paints and decorating goods, pet products, cut keys, bicycle accessories.
However, business has been tough, and this year has proved difficult, so Simon has decided to move on.
Simon said: 'The time has come to say enough is enough. The internet, and especially the likes of Amazon, along with the mass marketing techniques of the multinationals, has made us realise we are flogging a dead horse.
'Our prices are extremely competitive and our qualified knowledge doesn't come with most multinationals, but it just isn't enough.
'Although our regulars are going to miss us, it's no longer a viable business.'
Simon said he had found things difficult since he retired from his building firm, which he ran for 20 years alongside his hardware shop, four years ago.
Finding himself a lot quieter, he embarked on the challenge of becoming a driving instructor, and within 18 months he had qualified and he has been teaching for the past two years.
Now he plans to focus on driving.
Although he urged people to continue to support their local shops to avoid more closing.
He said: 'Without a doubt, communities still need their local shops, even if they do buy lots of things online. The "I need it here and now" will never go away, but if things carry on like they are, ninety per cent of local shops will disappear.
'That will be extremely sad for society as a whole.'
He said the last trading day will be on April 5 - and he hopes the community will show their support by helping him clear his stock.
'We've had some cracking times over the past 25 years,' he said.
'But a good business knows when to get out at the right time, and for us that's April.
'We'd love to thank all our customers over the years, especially our loyal ones, and can only hope their needs are met by someone else in the not too distant future.'
A message from the Editor, Mark Waldron
The News is more reliant than ever on you taking out a digital subscription to support our journalism.