Portsmouth brewery Staggeringly Good recalls 5,000 cans after some explode
ONE of the bosses at a Portsmouth brewery has thanked his customers for their support on the back of a recall of thousands of cans of beer.
Monday, 8th March 2021, 7:00 am
Updated
Monday, 8th March 2021, 6:23 pm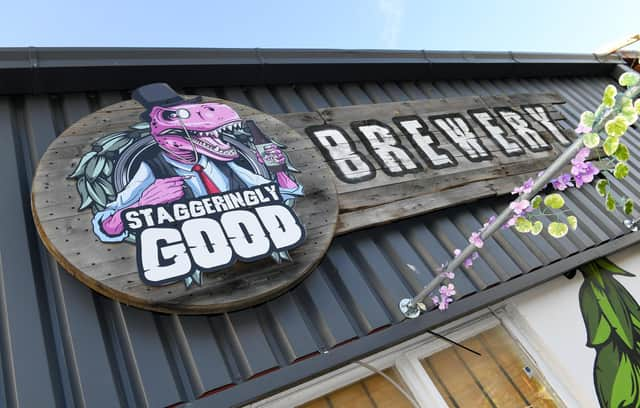 Staggeringly Good Brewery
Staggeringly Good, in Rodney Road, Fratton, issued the recall notice on its Chewy Cherry Wrecker, a fruit beer, after it was reported to the company that a small number of cans had exploded.
Boss Joe Ross, one of the three founders, said the recall had come at the end of a turbulent 12 months, but that he was grateful for his customers' understanding.
And he said it would not slow the brewery's plans to bring out more beers, to experiment with flavours or to expand its tap room in Portsmouth later this summer.
Joe said: 'Most people have been amazing and very supportive and positive. There have been a few negative comments from other parts of the craft beer industry but on the whole we have had support.
'What we are doing is pushing the boundaries and sometimes we do something which is novel and you get something that you don't expect to happen.
'In this case we believe the cans were stored above room temperature.
'We have recalled them all and beyond that we have encouraged people to dispose of them and we will refund them. This is the first time we have had an issue like this.'
He said that out of the 5,000 cans sold, he believes only about a dozen have been affected so far.
Joe added: 'It is a shame as it was one of the highest-rated fruit beers in Europe. It was not just a novelty.
'It was an interesting beer in so many aspects. It tasted amazing. We are disappointed and sad, and it has caused a great deal of heartache.
Staggeringly Good's Chewy Cherry Wrecker
'But it does not put a hold on things. We have lots of amazing products coming out soon, IPAs, sours, and more wreckers.
'I hope people can understand. We are so grateful for the support of our customers who have been with us on this journey over the past 12 months. And we are so proud and honoured to be part of people's go-to beers.'
He said that while the brewery's former tap room in Rodney Road was now permanently closed as it has been taken over for storage, they have big plans to relaunch a tap room this summer in a newer larger unit also on the
Staggeringly Good Brewery. (left to right) Robin Williams, Jon Chapman, Russ Cox, Jordan Fancey and Paul Judd
St George's Industrial Estate.
'It is going to be pretty impressive,' he said.
'It is going to be safe, with outside seating and offer a unique experience. We want people to have the full tap room experience when they return.'
Staggeringly Good was set up in 2015 by three friends – Joe, Jon Chapman and Russ Cox. It has quickly become known as one of the top award-winning breweries in England.
It also employs bar manager Paul Judd and head brewer Jordan Fancey.
'This evening we put out a message regarding our Chewy Cherry Wrecker and a potential issue with a small number of the cans exploding when kept for extended periods at room temperature. We have many test cans at the brewery and have not been able to replicate the issue ourselves however we understand the concerns many of you have shared. We have 8 instances of cans exploding, all of which were stored outside of the fridge but having listened to all of your feedback we feel the need to recall this product.
If you still have cans of this product then please dispose of them and contact us at [email protected] and we will arrange for a refund. We will also be contacting everyone who has purchased this beer to make the same offer.
We've had some incredible reviews on this beer and the vast majority of people have enjoyed what we have created without issue but we feel that this is the right thing to do.
This will not be the end for Wreckers and we'll be working hard to get the next in the series to you all when the time is right.
A message from the Editor, Mark Waldron
Our trial offer starts at just £2 a month for the first two months.