The Portsmouth hotels capitalising on the UK tourism boom
TOURISM in Portsmouth is booming as hotels across the city take advantage of a surge in UK tourists.
Thursday, 13th August 2020, 7:00 am
Updated
Monday, 17th August 2020, 4:55 pm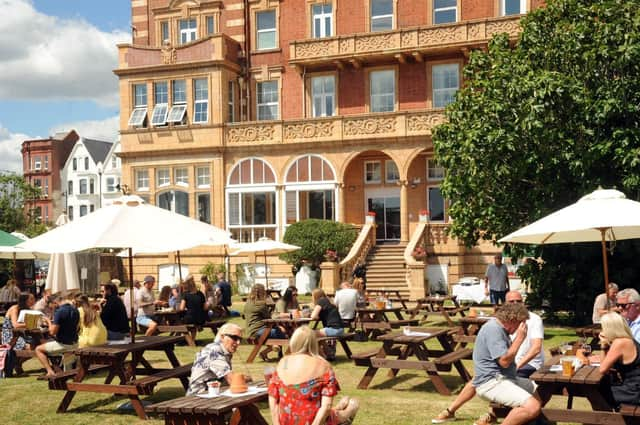 The Queens Hotel in Southsea
Businesses such as Becketts, the Queens Hotel, Portsmouth Marriott and Travelodge are all saying they have seen an increase in people booking stays thanks to restrictions on international travel due to coronavirus.
Becketts in Bellevue Terrace, Southsea, reopened its six-bedroom hotel on Tuesday after being closed since the end of March.
The hotel team are delighted to be fully booked this weekend - and they are hoping for a bumper summer season.
Becketts in Bellevue Terrace, Southsea is reopened its six-bedroom hotel on Tuesday, August 11 after being closed since the end of March. Pictured is: (back l-r) Jack Sencherey-Evans, head chef, Ben Taylor-Smith, junior sous chef and Charlie Akehurst, chef de partie, with (front l-r) Kealan Blenkinsop, assistant manager, Soraya Parker, owner, and Terence Carvalho, general manager, outside Becketts in Southsea. Picture: Sarah Standing (110820-2573)
Assistant manager Kealan Blenkinsop said they have seen a surge in bookings and that he hopes the tourism industry boom will help the city's economy recover.
He said: 'We've found that people are booking to stay with us for a few days and using Portsmouth and Southsea as a holiday destination as it has so much to offer.
'We hope that this trend is something we see more of as things begin to open back up because tourism is such a big part of Portsmouth.'
Becketts in Bellevue Terrace, Southsea Picture: Sarah Standing (110820-2594)
The Queens Hotel has also welcomed a growing number of UK-based visitors keen to enjoy a holiday closer to home.
Managing director Farid Yeganeh said: 'As soon as the Prime Minister announced the quarantine restrictions regarding Spain, we saw an upsurge in bookings from families.'
Travelodge has also been busy – and has seen a huge uptake of its special offer whereby it released one million rooms for £28.99 or less across its 573 UK hotels.
Kealan Blenkinsop, assistant manager, in one the bedrooms at Becketts. Picture: Sarah Standing (110820-2534)
Shakila Ahmed, from the firm, which has hotels in Stanhope Road, Kingston Crescent and Copnor Road, as well as in Gosport, said: 'Our figures show a glimmer of green shoots for our tourism industry. Hampshire and Portsmouth are holiday magnets that attract visitors from all corners of the UK, which is why we reopened our 19 Hampshire hotels including two Travelodges in Portsmouth as a priority.'
Meanwhile at Portsmouth's Marriott, general manager Robert Snaith says families have been booking to explore Portsmouth as well as the nearby Paulton's Park.
He said: 'Since reopening on July 4 we have experienced better than expected occupancy levels – considering the current situation.'
Councillor Steve Pitt, Portsmouth City Council's tourism boss, urged more people to visit.
He said: 'Portsmouth is a unique city to visit for those looking to get away in the UK this year.
'Tourism provides a valuable boost to the local economy and has a positive impact on businesses across the city.'
And it's not just Portsmouth that is seeing a boom, hotels nearby such as the Anglesey Hotel in Gosport are also profiting.
Owner Ray Bezani said the hotel, which has 26 rooms, was fully booked last weekend, and that the government's Eat Out to Help Out Scheme, which gives diners half price food on Mondays, Tuesday and Wednesdays throughout August, has also brought customers though the doors of his business.
He said: 'It has really taken off. It has been absolutely wonderful.'
A LOT of hard work has gone in to making hotels and their bars and restaurants safe places to be.
Becketts has brought in extra measures to ensure it is safe, including a new cleaning system in the rooms, with just one cleaner in charge of all six, as well as the distribution of any personal protective equipment, to avoid extra contact.
Becketts' general manager Terence Carvalho said: 'The team has coped so well and we couldn't have got this far without them.
'We've had lots of new returning customers due to the safety measures we've put in place.'
A cleaning process which mirrors what happens in hospitals has been employed by the Queens Hotel.
Every inch of the hotel has been deep cleaned using a fogging technique and an antiviral disinfectant.
Guests are encouraged to sanitise their hands, new signage has been put in, as well as markings on the floor to indicate 2m distancing. Serving staff are wearing face shields and all staff members have received extra training.
Travelodge has launched a multi-million pound safety and social distance programme called Travelodge Protect+. This programme of cleaning and social distancing measures has been created in line with government guidance and sees comprehensive cleaning, additional room checks, linen and towels thermally disinfected, hand sanitiser station installed, plus much more.
It's a similar story at the Marriott, with guests also able to further reduce contact with staff by receiving their room key to their mobile phone via an app.
The rise of the staycation
MORE than half of people in Portsmouth are still planning on taking a summer holiday this year, according to research by Travelodge.
Fifty-five per cent of adults in the city still intend on taking a break, with 80 per cent choosing to holiday at home due to Covid-19.
On average, holidaymakers are spending £797.54 on their summer holiday this year, which collectively equates to a boost of £24bn for the UK economy from British holidaymakers.
The annual Travelodge holiday index surveyed 2,000 British adults on their 2020 holiday plan.
The research also revealed that 42 per cent of holiday seekers in Portsmouth are taking more UK short breaks this year as they are not planning to go abroad.
Separate analysis from Nationwide showed that despite a drop in holiday spend overall, the UK is set to be the biggest beneficiary for holiday spend this year.
Thirty-two per cent of people it surveyed planned to stay in the UK to enjoy a staycation, with a further 14 per cent preferring day trips with their family and friends.
In a boost to local economies, those choosing to remain in the UK are likely to spend, on average, £480 on items, ranging from travel and meals to entertainment and essentials, on top of spending on accommodation and travel, the building society said.
Mark Nalder, Nationwide's head of payments, said: 'Although it's clear that there remains some trepidation about taking a holiday this year, our data clearly shows that a large number of people are ready to escape their homes to enjoy a change of scenery. And, even though it's a month on from the opening of the air bridges, Brits are choosing to stay at home to explore what's on their own doorstep.'
A message from the Editor, Mark Waldron
Thank you for reading this story. The dramatic events of 2020 are having a major impact on our advertisers and thus our revenues.
Every subscription helps us continue providing trusted, local journalism and campaign on your behalf for our city.