Pubs in Fareham, Gosport, Havant and Portsmouth reopen on April 12 as coronavirus restrictions loosen
It may have been a bit chilly but drinkers were delighted to raise their glasses to the return of – outdoor – pub life.
Monday, 12th April 2021, 5:13 pm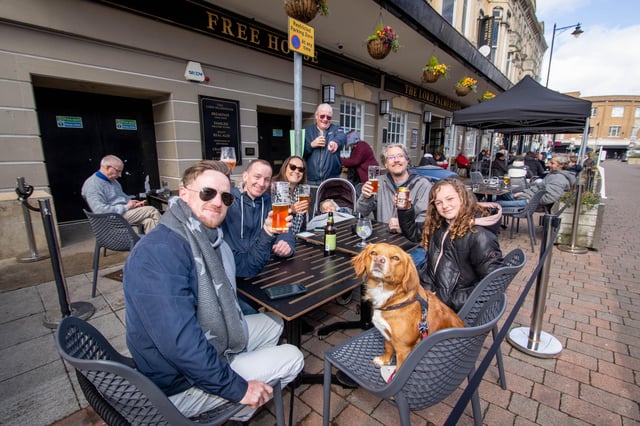 Jerome Matthews, Jasmine the dog, Derek Smith, Selma Matthews, two-year-old Kaylan, Alister English and Sienna Matthews, 11 outside The Lord Palmerston, Palmerston road, Southsea Picture: Habibur Rahman
Southsea friends Perry Stratford and Joe Sheppard, both 28, enjoyed a pint at The Kings pub on Albert Road.
'It's good to be back and get back to some normality,' Joe said. 'It's been a long time coming so we're pleased to be back.'
Perry added: 'When the sun comes out it is lovely. It's very relaxing and something we have missed doing.'
Drinkers at the Star in Gosport including Pete Webb, left Picture: David George
Southsea friends at the Lord Palmerston were also rekindling that relaxing feeling. 'It's been really nice to have a drink in the sun. I've been looking forward to it,' Selma Matthews said.
Jerone Matthews added: 'It's good to meet up with people and have a drink out especially after not doing it for so long.'
Pubs in Fareham town centre were busy as the small areas of outside seating were snapped up fast.
Lord Arthur Lee, in West Street, Fareham has opened its front seating area and back garden.
Julieanne Edwards, 40, and her dad Stephen Edwards, 59, both from Leigh Park, enjoy a catch up over a pint at The Parchment Makers Havant Picture: Sarah Standing (120421-6489)
Manager Jo Weller said: 'We have been looking forward to being open again. We have a non smoking area to the front and smoking in the back garden. It's table service and everything we serve is extra hot. We are still doing our free tea and coffee refills, just we will bring them to you. I've still got the same amount of staff working as I wanted to make sure everything is immaculate. We just want to get back to normal, so hopefully it will go well.'
Over at The Crown, in West Street, the outside seating has had a marque put up over it, handy for the occasional snow showers.
Pub manager Lucy Dempsey said: 'It's been busier than we expected. I think with all the adaptions we have put in place, we are going to be the busiest we have ever been.'
Rodney Paulton, 70, from Fareham was enjoying a pint of Abbot Ale.
Rodney Paulton, 70, from Fareham enjoys a pint of Abbot Ale at the Crown Inn, Fareham Picture: Kimberley Barber
He said: 'I came out today as I needed to buy a new phone as mine broke during lockdown. This is the first pint I've had for a few weeks and it's great. It's great to come out again.'
In Havant, several pub-goers were sat in the beer garden of The Parchment Makers on the corner of Park Road and West Street.
Portsmouth residents Helen Clarke and Albert Chivers were among them, enjoying their pub drinks for the first time in months.
Helen said: 'It's good to be back, it's nice to see the place coming back to life again.'
Helen Clarke and Albert Chivers from Portsmouth, enjoy an orange and lemonade and a pint of Guinness at The Parchment Makers Picture: Sarah Standing (120421-6485)
Dad and daughter Stephen, 59, and Julieanne Edwards, 40, both from Leigh Park, were also in The Parchment Makers.
Julieanne, who also had her hair cut first thing this morning, said: 'It's nice to get out again.'
Pub manager Mark Slingsby was serving customers along with his wife, fellow manager Georgina, and staff member Kerrie Lowe.
Mark, who lives in Bedhampton, said: 'We're pleased to be open, and looking forward to June.'
At The Star in Gosport High Street, drinks were flying from the bar as soon as the doors were opened.
The pub, run by Wetherspoon, boasts a seating area at the front and a pub garden at the back, which has been filled with benches and umbrellas for all weather conditions.
Ashley Etherington and pub manager Lucy Dempsey at the Crown Inn in West Street, Fareham Picture: Kimberley Barber
For Pete Webb, 56, there was more to the reopening than just getting a pilsner.
He said: 'It really is wonderful to be back at the pub, instead of being sat at home alone.
'It's the friendship I've missed, spending time with people and having a laugh together.
'I ordered an Efes pilsner right away, it couldn't be anything else for an occasion like today.'
Mary Blacksmith, who came to the pub with Pete, added: 'I gave up drinking during lockdown last year - but I missed my friends more than I missed the alcohol.
'It's great that things are starting to go back to normal again.'
Inside the pub, manager Fiona Gates and her team - Chloe Lording, Shannon Vogel and Megan Atherfold - have managed to get everything 'fully prepared' and agree that the friendship and camaraderie is what has been missed the most.
Fiona said: 'We've missed our customers very much and so it's great to see everyone again.'
Managers Mark Slingsby and wife Georgina Slingsby with team leader Kerrie Lowe, at The Parchment Makers in Havant Picture: Sarah Standing (120421-6493)
From left, Fiona Gates, Chloe Lording, Shannon Vogel and Megan Atherfold at The Star in Gosport High Street Picture: David George
Chris Cowell, Jeff Dennis and Dave Rowland enjoying a drink at The Lord Palmerston in Palmerston Road, Southsea Picture: Habibur Rahman