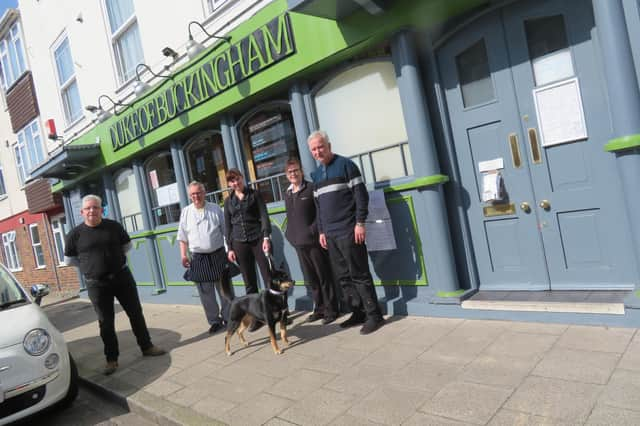 The staff from the Duke of Buckingham pub. Picture: John Pryde
The Duke of Buckingham pub in High Street, Old Portsmouth, has started a scheme to deliver hot meals to nearby pensioners in the PO1 postcode.
It comes after over 70s were told by prime minister Boris Johnson to stay in their homes for the next 12 weeks, as much as possible.
This, alongside the panic buying that has been rife in the city, means some elderly residents have been left with frighteningly empty kitchen cupboards.
Andrew Harvey from the Duke of Buckingham said: 'We are faced with a few months of turbulent uncertain times which I'm sure we will all become better people for.
'I appreciate that the council, Age Concern and Hive, along with well-appointed and approved suppliers exist, however, my feelings are that our current subscribers to this service may not know or qualify to receive such a service, so would appear there is a need for those individuals whilst being self-isolated.
'We have established a weekly meal plan and are going to deliver directly, using our own vehicles along with walking and a short bicycle rides if needed.'
The meals will cost £4.50 each, or £30 per week.
Currently, the pub and willing volunteers are hoping to deliver up to 150 meals per day, with plans to expand if the operation is successful.
Andrew said: 'This is not a money-making exercise, as we are a VAT-registered business; once removed and packaging costs are removed minus food costs and so on, we will break even.
'The importance, we felt, was there is a need and how could we help, plus how could we at least maintain our workforce during this period of no clarity.
'We have reviewed and upgraded our operating policy to include home delivered with a comprehensive risk assessment to safeguard good practice, client safety, and the delivery person's safety.'
Meals include cottage pie, chicken pie and a traditional Sunday roast.
For more information, people can call the pub on (023) 9229 4491.