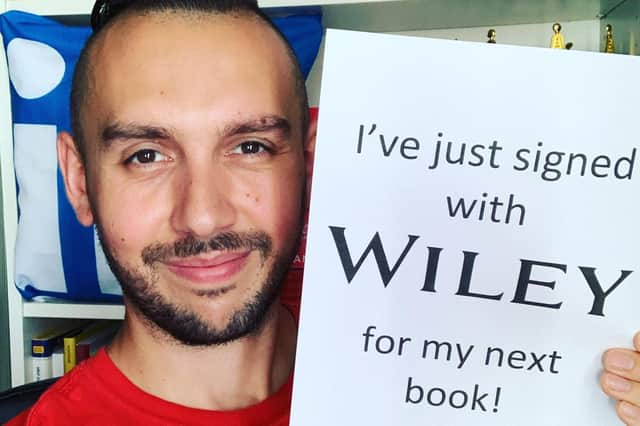 Daniel Disney
Daniel Disney from Waterlooville, self-published his first book The Million Pound LinkedIn Message in 2019 based on his true life experience closing a sale worth £1m on the social network.
Now he is publishing his second book The Ultimate LinkedIn Sales Guide with global publisher, Wiley.
The book, which launches in April but is available to pre-order, is a fully-comprehensive guide that aims to give business owners, sales teams and entrepreneurs the tools to generate leads, sales and revenue through social media.
Daniel said: 'I wanted to create the ultimate LinkedIn guide for everyone to be able to use and get the most out of LinkedIn. So many businesses and sales teams are either not using it to its full potential, or are using it the wrong way, yet it's packed with so many ways you can use it to generate business.
'I've poured everything I know into this book to create the most up to date comprehensive LinkedIn guide out there and I really can't wait to see it help as many people and companies as possible.'
The book, which costs £18.99, includes tips on content creating, personal branding, networking and how to navigate new features.
Multiple best-selling sales author Jeb Blount wrote the foreword.
He said: 'This book will become THE guide for businesses, salespeople and sales teams everywhere who want to learn and master LinkedIn for prospecting, lead-generation and selling.
'What I love most about this book is that it is short on theory and long on how-to. It is a practical deep dive into every facet of LinkedIn. Daniel teaches you exactly how to leverage and master LinkedIn for lead generation, prospecting, advancing pipeline opportunities, and elevating your personal brand.'
Daniel, 34, has built up a huge following of more than 750,000 people on LinkedIn and has generated millions of pounds worth of sales over the eight years he has been using it.
Since launching his LinkedIn training business three and a half years ago, has trained more than 1,000 salespeople and has worked with several large, well-known companies, including Amazon, Canon and Cambro, training their sales teams on how to utilise the platform.
A message from the Editor, Mark Waldron
Our trial offer starts at just £2 a month for the first two months.