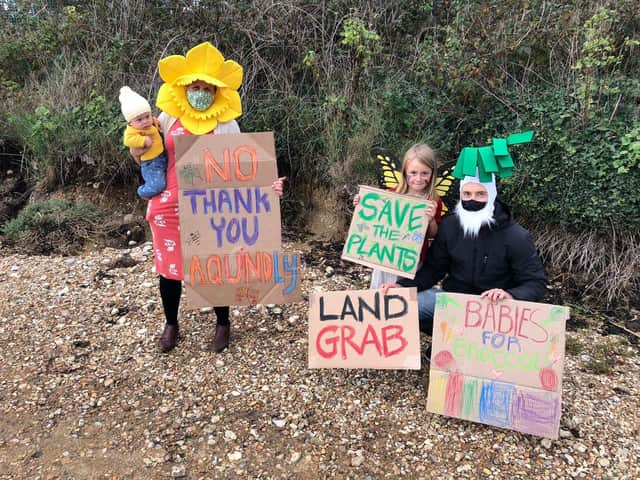 Protesters make their voices heard over the plans for Aquind to run interconnector cables through Portsmouth Alida Payson and Eli Lazarus, with their children Emlyn, 6 months old, and Marjorie, 5 years old. October 10, 2020 Picture: Richard Lemmer
The Planning Inspectorate has closed its public examination of the cross-Channel subsea cable plan that would come ashore at Eastney.
Among its final parting shots, the firm behind the plans blasted claims it was insolvent – saying £50m had been invested so far.
In response to an objection lodged by farmers whose father's ashes are on land Aquind wants rights over, the firm said it was 'solvent and has fully adequate and confirmed funding.... for the development stage of the project'.
A recommendation will be sent to the business secretary Kwasi Kwarteng before a final decision is made.
Portsmouth City Council said it and other councils had spent six months engaging with the examination in 'good faith, and at significant expense'.
Leader Councillor Gerald Vernon-Jackson said: 'All political parties in Portsmouth remain strongly opposed to the proposed interconnector project and the proposal to lay cables through areas in the east of the city.
'If approved, the construction will see significant and unacceptable disruption to residents and businesses in the city, and we believe that alternative options have not been explored.
'Having submitted our strong opposition to the project, we remain hopeful that it is not too late for the proposal to be rejected.'
Havant's council leader Michael Wilson said the 'strong' opposition to the plan was 'based on logic, not just emotion'.
He said: 'We understand the need to provide resilience in the nation's energy infrastructure but have genuine concerns about the local impact on our residents and businesses. We stand with our partner authorities in opposing this project.'
The city council said the plan, involving cables running to Lovedean, is 'unnecessary' and 'highly disruptive'.
An Aquind spokeswoman said the firm would create 350 jobs during construction on land, and up to 275 in the offshore installation.
She said: 'We would like to thank all of those who engaged with us throughout the examination process.
'Aquind Interconnector will help reduce GB wholesale electricity prices, saving British consumers between £2bn and £3.8bn in net present value terms.
'By enabling the transmission of cleaner and greener forms of energy, Aquind Interconnector will help to meet the nation's rising future electricity demand and contribute to achieving net zero.'
A message from the Editor, Mark Waldron
Our trial offer starts at just £2 a month for the first two months.