Portsmouth police drug team warns abuse 'ripples through communities'
DRUG dealers are being snared and forced through the courts by a team specialising in tackling criminals who cause the most misery in Portsmouth.
Monday, 28th December 2020, 9:27 am
The city's high harm team has put 40 cases through the crown court in 10 months, with 220 stop checks and 1,200 intelligence logs made in that period.
Inspector Scott Johnson's two sergeants and 11 PCs target dealers peddling crack and heroin on the streets.
He warned that in lockdowns dealers knew the 'risk had gone up' in being spotted but that many adapted posing as delivery drivers.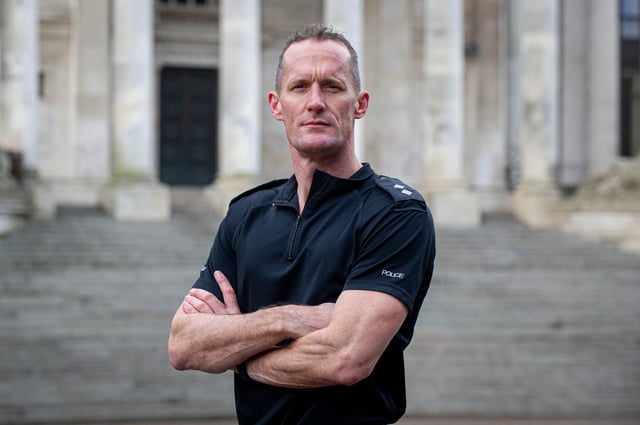 Inspector Scott Johnson outside Portsmouth Guildhall on 14 December 2020. Picture: Habibur Rahman
It comes as the Safer Portsmouth Partnership said that a nine-month review of drug-related violence in Hampshire found the city saw the second highest level in the county, with many incidents linked to knives.
The report added 'not much' drug linked violence is reported in Hampshire overall.
Insp Johnson said 'drug-related harm is the mainstay of the high harm team's work,' including intelligence gathering - identifying those involved.
Young people are still exploited by criminal gangs, with them forced into dealing drugs on the streets.
Insp Johnson, who praised his team's knowledge of the city, said the key to tackling the scourge of the drug trade was information from the public.
He said: 'My message to the community is that we do rely on those communities to report concerns to us.
'The information that communities - people, businesses, schools, health, neighbours and indeed families - who are concerned about young people whose behaviour might suddenly change is to reach out. If not to the police, then others.'
He added: 'If you have concerns about the neighbours, suddenly there's lots of comings and goings... that's what we want to hear about.'
But he warned that 'functioning' drug users are still part of the problem, and are putting their money into an 'awful industry'.
The effects of drug abuse 'ripple through communities,' he said. 'You hear the phrase where's the harm?
'If someone who is using a drug and functioning, and doesn't see that they're causing a problem, if they like it or not they're part of the problem.
'They're still putting their money into a very awful industry.'
His team is also taking on domestic abuse, which accounts for around 40 per cent of all assaults in Portsmouth.
Officers are undertaking further training and are paying repeat offenders visits to disrupt them pouncing on their victims.
This includes reminding them of bail conditions, and warning that the area victims' properties will be patrolled by plainclothes officers.
'High risk windows' are targeted by the high harm team, who seek to protect victims at crucial moments, including separations.
Part of this has seen his team take part in multiple-agency meetings where known offenders and situations are discussed between the council, housing, fire service, police and others.
A message from the Editor, Mark Waldron
The News is more reliant than ever on you taking out a digital subscription to support our journalism.