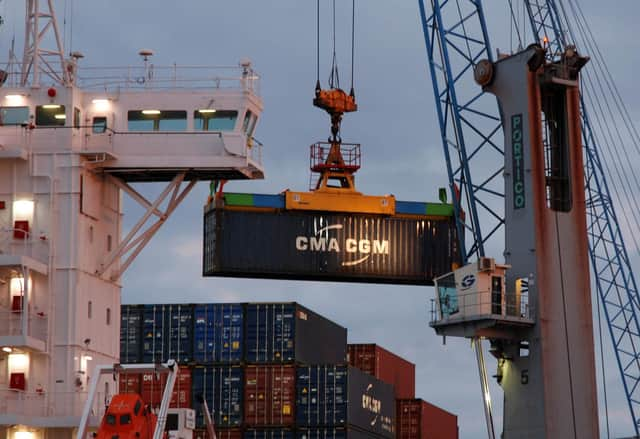 Portico helps major shipping lines solve empty container headaches.
Too many containers are in the UK and there is a severe reduction in availability in Asia where they are needed to ship goods to Europe.
Portico, the international cargo terminal at Portsmouth International Port, is helping to fix the problem, caused by increased shipping of PPE and Christmas goods.
The city council-owned company has since received 800 such containers in Portsmouth and has shipped 390 out to European ports.
These will be consolidated with others and eventually shipped back to China.
Portico is now working with some of the world's biggest shipping lines in an effort to get the containers back to where they are needed most.
Last week many containers left the city bound for Europe on BG Freight Vessel, the MV Elbstrom.
This is the first visit from one of Europe's major short sea shipping lines and, the firm says, shows the potential of more regular services establishing themselves at Portsmouth.
Steve Williams MBE, operations director at Portico said: 'We're pleased that we can do our bit to help solve this issue, which is causing disruption to supply chains across the globe and hampering the economic recovery from the coronavirus pandemic.
'We've really demonstrated our versatility this year, handling everything from fresh produce to satellite test chambers, showing that we're ready for any challenge.'
Portico is also asking for UK importers, who currently have containers with Christmas goods stranded in EU ports, to contact them.
The firm hopes it can get the goods onto shop shelves in Portsmouth by using short sea container services, a more efficient and cost-effective way to standard transit services.
Jonathan Williams, commercial manager at Portico said: 'Many businesses are looking at moving their European exports from roll-on/roll-off services using the Dover straits, to short sea container services which offer reliability alongside significant cost and carbon savings
'We already offer a weekly service to the Port of Antwerp and have an in-house customs agency team to deal with the paperwork, so we'd encourage British businesses to get in touch to see how we can help you.'
A message from the Editor, Mark Waldron
The News is more reliant than ever on you taking out a digital subscription to support our journalism.