Portsmouth Port says Brexit caused slow start to year but that freight traffic has recovered
PORTSMOUTH port has said that there was a slow start to the year – but that freight traffic is almost up to expected levels.
Tuesday, 13th April 2021, 4:00 pm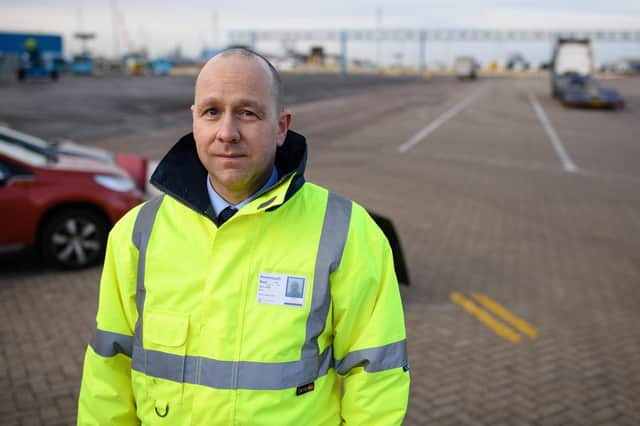 Portsmouth port director Mike Sellers Picture: Leon Neal/Getty Images
Mike Sellers, Portsmouth International Port director said: 'We had been preparing for a couple of years to manage the impact of leaving the EU on trade coming through the port, based on the government's reasonable worst case scenario that businesses would not have the correct documents to export goods to the EU.
'Through the Local Resilience Forum (LRF) we had a thorough plan to make sure hauliers' paperwork could be checked away from the port and reduce any disruption on the local road network.
'We were reassured to see that haulier compliance kept steadily rising and we were able to stand down the plan, known as Operation Transmission, early once we saw that over 90 per cent of drivers had the right paperwork.
'As far as stage one goes, changes to export regulations, operations are running as normal. After a slow start to the year, we're seeing freight traffic nearly back up to where we expect it to be, in comparison to last year's figures.
'Next up are the significant changes to imports and the need to physically check certain goods coming into the UK. Sadly we were not given the full funds to provide border facilities for all EU imports and have had to scale back the infrastructure. Despite this, I am confident we will be ready to provide inspection facilities for the majority of imports by the deadline of January 1, 2022. These new facilities will be used by government staff to carry out inspections, with the overall changes providing for a minimum of 140 new skilled jobs at the port.
'Everyone will appreciate all this work is going on against the back drop of Covid restrictions, but the whole port team has been working round the clock to make sure neither Brexit or the pandemic impact on the trade flows.
'Once travel can resume we'll get a better idea whether that has been affected by Brexit, the majority of travellers coming through the port are heading to France and Spain and I can't see any major reasons why that wouldn't continue.'