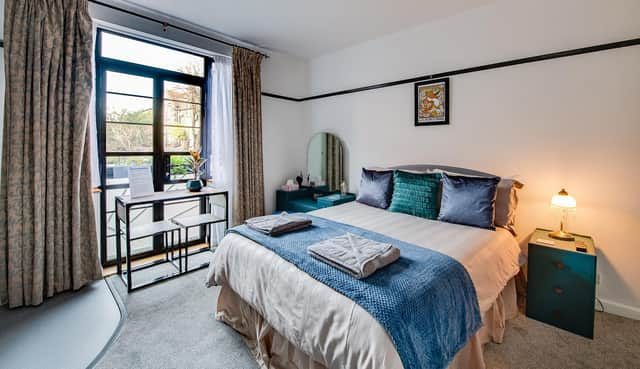 One of the Places To Be properties in Southsea which is being used as part of the Stays For Heroes campaign
Places to Be, which usually leases out flats, studio apartments and houses for short stays to holidaymakers and business people, in Portsmouth and Havant is now renting them to essential workers for longer contracts.
Southsea resident Dan Ruttle, who runs Places to Be, said: 'We have got a real mix of people staying in our homes now. There are doctors and nurses, and also shop workers and delivery drivers.
One of the Places To Be properties in Purbrook, which is being used for the Stays for Heroes campaign
'Some are shielding themselves from their families and others are people who are living with housemates who are all key workers and they want to shield themselves.
'There are also people who have come in from elsewhere to work at QA and need somewhere to live. It was important that we were able to help people.'
The company, which has 14 properties on its books, is one of 1,100 across the country to sign up to the Stays for Heroes scheme that was set up by B&B booking specialist Eviivo.
Dan explained how it had also benefited his company, which was only a year old. 'It was a bit of a worrying time at the beginning with all the uncertainty,' he said.
Dan Ruttle, who runs Places to Be which is taking part in the Stays for Heroes campaign
'Without doing this we would in no doubt have gone under.
'We're charging around 50 per cent what we would usually to just about cover our costs. The people who I manage the properties for have bills to pay themselves so I didn't want them to lose out.
'We're looking forward to when things start to change. We want to be really community orientated and give people a good reason to visit Portsmouth.'
Two other property companies in Portsmouth are also taking part in the scheme, as well as one in Gosport.
Ian Hardwick, partnerships director at Eviivo, said: 'In recent weeks there has been a real sense of coming together, and we hope that through Stays for Heroes we can do our bit to support.'
Key workers can find and book properties near them by viewing the map on the Stay for Heroes website staysforheroes.com.