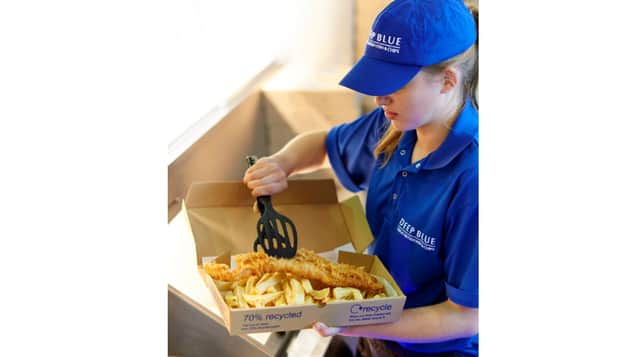 Picture: Deep Blue Restaurants
Deep Blue Restaurants is opening its takeaway on South Parade Pier tomorrow after it has been shut for seven weeks due to government restrictions to do with the coronavirus pandemic.
CEO and founder James Low said: 'With the reopening of the South Parade Pier Takeaway, we are looking forward to serving fish and chips to people who are keen to spend some quality time with their families on the beach.
'This prolonged period of isolation has been very challenging for many and we want people to enjoy their outdoor leisure activity, while adhering to the rules and respecting one another.'
Deep Blue at South Parade Pier.
Last week the chain also opened its Eastney Road premises.
A memo from the company said: 'As with our Eastney Road takeaway, it's not as simple as opening the doors and welcoming everyone back as before. We have been implementing new measures in our reopened stores which, we believe, will keep our team and customers safe.'
The South Parade Pier venue will have reduced opening times; Wednesday and Thursday: 11.30am until 6.30pm, Friday and Saturday 11.30am until 7pm and Sunday 11.30am until 6pm.
South Parade Pier. Picture: Habibur Rahman
It will be closed on Monday and Tuesday.
A number of social distancing measures have been put in including 2m floor stickers, sanitising stations, team hand washing and surface sanitising every 20 minutes or between tasks, temperature tests for staff members at the beginning of their shift and contactless payments.
The chain's restaurant in Bedhampton Road also opened earlier this month.
Deep Blue at South Parade Pier.
South Parade Pier Picture: Solent Sky Services
Deep Blue at South Parade Pier.