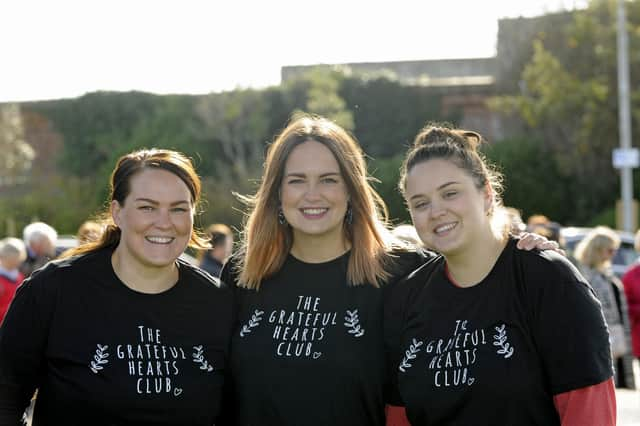 Families, supporters and charity workers have taken part in a 500 mile challenge to raise money for the Mama Academy which supports families experiencing still births and pregnancy loss. (l to r), sisters Kelly O'Neill, Charla Grant and Alex O'Neill. Picture: Ian Hargreaves (271019-6)
Charla Grant, from Southsea set up the Grateful Hearts Club in June 2019 after a seven-year journey of trying to start a family.
After several miscarriages, ectopic pregnancies and sadly losing her daughter, Olive, during childbirth, Charla started to think about the positive things she had in life that she was grateful for.
The 37-year-old said: 'I realised I had a home, I had an amazing family, a lovely dog and I focused on those little crumbs of joy in my life.
'I used gratitude as a way to focus on the positive stuff and the smaller stuff that mattered most.
'The message is to be able to share and spread some love and positivity and to encourage some connection.'
She makes 'gratitude cards' which people can purchase and use to write down what they are grateful for, to either keep and look at when they need it or send to friends and family.
Charla has seen a rise in business since the coronavirus pandemic has hit, with more people wanting to spread gratitude.
She said that people have been sending the cards as 'isolation gifts' to their friends and family and people have been using them to teach their children about being grateful for the things they have.
She said: 'There is a quote I love which is "gratitude turns what we have into enough". I think it is really accurate right now and I hope it helps people think about what is truly important.
'I feel like if ever there was a time for gratitude, now is the time.
'I have definitely seen sales increase. It's not about the money, it's the fact that people are turning towards gratitude.
Charla also works with the Liberty Lounge in Southsea, hosting gratitude workshops for members.
She is now in the process of recording online workshops so people are still able to take part as the lounge is now closed.