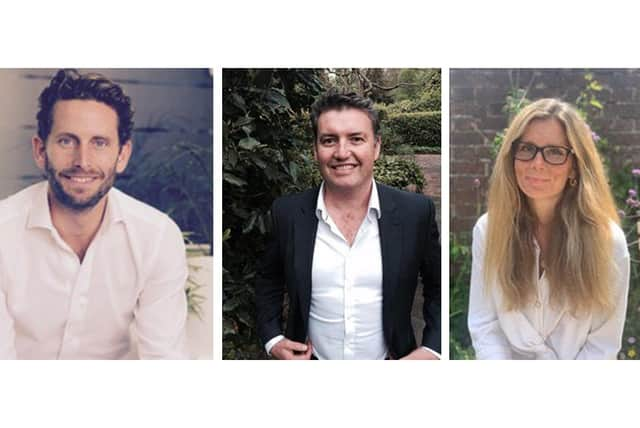 Unibeez founders, from left, James Parsons, Chris Keenan and Laura Gilbert
Unibeez is a free digital marketplace, on an app and website, that enables hirers to sign up, create a business profile and start posting remote jobs or rolling projects.
The platform is free to students; and is already attracting scores of students and graduates.
The start-up is the brainchild of Chris Keenan and James Parsons.
Chris, from Lodsworth, got in touch with his friend James, who runs a recruitment business called Arrows Group Global and lives in Fernhurst, after he saw his eldest son struggle with his student loan and finding suitable part-time jobs while at university.
They brought Laura Gilbert, who lives in Langstone, on board and the idea has grown from there.
Laura said: 'We have since grown the team and we work with a wide team of students and graduates to help build up the platform so we really live and breathe our offering. They've all been brilliant to work with and bring so much to the table.'
The work is all remote, so students can work around their studies from wherever they are, earning a minimum rate of £11 per hour.
The type of projects posted include social media management, graphic design, app testing, data entry, plus many more.
Students can seek jobs in their fields of studies, or follow their interests, developing their digital skills as they go.
CEO Chris said: 'We are creating a marketplace specifically designed to connect students and graduates with professional hirers, add to this the backdrop of ever-spiralling student debt and lack of genuine work prospects and the market trend towards flexible, on-demand work.'
The AI tech behind the platform matches the best student or students to projects posted, it initiates communications and activates the jobs with ten-hour minimum per job. Once complete, the hirer endorses the students so their profile over time grows in testimonial and experience.
James said: 'Unibeez aims to unleash that talent on the marketplace, satisfying the growing appetite for on-demand skills at a market-beating price, promoting diversity, inclusion and equal access whilst shaping the leaders of tomorrow.'
A message from the Editor, Mark Waldron
Our trial offer starts at just £2 a month for the first two months.