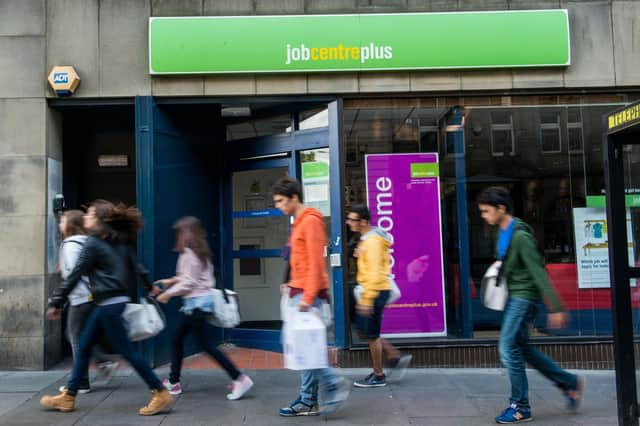 Photographer Ian Georgeson. The Job Centre.
Figures from the Office for National Statistics released today (Tuesday) show the UK's unemployment rose to 5.1 per cent in the three months to December.
It said that 1.74 million people were unemployed in the October to December period, up 454,000 from the same quarter in 2019, and 425,000 of those unemployed were aged under-25.
Figures for Portsmouth show there were 10,140 people claiming Universal Credit in November 2020, a rise of 130 per cent year-on-year.
Of these, 1,871 were young people aged between 18 and 24, a rise of 170 per cent year-on-year.
These figures were also an increase on the numbers five years ago, a 152 per cent increase, with 251 per cent increase for young people.
Business chiefs said this was a reflection of the pandemic, and that the situation would only get worse if the government does not act to support businesses. It comes as Rishi Sunak prepares to deliver the Budget on Wednesday, March 3 – and Hampshire firms and business groups have issued a stern warning that he must continue to help industry..
Ross McNally, Hampshire Chamber chief executive and executive chairman, said: 'The financial impact of the pandemic on cash-strapped businesses is only too clear in these latest unemployment figures.
'In order to safeguard jobs, our members need more certainty from government. Ministers must guarantee that business support will continue throughout 2021 so employers can plan ahead until a full reopening of the economy is possible.
'That means maintaining the option of furlough under the Job Retention Scheme alongside other essential measures such as business rates relief, tax deferrals, loans and grants. If this safety net of support is withdrawn, there will simply be further damage to jobs and people's livelihoods.'
Stef Nienaltowski, chief executive officer, said that the combination of Covid and Brexit had made it tough for the small businesses in the city.
He said: 'There are more than 10,000 people on Universal Credit in the city, and we are expecting that number to go up when the furlough scheme ends.
'Most businesses in Portsmouth are smaller businesses employing one to nine people and they are part of a supply chain. So when that supply chain is disrupted, with Covid or Brexit, so are jobs. We won't know the true effect until the end of the year.
'However while that side of the coin may be dull, Portsmouth always has a habit of shining itself up.'
Garry Lee, chair of the R3 Southern and Thames Valley region, echoed the call for more help.
He said: 'The latest unemployment figures lay bare the disproportionate impact of the pandemic on younger people.
'Those sectors which traditionally employ younger people, such as hospitality, retail and leisure, are among those to be worst hit so far.
'Many businesses in this sector have been forced to make employees redundant or have frozen recruitment. The situation has been exacerbated by a wave of younger people leaving school, college and university during the course of the pandemic and being unable to find employment.
'We may see the demographics of unemployment change in future with older workers becoming more widely represented depending on the expecting phasing out of government support and the gradual reopening of businesses that tend to employ younger people.'
Garry, who is an associate director in the recovery and restructuring services department at accountancy firm Smith & Williamson, added: 'In general, although the unemployment figures are disappointing they are not unexpected.
'The government's support measures have preserved a large number of jobs, which has undoubtedly kept individual insolvency levels relatively low up until this point.
'However, we can expect the figures to worsen before they improve.'
Nicola Bailey, Federation of Small Businesses (FSB) development manager for Hampshire and Isle of Wight, said: 'These unemployment statistics don't actually fully reveal the challenges that we are facing in the jobs market.
'Small firms are having to make incredibly hard choices about staff numbers at he moment and it's a real struggle to recruit right now.
'What FSB would like to see is a cut to employer National Insurance contributions and reintroduction of a job retention bonus, we also really need to help those currently out of work and those looking to start a new business.
'We would like to see funding through the new enterprise allowance and start-up programme and maybe a kickstart initiative to help those who have been out on furlough and are thinking of starting up their own business.'
Tina Bige, from Portsmouth JobCentre, said they were focusing their efforts on bringing in coaches to help people build their interview skills, find local vacancies and quickly get back into work.
She also said they would be running other schemes such as the Kickstart Sheme, which creates paid six-month work placements for young people, and Disability Confident, a government scheme that supports and encourages employers to have diverse and inclusive workplaces.
She said: 'We are doubling the number of frontline work coaches to 27,000 by March 2021 to support people looking for work including helping them pivot into new sectors and making sure they access any additional support they need including training and work experience.
'Portsmouth Jobcentre have so far had six customers starting work with a Kickstart opportunity. The number and variety of opportunities increases on a daily basis.
'Portsmouth City Council have put on over 15 opportunities and it just highlights the support out there for the scheme and hopefully it will also encourage more employers to get involved.'
Unemployment figures in Fareham, Gosport and Havant also painted a similar picture.
- In Fareham, 2,452 people claiming Universal Credit in November 2020, a rise of 190 per cent year-on-year.
Of these, 511 were young people aged between 18 and 24, a rise of 243 per cent year-on-year.
- In Gosport, 2,810 people claiming Universal Credit in November 2020, a rise of 131 per cent year-on-year.
Of these, 608 were young people aged between 18 and 24, a rise of 152 per cent year-on-year.
- In Havant, 4,564 people claiming Universal Credit in November 2020, a rise of 133 per cent year-on-year.
Of these, 861 were young people aged between 18 and 24, a rise of 159 per cent year-on-year.
A message from the Editor, Mark Waldron
Our trial offer starts at just £2 a month for the first two months.