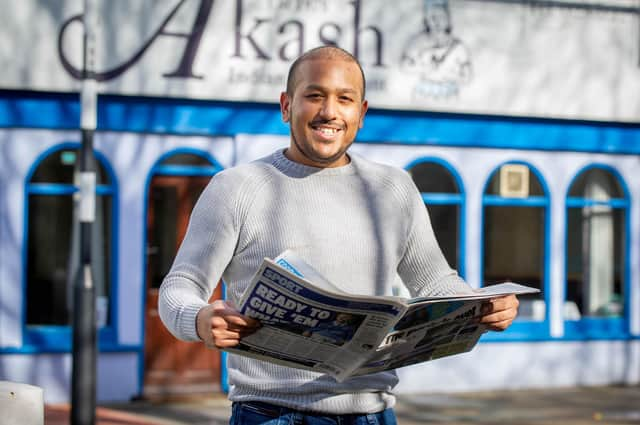 Owner Faz Ahmed of Akash, Southsea for We love the News campaign Pictured: Faz Ahmed at Akash restaurant, Southsea on 18 February 2021. Picture: Habibur Rahman
The newspaper has run its #supportlocal campaign throughout 2020 in a bid to promote the benefits of local businesses.
One local business that has often featured in its pages is the Akash, in Albert Road, Southsea. The restaurant, which opened in 1978, is run by Faz Ahmed – and has often attracted attention for a whole range of interesting news stories, everything from entertaining celebrities, to charity events, to donating food to good causes, television appearances and even flying its curry hundreds of miles to ex-pats in France.
Faz, 36, said: 'I was born and bred in Portsmouth so I grew up with the paper. I've had an excellent relationship with The News over the years. It has done a lot for the community .
'It's always first to cover anything positive for the city, that's what I love about it and that's why it has such a good base of loyal r eaders.'
As well as helping Faz promote his business locally, news of Faz's various quirky endeavours have reached the pages of national newspapers and television shows.
He said: 'The News has always been happy to support us. Two of our stories that first started in The News ended up making international headlines.
'One where a customers bought a curry and took it to France for his Christmas dinner, and then when we flew curry out to France.
'The News was the first to cover both stories and then the national newspapers picked them up, then we had calls to go on television, it was reported everywhere, it was a great boost for our profile. It made me realise that The News is read by a lot of people – and a lot of big names.'
Faz said the newspaper has also helped promote the Portsmouth Bangladeshi Business Association, which formed 18 months ago, and that he was proud to see it cover when the Bangladeshi Minister visited the city on trade talks last year, as well as when Portsmouth and Sylhet in Bangladesh became sister cities.
He added: 'I love this city and everything about it and The News reflects the good that is being done by so many amazing people. Reading about them inspires me and motivates me to do more for my city.'
The Akash is currently open for takeaways and deliveries.
We Love The News
The News has launched its We Love The News campaign to share some of the ways that our newspaper has touched the lives of our readers.
Whether that's by being featured, or promoting a good cause, or uncovering some wrongdoing, or just simply landing on your doormat every day, there are many ways in which The News plays a part in our readers' lives.
We hope to celebrate these stories - and by doing so remind everyone why buying a newspaper is such a wonderful thing to do.
If you would like to be featured, and shine a light on the ways The News has helped you, your cause, charity, campaign, or business, email [email protected]
A message from the Editor, Mark Waldron
The News is more reliant than ever on you taking out a digital subscription to support our journalism.