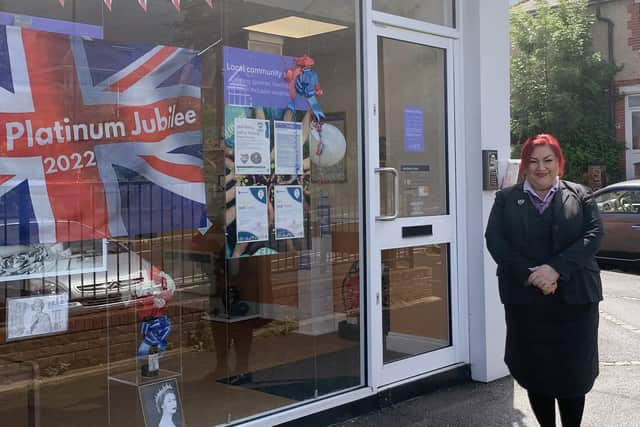 Linda Docherty, Southern Co-op Funeralcare Funeral & Memorial Consultant
At a difficult time, it takes the pressure off your loved ones by saving them from the financial burden and making decisions on your behalf. It's the last act of kindness from the person who has passed away.
It's a service that Southern Co-op Funeralcare offers and it means that people have the option of discussing their choices for their funeral, ahead of time and getting all of their wishes planned.
They can also pay for the funeral plan up front or in instalments, which takes the financial pressure off their families when the time comes.
Linda Docherty, a Funeral & Memorial Consultant for Southern Co-op Funeralcare, said: 'Every funeral plan we arrange is completely personalised, inflation-proof and fully guaranteed. This gives maximum peace of mind for the person who is arranging the funeral plan and the family they are leaving behind.
'We pride ourselves on providing choice to our clients, from memorial art or jewellery to sending ashes into space, as well as the more traditional options too – there is lots to choose from to reflect someone's personality.
'The price of a funeral plan will depend on choices selected. We keep the client informed and will work to their budget requirements. They can pay it in instalments for up to two years or in one go.
'We take details of their next-of-kin and anyone they would like to arrange the final details of the funeral for them when the time comes. We offerthem different service types, whether they want a burial or a cremation or whether they would like a religious service or not.
'There is also a discussion about the different music options and help is offered when it comes to ideas for music too.
'We discuss the different transport options, whether that's using a traditional hearse or more unique transport like our fully-electric Tesla hearse or the replica Only Fools and Horses Robin Reliant hearse or VW Campervan hearse.
'We ask them if there's anywhere special that they would like the transport to pass on their final journey,' Linda added.
'We go through whether they would like flowers and what type, or if they would like a donation to charity instead.'
People are also asked if they would like people to visit them in our chapel of rest in the funeral home. And what about what they would like to wear?
'We always ask if there's anything that they would want in the coffin with them,' Linda said.
'We ask what they would like to be dressed in and if there is anything that they want to be returned to their family - sometimes people want to go in the coffin wearing their wedding ring, but others prefer their jewellery to be returned to their loved ones.'
So why is it important for people to plan their funeral in advance and how much of a difference does it make to their family?
Linda explained: 'It's just nice for them to be able to make sure that their wishes are dealt with. It makes such a difference to the families when they come in because they know what their loved one wanted and there is no second-guessing at a highly emotional time.
'It takes a lot of the pressure off and worry away. They feel relieved when they leave that, when the time comes, their family doesn't have to worry about any major decisions.
'We promise to always give the best care, support and experience possible.'
To find out more about The Co-operative Funeralcare or find your nearest Southern Co-op funeral home, visit www.funeralcare.co.uk.