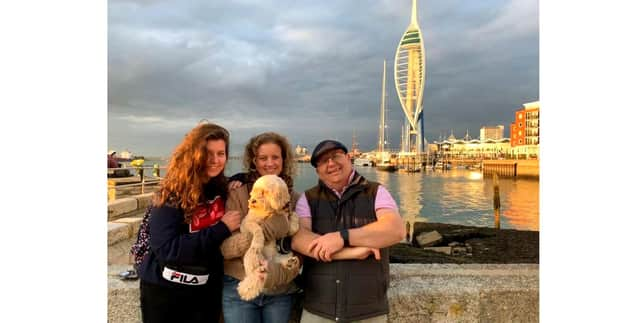 Paul Livingston with (left) daughter Eleanor, wife Kate and Poppy the dog
When Paul Livingston started work as an engineering apprentice more than 30 years ago, he never thought that one day he'd be sitting at the head of the boardroom table.
But today he is vice president and group managing director of Lockheed Martin UK's Rotary and Mission Systems business based in Havant - and in April he will become chief executive of the whole company in this country, in charge of around 1,800 people.
Reflecting on how his career began, Paul says: 'I didn't start out thinking I'm going to be a chief executive, I really didn't. I just always tried to do the job really well and look forward to that next aspirational step.'
Emlyn Taylor in his home office - a camper van
In National Apprenticeship Week his story is an inspirational one, showing that the sky is the limit for those who start off as apprentices.
He says: 'I think I'm living proof that you can do anything.'
Since joining Lockheed Martin, a global security and aerospace company and a key strategic partner for the UK's national defence and its supply chain, Paul has held a number of positions before taking on his present role in 2017.
Paul, 52, says: 'As the business enters the next phase of its development, I'm excited by the opportunities ahead as we develop our presence in new areas such as UK space, directed energy, cyber security and 5G technologies that will support 21st century defence and security operations.'
Choose a career with Lockheed Martin UK
As a teenager, Paul knew he didn't want to do A-Levels. Instead he was interested in becoming an apprentice at civil and military simulation company Singer-Link Miles, based in Sussex where he grew up.
He recalls: 'I didn't see myself as particularly academic, so I went for an apprenticeship. There were a lot of applications and I got through to the final six for five places. But I wasn't successful.'
Instead he went to college to take a BTEC National Diploma, covering a similar programme to the one he would have followed at Singer-Link Miles.
Paul explains: 'Coming towards the end of that I was starting to consider going to university and at that point someone from Singer-Link Miles rang up and offered me a road back into their apprenticeship scheme.'
Lockheed Martin is an Armed Forces-friendly employer and currently holds Silver status in the Ministry of Defence's Employer Recognition Scheme
He was put on a two-year engineering apprenticeship, training and getting paid, and calls it 'the best of both worlds'.
After completing his apprenticeship, the young engineer spent some time working in the Netherlands and a year in California. Singer-Link Miles then merged with another company and it was through a new role in this business that he first linked up with Lockheed Martin.
Paul says: 'I spent six months in Orlando, Florida at Lockheed Martin training headquarters in 1997/98. That was really a six-month job interview. They said if they could find the right opportunity would I consider a move. And the right thing eventually came up.'
In 2001, Lockheed Martin wanted him to head up the UK Military Flying Training Systems bid, the first private finance initiative for the Ministry of Defence – a bid which the team won six years later.
He went on to work in the aerospace arm of the UK business and then on projects abroad in the Netherlands, Korea and Brazil.
Returning to the UK, he rose to become vice president and group managing director for Integrated Systems in the UK, leading a team of 700 people and 16 sites from a base at Gunwharf in Portsmouth.
Now he is readying himself for the challenge of leading Lockheed Martin UK as CEO. So what has his career taught him so far?
'It's about being willing to take on new challenges and things that are a bit different.'
He says travelling with work and seeing how different countries operate has made him value diversity and inclusion in the workplace.
'It's about diverse backgrounds and diversity of thought. The more complex your problem set is, the more diverse thoughts you want in the room when you're wrestling with that problem.'
He adds: 'We do not have enough women in defence or engineering. Five years after completing a degree, 60 per cent aren't in STEM-related fields. That's a lot of talent that's being lost.'
Paul is also keen to dispel any misconception that apprenticeships are all about hard hats and spanners. He says Lockheed Martin offers the chance to work on a diverse range of projects.
'Lockheed Martin is the single largest aerospace company on the planet. The amazing thing is the diversity of what we do, from the very edges of space to the depths of the ocean, to moving around in cyberspace. You have a chance to be a part of making a difference in the world.'
When Paul becomes chief executive, stepping into his shoes as group managing director of Lockheed Martin UK's Rotary and Mission Systems will be Emlyn Taylor - another former apprentice.
Emlyn, currently Programme Delivery Director, usually works from Havant, but since March last year his office has been in a camper van in his garden.
Before joining Lockheed Martin UK, Emlyn held various senior technical roles with BAE Systems, IBM Global Systems, Marconi Underwater Systems, Westinghouse Signals and Siemens Plessey Defence.
He started his career at 16 as an apprentice at Plessey Defence Systems and later graduated from Bournemouth University. Emlyn, 50, says: 'In my last two years at school I got into writing games and computer programmes.
'I started a YTS course to get me skilled up in IT and was soon given an assignment at Plessey to make sure software was stored safely. That was the beginning of my journey.'
He did a 13-week programming course, but the company also gave him experience in different areas such as testing and system engineering.
By 25 he was a team leader. Then he set up his own company and wrote software for the underground rail systems in London and Madrid. He also worked with Marconi Torpedo Systems on testing software.
In 2001 he began working for Lockheed Martin UK. The company had just won a contract with the Royal Mail to automate the reading of addresses on envelopes using artificial intelligence.
Emlyn says: 'I still have the very first envelope where we managed to make that happen. The system we have developed for the Royal Mail has handled 11 billion items a year for the past 20 years.'
He was chief architect of the system, which is now used in 39 mail centres across the country.
He says of the importance of apprenticeships: 'I've always been a big champion of apprentices. I have a deep belief that diversity brings success and apprentices are one part of that.
'I'm very passionate about telling people you can make your own luck. I was fortunate that I had an inspirational school teacher who saw something in me - and then that the companies I've worked in have been willing to invest in me and give me opportunities.'
As part of a media partnership, this year www.portsmouth.co.uk will be featuring a series of articles about Lockheed Martin UK and the people who work there.
Be part of a company with a passion for innovation
Lockheed Martin UK continues to play a huge and important role in the security of the UK.
Its innovative capabilities cover large, vital elements of aerospace and security including fast, efficient and secure mail sorting technology through to supporting the Royal Navy's strategic nuclear submarine operations, pilot training for the UK armed forces, providing the eyes and ears for the Royal Navy's sub-hunting helicopters, armoured vehicles and helping to build the UK's first commercial spaceport.
Whatever stage of your career, Lockheed Martin offers a culture of innovation, outstanding benefits, ongoing learning and development opportunities, plus an inclusive work environment, rewards and recognition.
There's a nine-day fortnight, flexible working, a market-leading pension, health and insurance benefits and more.
The Lockheed Martin Apprenticeship Programme offers real-life work experience, plus working towards gaining qualifications. Learning is via a college or training provider, by day release or spending scheduled time with them.
Lockheed Martin UK will ensure the learning is reflected in the role and the required support is provided. Programmes include engineering, IT, project management, procurement and technical publications.
A number of apprentices are now working towards a Degree Apprenticeship.
Apprentices receive ongoing guidance, technical knowledge and support while they transition into the workplace.
A Lockheed Martin UK apprentice will get hands-on experience at a company driven by a sense of purpose and a passion for innovation to shape the future and solve some of the world's most pressing problems.
Lockheed Martin has signed up to the 5% Club Charter, committing to 5% of the UK workforce over the next five years being young people on structured training schemes.
Lockheed Martin supports its employees through its strong culture and ethics embedded into every working day. However, underpinning all of this are the benefits.
As well as providing ongoing training to the employee's core role, the company actively encourages personal development with other ongoing training offerings.
Lockheed Martin is also an Armed Forces-friendly employer and currently holds Silver status in the Ministry of Defence's Employer Recognition Scheme.
'It's learning on the job, not sitting in a classroom'
Alexander Masters, 24, is a machine learning engineer and a part-time UAV (unmanned aerial vehicle) pilot for Lockheed Martin UK in Havant. He has worked for the company for six years and started out as an apprentice.
Alexander says: 'When I was in school I was always interested in IT. I went to college and did my A Levels, but I absolutely hated exams.
'I knew I didn't want to go to university, I just wanted to get on and work, which is why I chose the apprentice route. It seemed the best option to continue education, but I'd learn on the job rather than sitting in a classroom. I learn better by doing.
'With an apprenticeship you get a qualification and on-the-job, real life experience you don't get in a classroom experience, plus you earn the money to set up your life and start your career.
'I spent the first year of the scheme as an infrastructure engineer. We got to rotate around, so I was able to get into testing and development and find out what I enjoyed.
'From there I started working for agile development teams and was able to do slightly different tasks, so I got into a bit of machine learning. The company is always offering different opportunities.
'At the start of the apprenticeship I didn't think I'd be flying UAVs, it wasn't even on my mind. I use them for things like image capture and for the Army, showing them how it can support their missions and reduce their danger.
'I was an apprentice for two years. Then I had the option to continue education. The apprenticeship got me to a HND (Higher National Diploma) so I just needed a top-up to get a Bachelor degree.
'The one I picked, Computing and Information Systems, was distance learning so I didn't need time out of work.
'The company really invests in people. There's a lot of money being spent to help you with training, help your career, help you grow as a person.'
'Becoming an apprentice is a great opportunity'
Rachel Guidi, 26, joined Lockheed Martin UK as an apprentice in 2012 and is a solicitor with the company, based in Havant.
Rachel says: 'I've been interested in the law since I was young. I had this idea as a kid that I wanted to be a judge!
'I did my A Levels at college and then took a year out before I planned to go to university. I was working in a shop in Gunwharf Quays when my old business lecturer contacted me and suggested I might be interested in an apprentice role at Lockheed Martin UK.
'It was a semi-legal role in the commercial function, drafting contracts and dealing with terms and conditions. It was a two-year apprenticeship and I worked four days a week and studied one day at South Downs College.
'Doing the apprenticeship made me realise that law was definitely something I wanted to continue with. I then applied to study a two-year law degree with the support of Lockheed Martin UK's 'Continuing Education' programme, followed by a combined Master's Degree in Law, Business and Management.
'After that there was a two-year practical training programme that included a secondment to a law firm. Now I work for Lockheed Martin UK as a solicitor. Because it's in-house, the company has broad needs from commercial contract law to employment law.
'I think apprenticeships are a fantastic idea. For me it was a perfect way to get into a working environment while still being able to learn. The management are very flexible and willing to listen to your ideas about development. Becoming an apprentice is a great opportunity.'