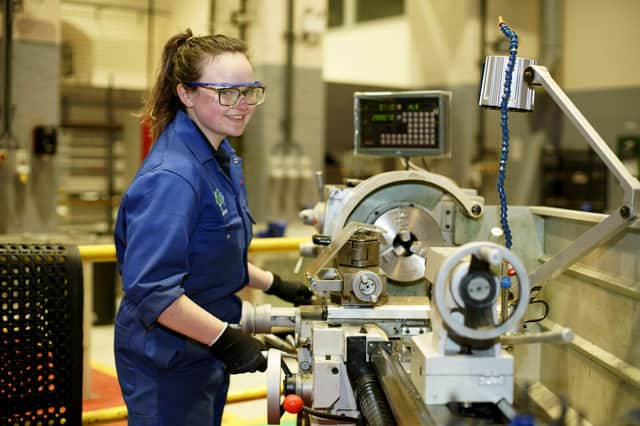 Asha Pickford, a second year Higher Apprentice at BAE Systems
The coronavirus outbreak has brought so much uncertainty. However, BAE Systems is proud to offer a record number of 1,700 apprenticeship roles across the UK, with 172 of those roles based with the company's Maritime Services business, located at Portsmouth Naval Base, Broad Oak in Hilsea and at Cowes on the Isle of Wight.
These apprenticeships cover craft skills, business administration, engineering, project management and procurement.
Maritime Services will also be offering 58 places for graduates and 38 places for undergraduates from a range of disciplines.
BAE Systems has apprenticeships available in a variety of roles
Asha Pickford, a second year Higher Apprentice at BAE Systems, said: 'I've always wanted to gain hands-on experience while learning at the same time and I realised an apprenticeship was the best way of doing this.
'I joined the Maritime Services business in Portsmouth Naval Base in October 2020. While the start of my training was somewhat different to what I originally expected due to the pandemic, I'm fully immersed in my role and I'm looking forward to the exciting career opportunities ahead of me.'
As part of the company's commitment to do everything to support young people, last year BAE Systems recruited 20 apprentices from other companies who were no longer able to continue with their programmes.
The company is also taking part in the government's Kickstart scheme, which will enable BAE Systems to offer six-month job placements to young people, as well as recruiting more than 200 students across the business for industrial placements or summer internships.
Thomas Reynolds, a Project Management Degree Apprentice at BAE Systems, said: 'I joined as an apprentice because the company was known for providing a breadth of opportunities as well as supporting you with your aspirations.
'I started out as a craft apprentice and decided that I actually wanted to become a Project Management apprentice, and within three years I was managing projects.
'If you put the effort in and show you are willing, there is lots of career progression within the business.'
Apprenticeships aren't just for school or college leavers; almost 10% of BAE Systems apprentices are over 25 and for those facing uncertainty in the current climate, they provide a wide range of opportunities to retrain.
BAE Systems is acknowledged as one of the leading providers of apprenticeship training in the UK. The company recently received the Department for Education's National Apprenticeship Award (Macro Employer) and its delivery of training has again been rated by Ofsted as 'Outstanding'.
If you'd like to find out more apprenticeship information, BAE Systems Maritime is hosting Virtual Open Days between 12pm-2pm and 6.30pm-8.30pm on Tuesday 8 February and Wednesday 9 February.
The closing date for the apprenticeship scheme is 28 February, 2022.
To register please email [email protected] stating your name, age and the date and session number of the open day that you would like to attend.
Registrants will receive a WebEx Event invitation no later than 24 hours before the event.
Events will be closed for registration when maximum numbers are reached or 24 hours before the event.
BAE Systems Maritime is also hiring for a wide number of experienced positions, from dockyard and maritime engineers to administration, supply chain and project management roles - plus a range of IT and data science positions.For current vacancies, see www.baesystems.com/careers.