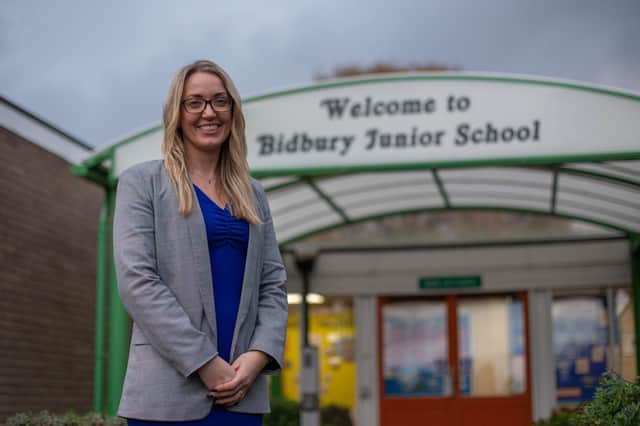 Emily Burns, headteacher at Bidbury Junior School Picture: Habibur Rahman
Faced with the task of taking the entire curriculum online and managing the introduction of a vast range of measures to mitigate the impacts of the pandemic, it was a daunting challenge for the school and the young interim headteacher.
It was also a difficult time in Emily's personal life after having to postpone her much-anticipated wedding as the country entered its first lockdown.
However, having battled through adversity, the school now thriving and Emily happily married to husband Graham, Bidbury Juniors takes the We Can Do It award for Best School.
Emily, 32, who has now been officially appointed as acting headteacher, said: 'It's amazing to get this award. When Caroline came out of hospital she was unable to be in school every day but together we continued to lead the school.'
Emily said: 'It was really important to have the children involved.'
Unfortunately, due to effects of long Covid, Caroline had to leave her position as headteacher at the end of the spring term.
She said: 'I'm bowled over the school has been chosen. Emily has done a phenomenal job and the children loved the wedding day.'
The school was also opened up as a donation station in aid of people affected by a major fire in Wellow Close, Leigh Park, in November last year.
A message from the Editor, Mark Waldron