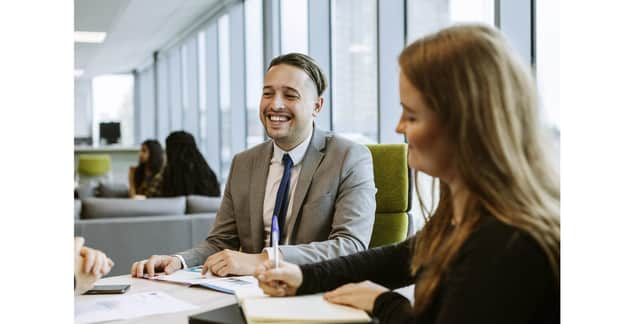 There are a variety of degree apprenticeship courses available at the University of Portsmouth
An amazing opportunity to study a Project Manager Degree Apprenticeship course at the University while working full-time at VIMA Group has arisen.
Based in North Harbour, this forward-thinking management consultancy is looking to recruit two Junior Project Management Consultants to join their innovative team.
Lewis Heath has been working at VIMA for almost two years studying for a Level 3 Business Administration Apprenticeship through PETA. On completion, he progressed to the University of Portsmouth to do a Project Management Degree Apprenticeship.
Lewis Heath is doing a Project Management Degree Apprenticeship at the University of Portsmouth
Lewis said: 'Doing an apprenticeship has given me the opportunity to develop multiple skills; I've been managing employees' timesheets, overviewing expenses and running a virtual private network to mitigate data risks for our customers.'
He added: 'It's a bonus to be able to learn at work and get paid. I now have a better understanding of how businesses are run and I have gained a lot of confidence.
'In terms of my future career, I'd like to go down the same route as my dad by managing groups of project managers.'
Gayle Wallace, Graduate and Apprenticeship Manager for VIMA Group, said: 'Apprentices like Lewis bring a lot of energy and enthusiasm with them, so we're making an investment in him.
'We're thrilled Lewis has secured a degree course place and we're looking forward to continuing to work with him.'
There are many benefits to businesses looking to hire degree apprentices and upskilling existing staff has proven to help improve staff retention and improve staffproductivity and morale.
There are also incentives for employers and depending on whether you are a levy or non-levy employer will depend on how much the course will cost - this could be as low as 5%.
Degree apprenticeships are a great tool to progress staff and they do not cost the individual anything.
Degree apprenticeships are suitable for anyone over 18, whether you've just finishedschool or college or you're already well set in your career.
The University of Portsmouth currently offers more than 17 degree apprenticeship pathways and its TEF Gold-rating reflects the high standards of teaching and facilities.
Here is a full list of the degree apprenticeship courses offered:
Applied Biomedical Science
Chartered Manager (Business Leadership and Management)
Chartered Surveyor (Quantity Surveyor)
Chartered Surveyor (Building Surveyor)
Manufacturing Engineering (Top-up)
Embedded Electronics (Top-up)
Architect (MARch and Part 3)
Risk and Safety Management
Senior Leader (Masters in Business Administration)
Senior Leader (Master's in Public Administration)
Senior Leader (Master's in Educational Leadership)
If you'd like to find out more about the vacancy at VIMA or about degree apprenticeships, please contact the Degree Apprenticeship Office at [email protected] or call (023) 9284 3865.