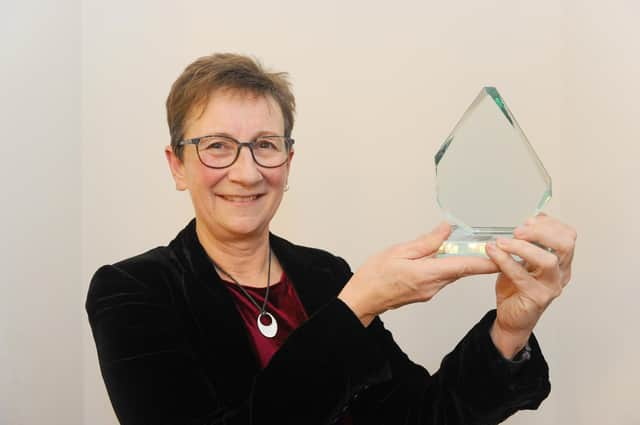 Cath Longhurst after receiving her Lifetime Achievement Award at The News Portsmouth Business Excellence Awards. Cath will be leaving her position with EBP South in April 2021. Picture: Sarah Standing
In her 20 years leading the charity, Cath estimates she has provided opportunities to 'around 280,000 children and young people' to learn about different careers and take part in work placements.
As well as providing 4,000 training placements each year with local businesses, Cath also organises annual events such as Get Inspired Portsmouth and the Primary Science Fair which sees thousands of children take part in interactive activities and workshops to help 'expand horizons and learn about the different careers out there'.
Cath said: 'I'm so proud of my fantastic team and it's brilliant to be able to make a difference to people's lives. In particular I remember one boy who was having difficulties in school and wasn't attending.
Children learning about new careers at the Get Inspired Portsmouth event. Picture: Chris Moorhouse
'He came to one of our events and spoke to a professional diver and something just clicked and he decided that's what he wanted to do – he never even knew it was a potential job. After attending the event his attitude to school and attendance completely turned round as he suddenly had a focus – everything made sense.'
'I was so excited to receive this award and was completely overwhelmed,' she said. 'I have done a lot of work with schools but it was lovely to get this recognition from the business community.'
As well as the youngsters to whom she has dedicated so much of her working life, Cath will also miss the everyday contact with her team.
She added: 'I've the best team of staff who are so passionate about what they do. EBP has been such a large part of my life and will always hold a place in my heart. I will miss my team and the bond we have.'
After hearing of Cath's decision one of those colleagues, Sarah Kavanagh, said: 'I speak on behalf of the board of trustees and the EBP team, who will be sorry to see Cath go. Cath is well known and has contributed to a wide range of work across the area well beyond the scope of EBP South.'
Portsmouth City Council's cabinet member for education, Suzy Horton, worked with Cath on a number of projects.
She said: 'I've known Cath for the last few years mainly through Get Inspired Portsmouth – an amazing event which raises aspirations for young people on what they can become and what job they might do by meeting local employers.
'It's clear that Cath has the highest ambitions for young people and it's incredible to imagine the extent of her influence in the city as those young people find jobs, carry on learning and , in turn, inspire others.'
Cath hopes to continue inspiring others though her new coaching business. She will leave her post in April 2021.
A message from the Editor, Mark Waldron
For Black Friday we've slashed the cost of a new subscription by 30 per cent - so you can get unlimited access to our coverage for as little as £1.40 a month.