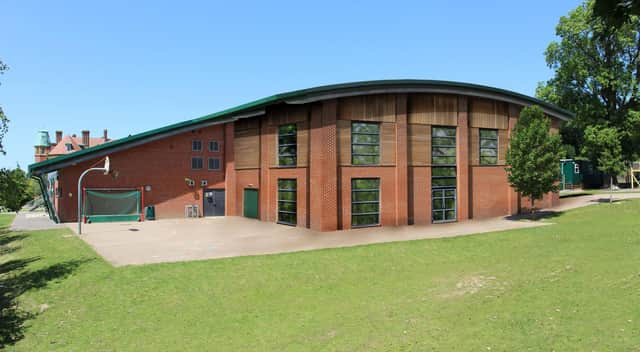 Computer generated image of what the new sports facility will look like.
The 489 metre square development at Ditcham Park School near Petersfield will see the construction of a new sports hall which will be double the height of the current one as well as an activity room, new changing rooms and two new classrooms.
Headteacher Graham Spawforth said: 'The scheme will release other spaces in high demand, such as the South Downs Hall which is used for assemblies, catering, concerts and exams.
'I am grateful to our governors for supporting this project. Planning permission was approved in autumn 2019 and building work was originally scheduled to begin in March 2020. However a decision was made to delay the start of construction due to the uncertainties created by the coronavirus pandemic.'
Nursery pupils watch construction work taking place on the new sports facility at Ditcham Park School.
The school held a cutting of the turf ceremony to mark the beginning of the construction and hope to have the new facility up and running in September for the start of the new school year.
Chair of governors, Chris Pickett, said: 'The enhanced facilities will benefit all our pupils from nursery through to juniors and seniors. Sport is an important part of life at Ditcham and this project will provide valuable additional facilities and create flexibility for other spaces in school.'
The new complex has been designed by Chichester-based company AVLTD and is being constructed by Portsmouth firm Mountjoy Ltd.
Mountjoy director Simon Winkworth said: 'We are delighted to be delivering this building project for Ditcham. We have been fortunate with the weather so far and work has progressed with ease.
'Our site team enjoy the regular visits by pupils and in particular Dragonflies Nursery pupils who are always excited to see the large diggers in action.'
A message from the Editor, Mark Waldron