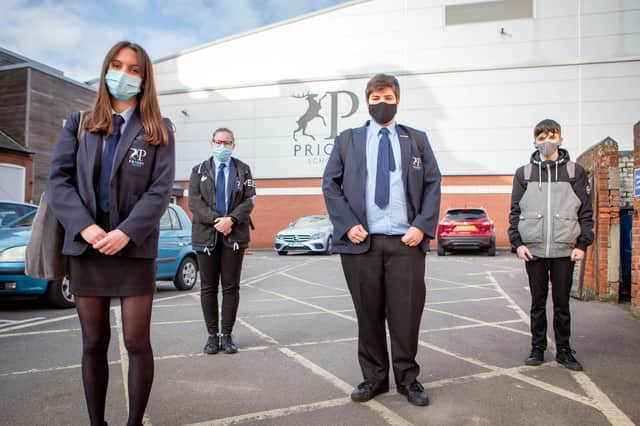 Year 11 pupils Ava Errington-Noden 15, Emma Dillon 16, Dylan Evans 16 and George Martin 16 Picture: Habibur Rahman
So delighted were staff to see the return of pupils that they even formed a guard of honour to welcome them through the school gates.
Year 11 pupil Dylan Evans, 16, said: 'It's just a big relief to be back in school – a breath of fresh air. After a while it can begin to feel pretty exhausting being indoors all day. Communicating with your teachers across the barrier of a screen can sometimes be a struggle.
'What I've missed most is that human contact. I've missed seeing both my friends and teachers.'
Ava Errington-Noden, 15 undertaking a Covid test in the school hall. Picture: Habibur Rahman
Ava Errington-Norden, 15, added: 'I've been really looking forward to returning to school. It's much better to have that face to face learning, particularly if you need specific help. You also can't have group discussions which you can in the classroom.
'I really hope this is the last school lockdown.'
Today saw the school welcomed back 240 Year 11 pupils with remaining students scheduled to return on Tuesday. Pupils firstly had to undergo a lateral flow test to ensure they were not carrying the Covid virus.
Priory School headteacher Stewart Vaughan said the children had been given a 'huge welcome back'. Picture: Habibur Rahman
One of the biggest stresses of lockdown for pupil Emma Dillon, 16, has been the uncertainty over the awarding of GCSE grades.
She said: 'It was quite worrying at first, not knowing how we are going to be graded. It was particularly a concern for those students who may have struggled with remote learning and not worked as hard during lockdown and were hoping to still have their exams so they could turn things around.
'So it was very scary because we didn't know whether we should be asking for extra work to up our standards or if we were just revising ready for an exam.'
Fellow pupil George Martin, 16, added: 'It's good to be back as there are more distractions at home and it's easier to learn in school. I've missed seeing people – you can't socialise at home.'
Pupils return to Priory School in Southsea for the first time since since the start of January. Picture: Habibur Rahman
With only a few months of the academic year remaining, pupils are desperate to be able to bring their time in secondary school to a natural conclusion.
Emma said: 'I'm really hopeful this will be the last lockdown. I just want to get back to normal.'
George added: 'This is our last year in school and it's important to be back to get that closure. The school has been five years of my life and you want to be here to say goodbye.'
Priory School staff form a guard of honour for returning Year 11 pupils.
After undertaking two lateral flow tests in school this week the children and their families will then be responsible for carrying out twice weekly tests at home.
Headteacher Stewart Vaughan said today was about giving the children a 'huge welcome back' and he is 'cautiously optimistic' this return will be for good.
Mr Vaughan said: 'We now have more testing in place, students are wearing masks in classrooms, the vaccination programme is going well and we are on the cusp of spring when more activities can be done outdoors.
'Everything is set up in the right direction.'
A message from the Editor, Mark Waldron
Our trial offer starts at just £2 a month for the first two months.