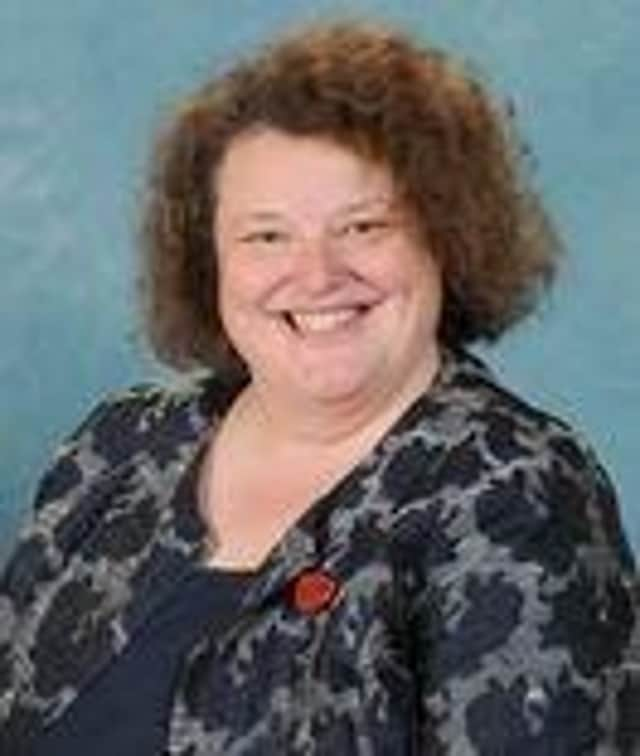 Mayfield School English teacher Jo Webb.
With almost 600 Facebook comments praising the dedication and skill of our teachers in educating our children during these unprecedented times it's clear the profession has gained a new found depth of appreciation from the wider community.
Parents were commenting following a social media post by The News asking about the support experienced from schools during lockdown.
Portsdown Primary School in Cosham featured prominently in comments with one parent describing all the staff as an 'amazing team'. Singled out for special praise were Year 5 teacher Carey Knight, special educational needs coordinator Sue Thomas and teaching assistants Gill Yaxley and Mandy O'Brien.
Rowner Junior School teaching and support staff, Halima Freeland, Ciara Finn and Kate Tuckley
Mrs Knight said: 'It's amazing to be recognised by parents for having helped at what has been a difficult time for children. The biggest challenge has been trying to engage with children who have different needs and situations.
'I'm really looking forward to the children returning and seeing them face to face.'
Mrs Thomas added: 'It's really flattering to be named but it has been a big team effort. We are all really excited to see the children again - it's a massive relief they're coming back'
At 65 and a diabetic, Gill Yaxley could be at greater risk of serious illness if she contracted Covid but at no point did she consider not going into school.
Gomer Junior School Year 5 teacher Elodie Gardner.
Mrs Yaxley said: 'I was not put off from going in. We are there for the pupils and it's important to keep things as normal as possible for them. I was just doing my job - supporting pupils and families.'
Mrs O'brien added: 'A friend tagged me into the post and I was initially amazed. When I saw there were other comments I was just blown away.'
Portsdown headteacher Ash Vaghela said he was 'proud of the efforts of all his staff'.
Copnor Primary School headteacher Matt Johnson.
He said: 'All of the staff here have been magnificent in providing high quality learning for the children in school and in supporting every single family at home.
'I couldn't be more proud of the amazing staff we have here at Portsdown.'
Gomer Junior School also came in for praise after taking all their lessons live online with its virtual school initiative.
Teachers who received special praise included Year 4 teacher Laura Fry, Year 3 teachers Sophie Chapman and Linda Wheal and Year 5 teachers Vicky Wilden and Elodie Gardner.
Portsdown Primary School teaching staff (l to r) Sue Thomas, Carey Knight and Mandy O'Brien.
Mrs Gardner said: 'I feel very honoured to have been thought of but I was only doing my job. Nothing can compare to the children being in the classroom and we are immensely looking forward to them being back in.'
Mrs Wilden added: 'I feel really proud to have been nominated. I'm very passionate about teaching and the children mean a lot to us. It has been a privilege to work with the families and there has been a real feeling of unity.'
As a newly qualified teacher it has been a particularly challenging first year in the profession for Sophie Chapman.
Ms Chapman said: 'I had not long been in the classroom when we had to look at taking everything online. I felt like I was just starting to get to know my class and I can't wait to see their faces again.
'For me to get this feedback from parents is very important.'
Also part of the Gosport and Fareham Multi-Academy Trust, Rowner Junior School teachers and support staff Kate Tuckley, Halima Freeland and Ciara Finn were also praised for their selfless dedication to the cause.
Clanfield Junior School Year 6 teacher Katie Pinhorne.
Year 4 teacher Kate Tuckley said: 'It's really kind to hear what people have said. We had to take the school online very quickly and I'm pleased we managed to pull it off. I really miss seeing the children and it has obviously been more difficult to do practical lessons.'
Teaching assistant Halima Freeland added: 'It's really lovely to be recognised but we all work closely as a team. As I would in the classroom, my job has been to carry out intervention with the children such as listening to them read and helping them with their spelling.'
Executive headteacher of both schools Georgina Mulhall said she was 'super proud' of her staff.
She added: 'We were able to transform our regular school based offer into a virtual curriculum, seeing children receive three or four live lessons a day and intervention and pastoral groups where necessary.
'It's really important to remember all of the support staff who make our offer happen - pastoral support, learning support, lunchtime supervision, cleaners and admin staff managing parental enquiries and sorting resources.
'Our sense of team has been awe inspiring.'
St Edmund's Catholic School's specialist teaching assistant Lisa Marie Leyburn is one such member of staff who has highlighted the wider importance of support staff during the pandemic.
Lisa's pivotal role throughout the pandemic has been to support the mental wellbeing of children.
She said: 'The first lockdown was something different for the children but this second school lockdown - with the dark nights and wet weather – has been much more mentally challenging.
'I've been in constant contact with parents and children to help provide any support they may need. I'm really grateful that my efforts have been recognised.'
Also singled out for special praise was the school's science teacher Mary Germain who said she was 'flattered and surprised' to be nominated.
Another secondary school teacher highlighted by parents was Admiral Lord Nelson School maths teacher Katherine David.
Mrs David said: 'I'm flabbergasted to have been nominated and it's fantastic news. The biggest challenge of lockdown is not having the children in front of you - in the classroom you always know if a student doesn't understand.
'I'm massively looking forward to seeing the pupils back in school.'
Facebook comments also gave a big shout out to staff at Clanfield Junior School including Year 6 teacher Katie Pinhorne and fellow teacher Juliet Peacock.
Mrs Pinhorne said: 'It's unbelievable to get this recognition. It's good to know that you are supporting the children as you do worry about not being able to deliver what you can in the classroom.'
Mrs Peacock added: 'I'm pleasantly surprised and honoured to have been recognised for going the extra mile over lockdown. I've been extremely proud of how hard my class have worked in this very different time of learning and we have been able to continue our learning adventure together over a remote platform.'
However it was not just state schools which were singled out for praise with Portsmouth High School RE teacher Kitty Price also nominated by her students.
Kitty said: 'It's important for students to feel like we are in this together. Every year, on the school's birthday, we normally give out cream eggs. We couldn't host our usual celebrations and so I posted out a cream egg to all my tutor my group.'
Other teachers to be singled out for praise included Mayfield School's English teacher Jo Webb who said she was 'flattered' to be nominated and Linzi Moxham who teaches at Wallisdean Infant School.
Praise for parents
Parental support has always been vital for a child's education and this has never been more needed than during the recent pandemic as parents have tried to juggle childcare and work responsibilities with supporting home learning.
Headteachers were unanimous in their praise for the region's parents saying 'we could not have done this without you'.
Sharps Copse Primary School headteacher Mike Elsen, who received a multitude of plaudits from parents, said: 'Parents have been so patient and supportive and together as a whole team we have helped our children learn during lockdown.'
It's a sentiment shared by Copnor Primary School headteacher Matt Johnson who said: 'I can't praise parents enough - they've been absolutely fantastic. Parents have been supportive in helping to keep children engaged in their learning and have sent in lovely messages and gifts of appreciation.'
St Edmund's Catholic School headteacher Simon Graham added: 'Parents have really risen to the challenge of this second school lockdown. The support my school has received has been incredible with donations of time, money and laptops.
'One of the few positive effects of the pandemic is how it has brought the community together.'
View from the Council
Former teacher and Portsmouth City Council's cabinet member for education, Cllr Suzy Horton was fulsome in her praise for both the city's teachers and parents.
Cllr Horton said: 'The education of a child has always been a joint effort between the school and parents. I have consistently championed the role of teachers throughout the pandemic.
'They have completely reorganised the curriculum to go online while at the same time teaching our key worker children. Parents have also been amazing and have become our unofficial teachers while still trying to juggle work and childcare commitments.'
Cllr Horton also believes the pandemic may have led to a new found level of respect for the profession.
She added: 'The pandemic has really brought a closer than ever relationship between the Council, our schools and parents.'
A message from the Editor, Mark Waldron
Our trial offer starts at just £2 a month for the first two months.
Gomer Junior School Year 4 teacher Laura Fry.
Gomer Junior School Year 3 teacher Linda Wheal.
Admiral Lord Nelson School maths teacher Katherine David.
Sharps Copse Primary School headteacher Mike Elsen.
Wallisdean Infant School Year 3 teacher Linzi Moxham.
Portsdown Primary school teaching staff. (l to r) Ian Hurry, Lucy Barratt and Gill Yaxley.