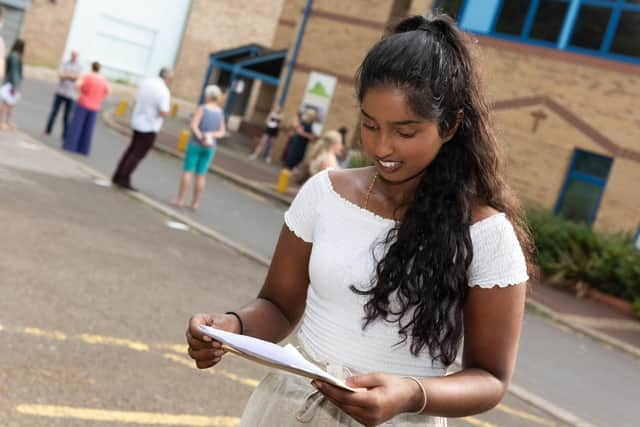 Jovita Mathew, 18, of North End, receives her grades at Oakland Catholic School's sixth form college. Picture: Duncan Shepherd
At least 70 results at Waterlooville's Oaklands Catholic School's sixth form college are set to be appealed by youngsters after this year's 'fiasco', which saw some teens losing as many as five full grades across all their courses.
It reflected results in England, which saw at least 39 per cent of A-levels predicted by teachers being downgraded after exams were scrubbed following the coronavirus outbreak.
Now the Oakland's headteacher, Matt Quinn, has lashed out and claimed his school's 'upward trend' of improving grades has been shattered after a 'significant number' of pupils' grades were slashed.
Nathan Chan, 18, of Oaklands Catholic School, will be studying nutrition at Surrey University Picture: Duncan Shepherd
Speaking to The News, Mr Quinn said: 'Gavin Willamson, education secretary, is on record saying: "Every young person waiting for their results wants to know they've been treated fairly".
'Knowing what we know, many students believe this is not the case; they have lost faith in the process promoted by the government… today should have been a day of celebration and has been marred by future uncertainty and a system that has clearly disadvantaged some youngsters.'
Staff had been confident to build on success of last year's results, which saw 22.8 per cent of pupils bag top-tier marks of A* to A, up from 21 per cent in 2018.
But this year saw a slight fall, with 22.5 per cent of pupils scooping the highest marks.
Heloiza Dutra is moving on to study criminology at the University of Portsmouth Picture: Duncan Shepherd
Similar drops were recorded in those notching up A* to B and A* to C grades, with 47.8 per cent getting grades in the second-highest category – down from 50.2 per cent – and 70 per cent in the third-highest, a drop of two per cent from last year.
Among those students to lose out on top grades include disappointed Jovita Mathew.
The 18-year-old, of North End, was predicted a 'B' in psychology but was given a 'D' by examiners, despite having scored a C in her mock exams.
'I was really annoyed, I don't think it's fair. I feel cheated. I scored a C in my mock exam, so I thought I would at least get that. It's put a real dampener on things,' she said.
Despite this, Jovita was given an unconditional offer to study psychology at London's Kingston University after bagging a B in sociology and E in biology and remains determined to achieve a PhD.
But many pupils weren't so lucky and now face an uphill battle for places, with some now looking to redo their second year all over again.
Mr Quinn vowed to do all he could to support youngsters but warned the appeals process could take up to 42 days, which would shut the door on many pupils' hopes of heading to university this year.
Criticising the exam grading process, he added: 'Mock exams are a diagnostic or motivational tool not necessarily indicative of a student's performance at the end of the course. Further, in many schools, students will not have taken mocks by the time that schools were closed in March.
'At the heart of this there are individuals who have pinned their hopes on grades for university or apprenticeships. The application of a statistical algorithm ignores this.'
Oakland's A* to E pass rate was 96.7 per cent, up fractionally from 96.5 per cent last year.
A message from the Editor, Mark Waldron
Thank you for reading this story. The dramatic events of 2020 are having a major impact on our advertisers and thus our revenues.
The News is more reliant than ever on you taking out a digital subscription to support our journalism.
Every subscription helps us continue providing trusted, local journalism and campaign on your behalf for our city.