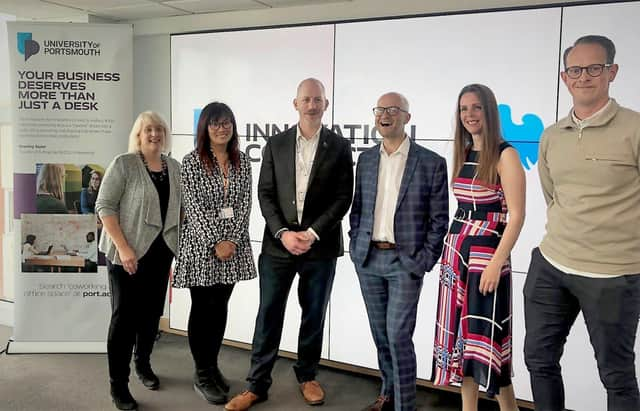 The Barclays Eagle Labs partnership was recently announced during the Portsmouth and South Coast Business Week at a business networking event, Portsmouth Digital, which took place at the University's Future Technology Centre. Innovation Director for the University Chris Worrall is pictured third from the left.
The Barclays Eagle Lab network is one of the largest co-working and incubator networks for start-ups and scale-ups in the UK.
The Labs are spaces to help entrepreneurs and ambitious businesses collaborate, innovate and grow - effectively skills factories for the UK.
The University has been supporting businesses with innovation centres since 2014, offering office, co-working space and University expertise, which has since expanded into four centres within the city under the brand name Innovation Connect.
The new Eagle Lab within Innovation Connect will provide a more extensive package of support for over 70 businesses already based within Innovation Connect, which come from a range of sectors, from small start-ups to larger, more established businesses.
The collaboration with Eagle Labs will enhance the offering from the University with additional resources and expertise from the Eagle Labs team and members will be supported by an Ecosystems Manager.
The event offered businesses the chance to learn more about how the University can support them and gave them the opportunity to see some of the digital facilities available.
Innovation Director for the University Chris Worrall said: 'I'm very excited about what this new partnership will bring to our Innovation Connect members.
'Having an Eagle Lab based within one of our centres will complement our offering to businesses within our local community and unlock countless opportunities for them to grow and develop.'
Lab Manager at Eagle Labs Mark Rands said: 'I'm looking forward to expanding the support offered by Eagle Labs to entrepreneurs in Portsmouth.
'Eagle Labs has a mission to inspire and educate ambitious founders and startups across the UK to help them succeed.'
Keep a lookout for the official launch later in the year and details of how you can get involved.
Prestigious HR award for university professor
Valerie Anderson, Professor of Human Resource Development and Education, has been awarded the Outstanding HRD Scholar Award from the Academy of Human Resource Development (AHRD).
The award recognises the breadth and depth of Professor Anderson's scholarship, leadership and influence and the respect she has earned over a distinguished career in HRD.
Professor Anderson is an established and respected academic with a strong professional profile that enables her to exert influence on HRD policy, strategy and problem-solving.
Her sustained engagement with professional bodies has resulted in the development of National and International HRM standards with significant implications for HRD professional practice and professional education.
Her work influences both scholars and HR practitioners involved with International HRD, coaching and employability.
She has a global reputation in teaching and learning innovation, especially in the fields of research methods, technology-enhanced learning and doctoral education.
Connect your business to fresh thinking
We're looking for local companies to support our final-year student teams to develop valuable employment skills, including team working, project management and presentation skills, under an initiative called 'Business Consultancy Projects'.
If you have a business-focused project that could benefit from our students' insight (such as competitor analysis, research into the viability of a new project or service, strategic review of social media, etc) then please get in touch.
There is no financial cost, but businesses should be prepared to meet with the student team weekly from October to December 2022, have more than five employees and be based within one hour of our Portsmouth campus.