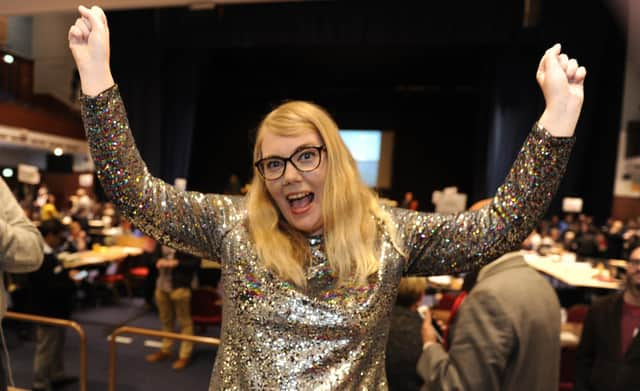 Portsmouth City Councillor, Claire Udy, is pleased with the award but believes more still needs to be done. Picture Ian Hargreaves
The council is one of nine local authorities across the UK to receive the Stonewall Silver Award for promoting inclusivity in the lesbian, gay, bisexual, transgender and queer community. Stonewall is an independent body which works with organisations to ensure they have 'inclusive and accepting cultures'.
Cabinet member for education, Cllr Suzy Horton, said: 'It's fantastic news to hear our teams are working hard on LGBTQ+ inclusivity and strategies which ensure everyone feels welcome in Portsmouth.'
Portsmouth Education Partnership taking part in last year's Portsmouth Pride event.
Areas commended in the inspection report included staff training to support individuals who have experienced homophobic, biphobic and transphobic bullying, engaging with schools to celebrate diversity and equality and celebrating achievements through the council's Annual Inclusion Conference.
The council has also been involved in setting up the 4U Youth Group – a weekly club which provides support to young people who have identified as lesbian, gay, bisexual, transgender, gender variant or who are questioning their gender identity or sexuality.
Portsmouth councillor and transgender rights campaigner, Claire Udy, said: 'It's fantastic news and and vindication of the 4U initiative which is helping to improve life choices for younger LGBTQ+ people.
'The key is to educate people. It was horrible when I was at school but things are much better now. We now plan to extend this service for adults.'
Cllr Udy, who refers to herself as queer, said: 'More still needs to be done to educate people – particularly around transgender. I know of one person who has come out as transgender and their business has come under attack. It's really important that all people feel safe.'
Deputy director of children, families and education, Mike Stoneman, said: 'Everyone deserves to feel included regardless of their gender identity or sexual orientation. The award from Stonewall recognises the efforts our teams make every day with our sights firmly set on gold for next year.'