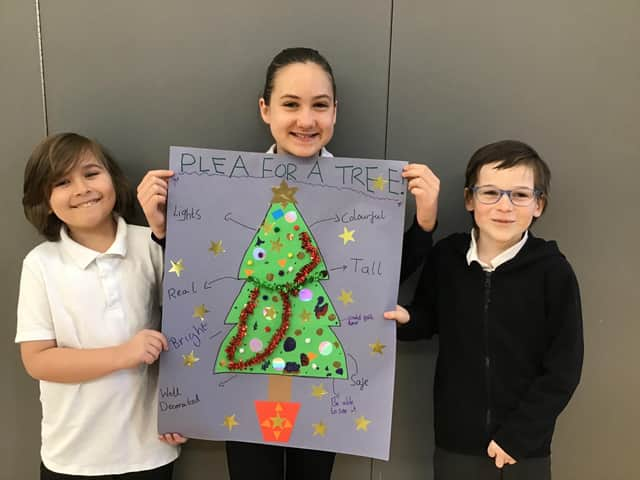 Oliver Jackson, 9, Briana Bildea, 10, and Alfie Valentine, 9, with their Plea for a Tree poster.
Milton Park Primary School's annual festive fair is one of its biggest fundraisers but coupled with the additional financial burden of mitigating Covid, the school's budget will 'not stretch to the luxury of a real tree'.
Emotional wellbeing support assistant, Layla Gover, who is helping the children to co-ordinate the Plea for a Tree appeal, said: 'Our annual tradition of a Christmas fair has obviously been cancelled.
'For our children and staff this would usually be the highlight of our year and an opportunity for us to raise much needed funding for our school. We are hoping that somebody - a big business or company - is in a position to be able to donate us a real Christmas tree.'
Emotional well being support assistant, Layla Gover (left), head girl Lily Valentine, 10, head boy Toby Barnes, 11, and headteacher Wendy Fowler.
Layla believes the donation of a tree – ideally along with lights and decorations – will bring some 'Christmas cheer' to the children during what has been 'a difficult year'.
She added: 'It has been such an unusual year with events having to be cancelled, that putting up the Christmas tree would just help bring some semblance of normality for the children in the build-up to Christmas.'
It's a sentiment shared by the children.
Year 5 pupil, Alfie Valentine, nine, said: 'Having a tree will make all the children feel cheerful. Some children don't get to have a tree at home so they will get to have the Christmas feeling at school.'
Classmate Oliver Jackson, nine, added: 'Having a tree in the playground would be amazing and make this Christmas a lot less gloomy. It would help children feel happy when they look at it if they can't get to see their family this year.'
Pupils at the school have designed their own 'Plea for a Tree' posters to illustrate what their ideal tree would look like. The children have also been making their own gratitude trees to display all the things they are thankful for, including 'being able to go to school during the pandemic' and the 'work of NHS staff to keep people safe'.
The school plan to place the tree at the entrance to 'ensure it can be seen by everyone, including passers by'.
Headteacher Wendy Fowler said: 'Due to the situation with the pandemic, we have found that it really is the little things that are getting us through.
'Children would normally be celebrating the festivities with nativities and carol concerts but all of those things are either having to be cancelled or done very differently, which just isn't the same.
'A Christmas tree would really help bring us a little bit of sparkle and shine back to Christmas and it would be very much appreciated by all.'
Head girl Lily Valentine, 10, added: 'As parents can't come in to our Winter Wonderland or to our Christmas fair like they would usually to see the decorations that we have all made, it would be really magical to have a shared Christmas tree that everyone could look at and see everyday.'
Anyone who feels they can help the children with their plea should call the school on 023 9273 3792.
A message from the Editor, Mark Waldron
Our trial offer starts from £2 a month for the first two months.