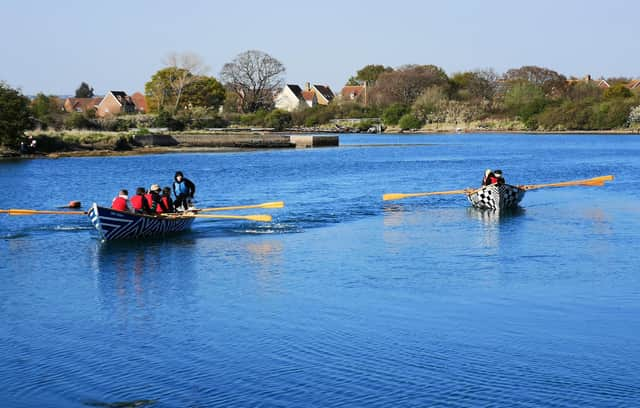 A tidal creek at St Vincent College means plenty of opportunities for water-based activities
The college places sports participation at the heart of its curriculum offer and is very proud of the achievements of students, both at college and in their chosen career paths.
These have included students becoming professional athletes, coaches and teachers amongst the many career paths available to those with sports qualifications.
The sports department has an impressive 90 years of combined teaching, coaching and industry experience.
These highly-qualified and specialist staff at the college give the students a substantial experience in learning a wide range of sports knowledge, including but not limited to sports coaching, nutrition and diet for sports and the business of sports.
Jo Allen-Kotze, Head of Sports at the college, is proud of each and every one of her students, saying: 'Our results are outstanding and the progress students make on our sports courses goes above and beyond every year.'
Jo added: 'The teachers are fully committed to providing a well-rounded quality experience.'
The college has an extensive set of recently-improved quality sports facilities, which allows students to have a varied experience across a broad spectrum of sports education.
The sports hall has new state-of-the-art flooring
In 2018 there was significant investment in an artificial grass pitch, where students can enjoy competing in sports such as football and hockey.
The college's sports offer extends to activities including rock climbing and abseiling, with its very own climbing wall, which is used not just for St Vincent students but also for school visits and open events.
The college also took advantage of the most recent lockdown to invest in a new state-of-the-art sports hall flooring, providing students with even more outstanding facilities in which to learn and develop.
As well as multiple sports areas, the college boasts an on-site tidal creek, giving access to water-based activities, in partnership with the esteemed Oarsome Chance.
The college's climbing wall
This organisation helps disadvantaged young people to reach their potential by helping them gain skills and a route to employability.
St Vincent College offers several routes to careers in sports, including a Sports Leadership course.
Students who choose this course gain real hands-on experience planning and leading events as part of their studies.
One particular event includes a charity fun run for Comic Relief, a substantial event involving an estimated 5,000 children and students from local Gosport and Fareham schools.
The artificial grass pitch at St Vincent College
The event takes extensive organising and is a huge challenge, which comes with plenty of hurdles for our students, who excitedly take this on and succeed every year.
The college's mission is, through the highest quality of education, to enrich lives and provide a secure path to further study of employment.
If you're interested in being part of its mission, whether you would like to enrol on a sports pathway or to find out more information about the college, go to the website www.stvincent.ac.uk. Reserve your place, apply today.