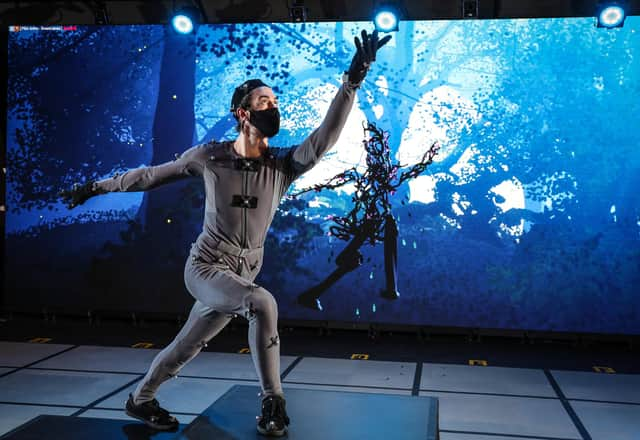 A Royal Shakespeare Company performance will broadcast next month by the Guildhall and the University of Portsmouth
A 'pioneering project' to combine live Shakespeare performance with virtual reality (VR) and gaming technology was announced by the city's university in February.
In a redundancy process last summer, bosses at the university slashed the English Literature department from 13 members of staff to six. Among those made redundant were two members of staff who specialised in early modernism, which covers Shakespeare.
One academic from the team directly affected by the cuts said: 'They've got a VR Shakespeare project that they're championing but they've got no Shakespeareans or anybody with any Renaissance expertise left in the English Literature team.'
Dream will broadcast next month thanks to the Guildhall and the University of Portsmouth.
The project sees the university working in collaboration with the Royal Shakespeare Company to stage performances of Dream, based on A Midsummer Night's Dream.
The production was performed in a motion capture space at The Guildhall in Portsmouth, and supported by a team from the university's Faculty of Creative and Cultural Industries.
Viewers then watch the show online, using their devices to interact with the performance.
The academic, who worked at the university for more than 10 years, said: 'To be boasting about "bringing things to life" at a time when you haven't got anybody who was doing anything substantial in relation to bringing technology together with heritage and the Shakespeare brand, it just seems so hypocritical.
'I can't begin to imagine why the RSC or anyone else would work with a university that cuts all of its staff that had anything to do with Shakespeare to begin with.'
The academic added that following last year's job cuts, the English Literature department has been left with no members of staff with expertise before 1800, and added: 'It's stripping education back to the bone.'
'They've made people redundant at a time of national pandemic when they financially did not need to do any of this.'
The university also ordered the 'urgent' removal of a website showcasing work done by staff and students on an earlier Shakespeare project, which included a VR workshop.
A VR simulation for users to 'visit' the Globe was part of Much Ado About Portsmouth (MAAP), a wider project organised and run by English Literature staff and students.
Despite being online since 2015, the MAAP site has now been decommissioned, meaning a loss of public work for both staff and students who worked on the project.
The 'SaveUoPLit' twitter account has called this 'another attack of the legacy' of early modernists sacked by the university.
A university spokesperson said: 'The University of Portsmouth is part of a pioneering project combining live performance with virtual reality and gaming technology to bring immersive theatre to audiences wherever they are in the world.
'The University of Portsmouth collaborated on Dream with the Royal Shakespeare Company, amongst others, to demonstrate the standing and expertise of our creative technology and performance teams here at Portsmouth and, in doing that, show the importance of innovative creative industries to our wider economy.'
A message from the Editor, Mark Waldron