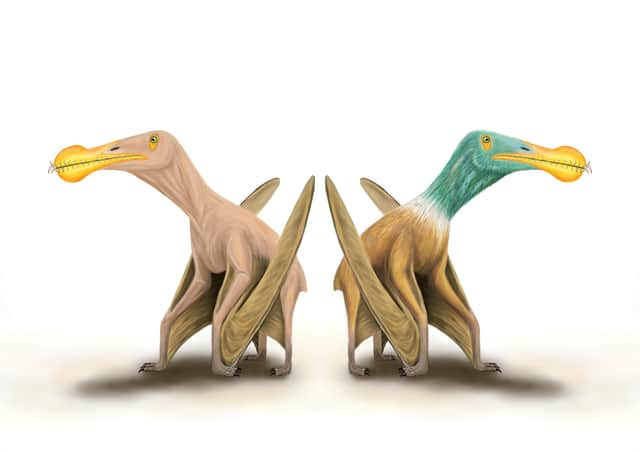 A bald and feathered version of what the pterosuars may have looked like.
University of Portsmouth professor, David Martill, unveiled his findings to refute claims in a previous report that the creatures had feathers.
Professor Martill was joined by University of Leicester's palaeobiology expert, Dr David Unwin, who together were investigating the fossilised remains of the giant winged reptiles.
This was after a 2018 publication in the journal Nature Ecology and Evolution claimed to have discovered evidence of 'feather-like branching filaments called protofeathers on the animal's skin'.
Dr Unwin and professor Martill believe there is insufficient evidence to support this claim.
Dr Unwin said: 'The idea of feathered pterosaurs goes back to the nineteenth century but the fossil evidence was then, and still is, very weak. Exceptional claims require exceptional evidence – we have the former, but not the latter.'
The evidence for feathers rests on tiny, hair-like filaments, less than one tenth of a millimetre in diameter, which have been identified in about 30 pterosaur fossils.
However, Dr Unwin and professor Martill propose these are not protofeathers but tough fibres which form part of the internal structure of the pterosaur's wing membrane, and that the 'branching' effect may simply be the result of these fibres decaying and unravelling.
Professor Martill said: 'If they really did have feathers, how did that make them look, and did they exhibit the same fantastic variety of colours exhibited by birds?
'If they didn't have feathers, then how did they keep warm at night, what limits did this have on their geographic range, did they stay away from colder northern climates as most reptiles do today?
'The clues are so cryptic, that we are still a long way from working out just how these amazing animals worked.'
If the feather theory were true it would mean the first feather-like-elements appeared 'at least 80 million years earlier than currently thought'.
It would also raise serious questions about evolutionary order, suggesting all dinosaurs started out with feathers, or protofeathers, but some groups such as sauropods, subsequently lost them again – the complete opposite of currently accepted theory.
A message from the Editor, Mark Waldron
Thank you for reading this story. The dramatic events of 2020 are having a major impact on our advertisers and thus our revenues.
Every subscription helps us continue providing trusted, local journalism and campaign on your behalf for our city.