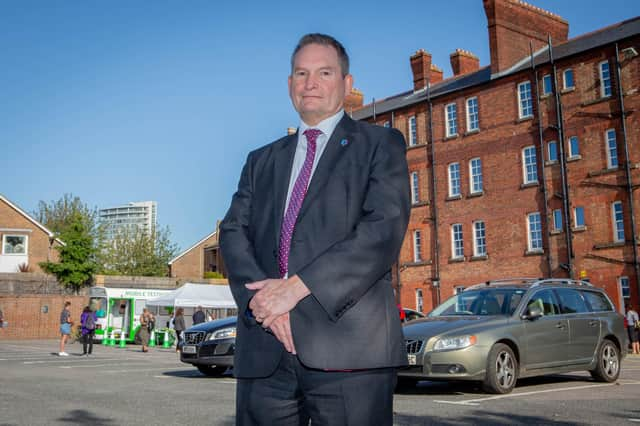 University of Portsmouth vice-chancellor professor Graham Galbraith has taken the decision to cancel this year's graduation ceremony but has pledged to review the decision if the Covid situation changes. Picture: Habibur Rahman
The decision has also left last year's graduates 'disappointed' after they'd hoped to be part of the 2021 celebration having missed out last year.
In an email to students, University of Portsmouth vice-chancellor Professor Graham Galbraith said: 'It's with the heaviest of hearts that I say, in light of the current situation, we cannot host an on-campus graduation this year.'
He said he had to make 'this decision now' and added: 'It's not the one we wanted to make, but I feel it's the right one.'
The University of Portsmouth has taken the decision to cancel this year's graduation ceremony due to ongoing Covid concerns and will instead offer a virtual celebration online.
Students have been offered the opportunity to take part in a virtual online ceremony.
Oliver Rogers, 23, who completed his BSc computer science degree last year, said: 'We've all worked really hard to get our degrees and want to be able to celebrate our achievements. Sitting on a Zoom conference and hearing your name read out is not the same.
'I understand the Covid situation but if it's not safe then I would rather wait for two or three years to have that celebratory day rather than do it online.
'I know other universities where students have been given the choice of waiting or taking part in a virtual ceremony.'
Disgruntled English language student Molly Carpenter, 23, added: 'A lot of us find it quite offensive considering how hard we've worked and we feel we deserve a normal physical graduation.
'Why couldn't the university hold our graduations at a different time - does it really have to be in summer?'
Prof Galbraith said he 'understands' students' disappointment and has confirmed the university will review its decision if government guidelines allow.
He said: 'Our graduation ceremonies are large, complex events that take months to plan.
'In a usual year we will run multiple ceremonies in a day over six or seven days. On any of these days we will have up to 10,000 students and guests present.
'We will plan for a July event if government advice and restrictions will allow it to take place but under current government guidance, events of this size are simply not possible. We cannot see that this situation will change in the near future. The health and safety of everyone must come first.'
Prof Galbraith also pledged to hold some form of celebratory event in 2022 with past graduates.
A message from the Editor, Mark Waldron
Our trial offer starts at just £2 a month for the first two months.