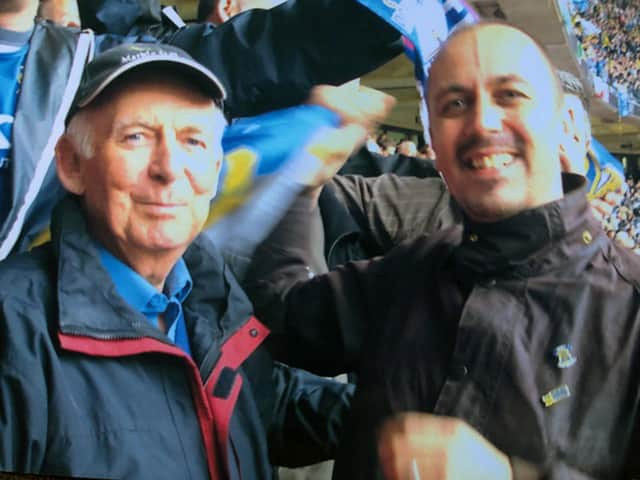 Merrick and Ian Burrell, at Wembley in 2008
There's a new wooden bench on Portsdown Hill with my father's name on it and an engraving of a cricketer, deftly playing the ball to leg, as I'd watched dad do many times, down at Drayton Park or at St Helen's ground on Southsea seafront.
Carved below the cricketer are the words of our city motto, "Heaven's Light Our Guide", and it is indeed a celestial vision from that bench on a clear day, looking out from on high over Portsea Island to the Solent and the far side of the Isle of Wight. In the harbours and inlets, to left and right, the tides wax and wane, evoking soothing thoughts of the endless cycle of life.
Further along that same hilltop, doctors and nurses are working day and night to keep people alive.
In the Queen Alexandra Hospital, where dad succumbed to Covid-19 in that first week of lockdown last March, the pressures this winter have become almost unimaginable.
In the first days of my grief I wrote an article for The News, partly to explain to readers that this new virus that we were being told to hide away from really was a killer and that its victims were more than mere statistics. At that time, most people were struggling to comprehend an invisible threat, which neither they, nor anyone they knew, had experienced.
That said, I think the vast majority of people have behaved responsibly these past ten months. If I have had any resentment it's towards those in leadership who have made fateful decisions, such as locking down too slowly and keeping airports open, leaving the public confused and making us more vulnerable.
Merrick Burrell with wife Julia
Distressingly, there can be very few among us now who can say their family or social network has been spared by this awful disease. We were led to believe that life would return to normal in months, if not weeks. Nearly a year on, even those who have not lost loved ones have suffered extreme disruption to work and family life, and an unprecedented degree of mental duress.
In the days after dad died my concerns were for my stranded mum, as she grieved in conditions of self-isolation. Knowing that only a tiny and socially-distanced funeral would be possible, we consoled ourselves with plans for a celebration of life service in summer. We still have no prospect of such an event, as lockdown follows lockdown.
Instead I quickly returned to the QA where my wife underwent radiotherapy, which was unrelated to the virus but carried out in its ominous shadow. Soon after, another close relative ended up in ICU.
Meanwhile, my primary school age son struggles to make sense of death and worries what will become of us. Many readers will have their own stories of the havoc of Covid; the demons it drags up and the anxiety it has caused in operations missed and weddings postponed.
Merrick Burrell at Wembley 2010
For my family, the bench has been a great comfort. Mum can walk up the hill, sit and make a spiritual connection. More often than not, a familiar robin flies over to perch beside her. There are blue flowers tied to the hand rest and it's possible to gaze out to the stands of Fratton Park, where dad and I shared so many great times watching Pompey.
I've watched every league game this season, via online streaming. But I couldn't bring myself to go to the Park when I had the chance of a ticket during the break in lockdown. Last season's Arsenal cup-tie was dad's last night out - going back in a mask now would be just too painful.
So many people have lost work or been made unemployed due to the pandemic that I'm grateful to have been able to keep busy. That's easier for some than others. My sister is working in a central London hospital. But the good news is that she's had a vaccination and, even better, my mum has had both of her jabs, administered at the Cosham medical centre.
There is an end to this nightmare and it is coming into sight. If we pull together, we will get there, with heaven's light our guide.