Former midwife from Havant chosen to capture NHS workers for nationwide project
A FORMER midwife has been chosen to take part in a photography project to capture Covid-19 frontline workers behind the mask.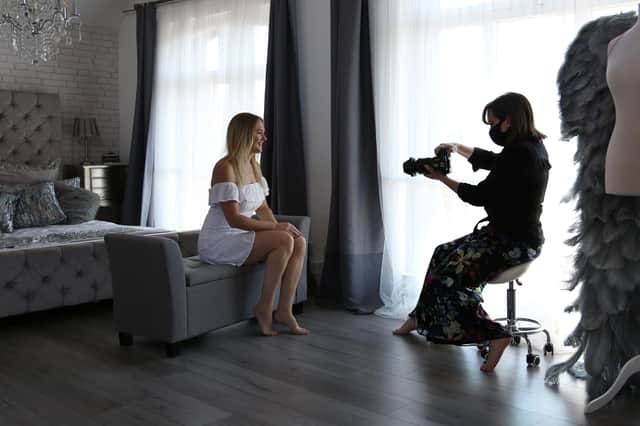 Johanna Elizabeth from Havant was selected to be one of a 100 photographers across the country to be a part of the 2020 Vision Project, which aims to celebrate and pay tribute to NHS and healthcare workers on the frontline of Covid-19.
A paramedic couple and a neonatal intensive care nurse were among the six local workers that Johanna took photos of and they will form part of a collection of imagery that will be featured in a national exhibition and book of 600 images, funded by the Arts Council.
Johanna, 45, said: 'I was so thrilled to be chosen because the NHS workers have been absolutely amazing in the past few months and it is so important to capture what we are going through at the moment because the pandemic will go down in history.
'I used to work at Queen Alexandra Hospital as a midwife and was in the NHS for about 15 years so I understand some of the stresses that these people feel. I didn't photograph them in uniform because I wanted to just get them and I think they all enjoyed getting glammed up for the shoot when the past few months has been anything but that.'
Lynda Worley has been a neonatal nurse at QA since 2004 and is one of the six people that Johanna photographed.
She said: 'We haven't been directly affected by Covid-19 in our department but the visiting restrictions has taken a toll.
'We are used to having mums, dads and siblings all around so that has been hard on the families. For the babies as well who were born in lockdown, they have never seen someone without a mask on their face so it is very strange.
'I have done a few photoshoots with Jo before and it was an honour to take part in this project and I am excited to see the end result.'
Johanna has also been running a photoshoot fundraiser fundraising initiative to benefit the News-backed Portsmouth Hospitals Thank You Appeal.