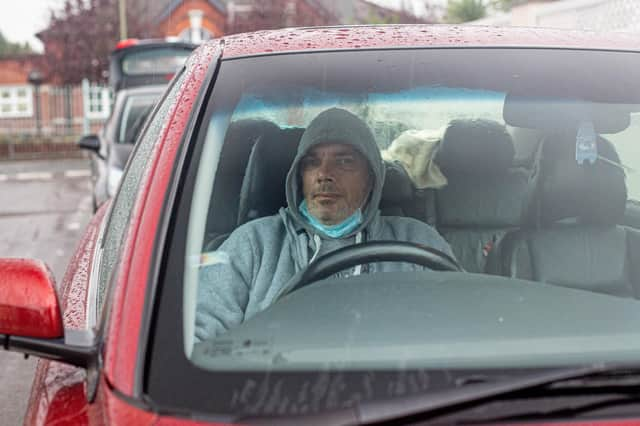 Ryan Kilby in his car in Gosport. Picture: Habibur Rahman
Ryan Kilby from Gosport was diagnosed with prostate cancer back in July but says due to his spine stenosis, a narrowing of the bone canals around the spinal cord, it is too painful to get up the stairs to his first floor flat a lot of the time and so he sleeps in his car.
The 47-year-old, who is now recovering from a prostatectomy he had at Queen Alexandra Hospital earlier this month, told The News that he feels let down by the council during the pandemic.
He said: 'It has been a really difficult time. I know that the council has had to changes things because of the pandemic and people are working from home but it feels like they are only focusing on the coronavirus and have forgotten about other situations.
'I have had to stay in my car a lot as I can't face the pain of getting up the stairs to my flat. Since surgery I have pottered around in the flat but I am trapped here.'
Mr Kilby tried to swap council flats in March but was told this could not happen due to the coronavirus lockdown.
A Gosport Borough Council spokesman said: 'We're working really hard to help Mr Kilby.
'The first national lockdown meant we couldn't run our housing services as normal and had to suspend the waiting list. Housing swaps were also suspended.
'Vulnerable people in need of support during lockdown could phone our community helpline and ask for help from council workers or volunteers.
'In June he asked about applying to go on the waiting list for a new flat. We told him the waiting list was suspended and said we would contact him when it was back in operation, which we did.
'Two days later we offered him temporary ground-floor self-contained accommodation, which he has declined.
'He has a high priority on our waiting list for a new flat. We just need some medical evidence from him, and then we hope to make his case an exceptional one with even greater urgency. To help him stay in his current flat we have provided free food deliveries and other support.
'Unfortunately, there is only a limited number of suitable flats in the borough, and a waiting list. At the moment there is simply not one available.'
A message from the Editor, Mark Waldron
You can subscribe here for unlimited access to Portsmouth news online - as well as less adverts, access to our digital edition and mobile app.
Our trial offer starts from £2 a month for the first two months